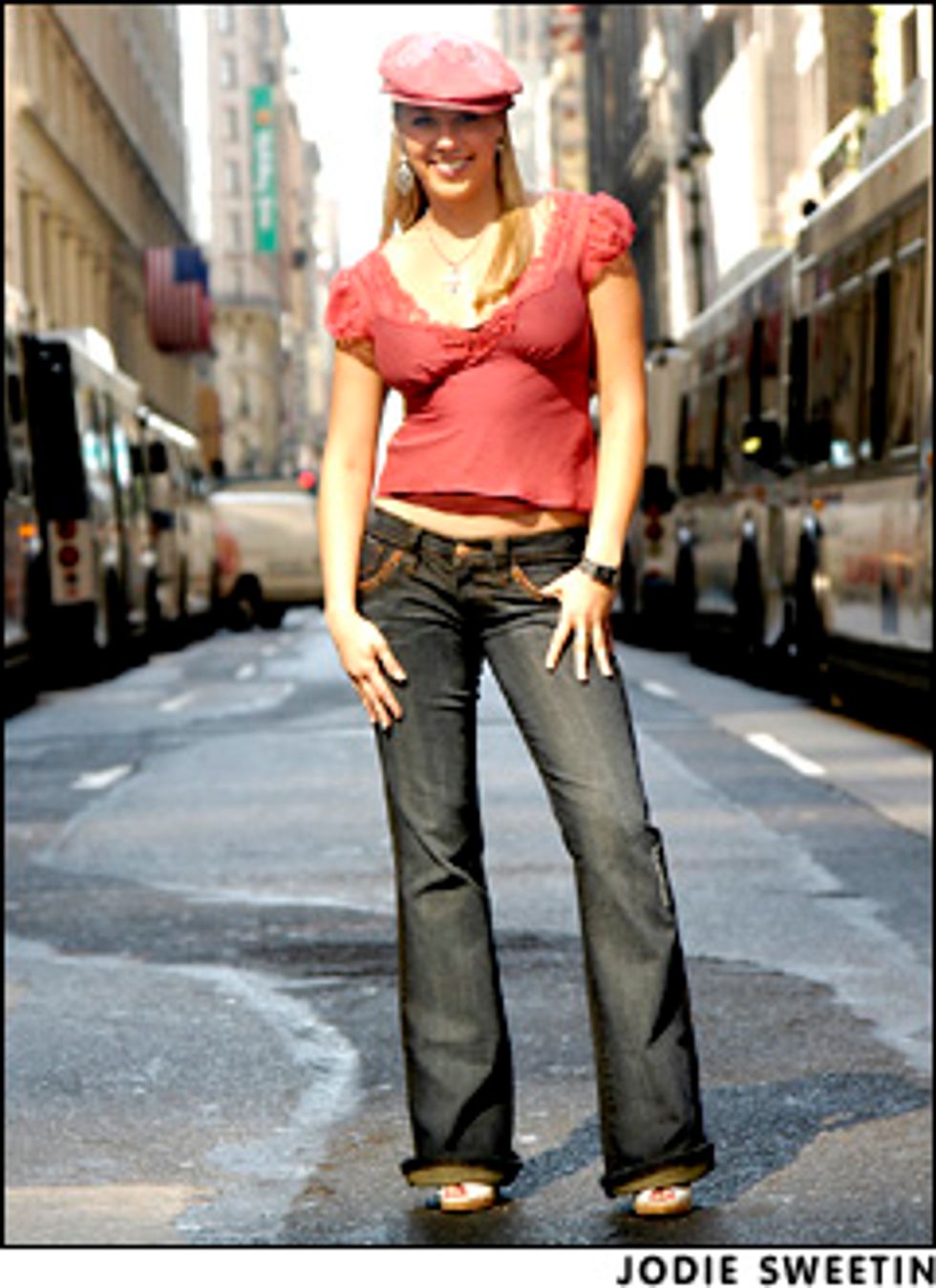 For the record, Kimmy Gibbler's feet never smelled bad.
In fact, Gibbler's alter ego Andrea Barber is reportedly an upstanding citizen, married, and mother to a little boy. Then again, even if Miss Barber's paws were putrid, it does not appear that her former Full House co-star Jodie Sweetin would tell us.
Despite her time away from the business, Sweetin still seemingly plays the part of child actor, exuding a Zen-like ability to avoid immodest answers while still sounding like a perfectly contented co-star. It's that synthetic kind of poise that makes Dakota Fanning so disturbing and Lindsay Lohan once seem so principled.
The former Stephanie Tanner may concede that Bob Saget's reputation for extremely off-color humor is legitimate, but can't recall anything specifically incriminating. Ask her about her on-screen younger sister(s), the infamous Olsens, and the 24-year-old calmly delivers a chipper reply:
"I've known them since they were nine months old. It's funny to see them as these huge, worldwide celebrities when I remember them spending the night at my house and going to Disneyland with them. I am really happy with their success and I adore those girls."
In fact, even though she's the newest host of Fuse's Pants-Off Dance-Off, it wasn't easy getting the girl to admit to what music she herself would strip. "I like everything really. I don't know if I can pick anything," she says. "But I think people have picked some interesting songs to strip to. I'm looking forward to having a lot of fun with this." (Nice deflection. And in all fairness, Sweetin did later reveal a propensity for the thug-pop of Busta Rhymes and the Game.)
Maybe Sweetin's just demure. Maybe she's too kind. Maybe she truly does think and wish the best for everyone. And maybe, just maybe, Andrea Barber's feet, in fact, did not smell. But we're suspicious. Didn't they just look like they stank?
Decked in deliberately ragged designer jeans, a snug top and high heeled eggplant-colored boots, Sweetin's all glam, glitter, and smiles at the Fuse offices at Penn Plaza. And then there are her eyes -- an elusive shade of dark gray that belies this cheerful exterior.
By now, everyone's heard the story: Former Full House middle-child caustic-cutie Jodie Sweetin admitted earlier this year on ABC's Good Morning America that she voluntarily entered rehab in March, 2005, to treat an everyday methamphetamine addiction. And that this followed an alleged, although unconfirmed, intervention featuring John Stamos, the Olsens and Saget. But alas, there's no sly way of slipping questions about said news into this genial chat. Fortunately, Fuse kindly requested that we not bring it up.
For the uninitiated, Pants-Off Dance Off is Fuse's nearly nightly amateur burlesque show, which Sweetin has bravely agreed to host for some upcoming best-of episodes, starting July 18. This three-month old program from the creator of Pop-Up Video features everyday people -- from colon cancer researchers to vamps named "Miss Tickle" -- shimmying and shaking in their skivvies while Pussycat Dolls and Killers videos play. Meanwhile, these greenhorn go-go dancers dedicate their jarring jitterbugging "to all the virgins out there" or just rhapsodize about fantasies of stripping one day for Hillary Clinton. (We all gotta dream.)
Besides, TRL has long-been a big tease in its rock/pop programming. So if the only way one can watch the "My Humps" video in its glorious entirety is with the superimposed image of Miss Kitten gyrating under a latex sheet, so be it. And while the show is certainly brainless (even relative to its reality brethren), it's also utterly irresistible -- that is, if you're the kinda person who often fights the urge to gawk at the differently-abled -- especially when they're naked.
TV Guide dubbed PODO "the dumbest show on television." Of course, the 63rd highest rated cable network "wears that badge with pride," as one rep proclaimed. "The show is crazy, funny, wild. It's one of those things you turn on and can't stop watching," exclaims Sweetin. "We love reality TV because we love to watch people make total fools of themselves. Because sometimes it's just a trainwreck."
Set in the sunny streets of San Francisco, Full House was far from a trainwreck. The hokey family comedy enjoyed quite a successful run from 1987 to 1995. Speaking in terms of today's sitcom standards, that's an eternity. Speaking in terms of an elementary-aged gal fresh off her first gig shilling Oscar Meyer wieners, that's an entire childhood.
"Our set was extremely child-friendly. And I had a great family that kept me grounded," Sweetin says. But that "family" not only entailed her parents but TV kin too. "We were so close. It was true middle-child dynamics," says the biologically only child. "I wanted to hang out with the older sister, and the older sister wanted to hang out with people her age. And since Ashley and Mary Kate were younger, I'd hang out with them."
When Full House finished its run, a newly teenaged Sweetin opted to quit the business and become a "normal" girl, graduating high school, and receiving a bachelors in elementary school teaching from Chapman University, in Orange County. "For this business I had an extremely 'normal -- quote-unquote -- childhood,'" she says. "But, I just wanted some time off."
Sweetin declares all this without any hesitation or concern how recent revelations on Good Morning America linger and may overshadow such remarks. Regarding this "normal -- quote-unquote -- childhood," Sweetin told GMA, "Growing up in the business you have to grow up very fast -- you do have a different type of childhood, that has its benefits and it has its drawbacks." That's almost similar to what she told us, but not.
At age 20, Sweetin married a Los Angeles cop, whom she is currently in the midst of divorcing as she confidently returns to the business. Given her studies, she flirted with the idea of becoming a studio teacher for child actors, but, as she notes, "I decided I gotta get back into the business. I missed it too much. I'm definitely sure that I wanna do this."
In fact, Sweetin decided to return to the business about a year ago, but her thespian rebirth was delayed for certain reasons. "[My return] was in the works, but I had to take some time off," she says. "Within the last year, I've been recommitting myself, getting back into acting classes, and really focusing on what I want to do."
This recommitment has translated into reading scripts and picking new projects, while providing voice work to Bob Saget's mockumentary Farce of the Penguins (due in theaters later this year). "People are a little shocked to see me at 24, having seen me grow up on TV," she shrugs. "Getting out of the box of TGIF is the challenge. But people are more receptive to me being a young adult actor now." So for now, Sweetin's perfectly pleased being the future face of the Fuse network.
Indeed, Stephanie Tanner's back on track, en route to the limelight once more. And even if this ride's a bumpy one, driven by some booty-bumpin' "trainwreck" TV, at least no one's feet stink. We think.
Pants-Off Dance-Off airs July 18th at 10 p.m. on Fuse.