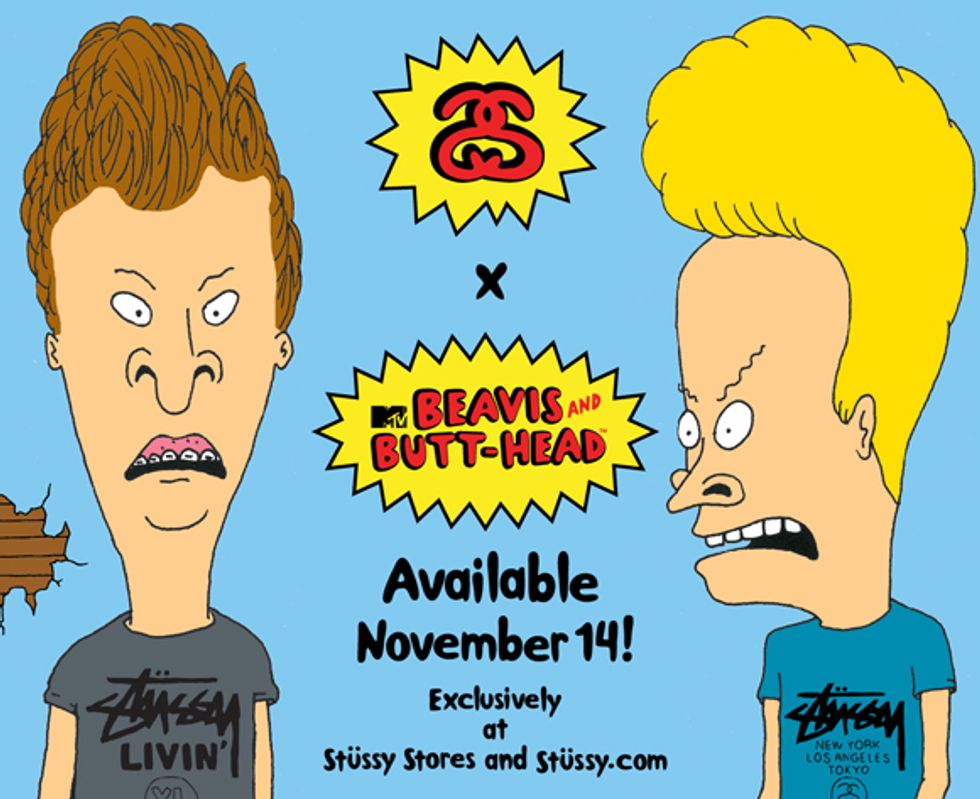 1.
Stussy X Beavis and Butt-Head = Cool
! Stussy is launching a limited edition of sweatshirts and tees with MTV and Mike Judge.  The line will be available on November 14 at Stussy stores and at
stussy.com
.
2.
Andrew Kuo
's "Reassessing
1991: The Year Punk Broke
"
chart
is all kinds of awesome. A highlight: "Knowing the entire roster of of an independent record label from Washington, D.C., doesn't mean I know anything." [NYT]
3. How much is
Gawker
worth? The financial blog 24/7 Wall Street
lists
the 25 most valuable blogs in America and Gawker is number one, with an estimated value of $318 million.
4. China has sent the artist
Ai Weiwei
a bill for $2.4 million in back taxes
. [Reuters]
5
Fuse Gallery
(93 2nd Avenue btwn 5th & 6th Streets) has an up-coming exhibit of new works by Brooklyn-based artist
Ben Finer
called "I'm Blood on the Rise."  The show opens tomorrow, November 2, 7 to 10 p.m. and runs through December 7.
6. New York City's Museum of Mathematics aka
MoMATH
(11 East 26th Street) is scheduled to open in 2012.
7. "
Sleepless Night"
-- Miami's all -night celebration of music, art and dance -- starts at sunset this Saturday, November 5. There's 150 scheduled events at 80 venues around Miami Beach and it's all FREE.  Details
Here
. And don't forget to turn your clock back one hour.