Australian designer Alexandra Hackett is the brains behind Studio ALCH, a conceptual and highly functional take on streetwear.
For her process, Hackett is heavily interested in deconstructing athletic staples to maximize shelf life and function, but also to go beyond their trendy styles to enter the realm of luxury fashion you won't likely see everyday. She works commonly with products by Nike and Dutch streetwear brand, Patta, to repurpose clothes you might wear for an active lifestyle, but made instantly memorable by incorporating finishing touches on ALCH's one-of-a-kind pieces — from technical add-ons like velcro panels, hooks, straps, and numerous pockets to design details including unexpected patterns and fabric and material textures.
Previously, ALCH has shown tracksuit looks comprised of bubble wrap and shopping receipts. In fact, one very recent drop re-imagines the traditional men's gilet — usually a functional down vest best for layer in colder months — as a series of interwoven tech-style Nike pouches with oversized pockets, held together with adjustable buckles and straps. Two of the best things about what Studio ALCH does lies its unisex appeal and environmental consciousness, for an audience ranging from streetwear enthusiasts to luxury lovers the world over.
PAPER caught up with Hackett on the heels of her spring 2019 mainline collection's launch during London Men's Fashion Week to discuss the brand's recent relocation to London, the importance of creating sustainable fashion, and more.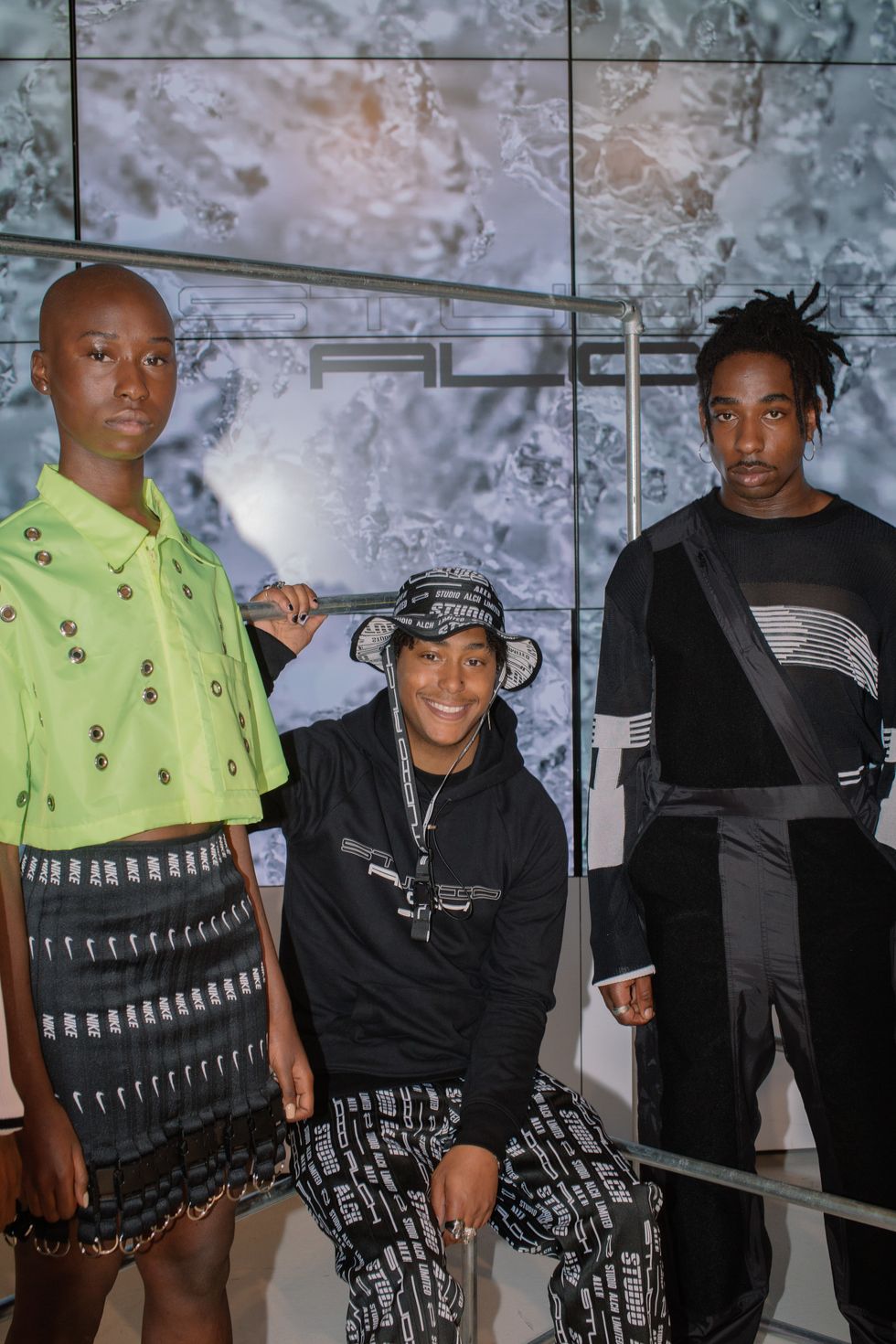 What is particularly intriguing to you about Nike and Patta?
I'm (clearly) a huge Nike fan, and I'm lucky enough to have worked closely with the brand on a number of different projects over the last year or two. I'm a huge brand advocate for Nike for a number of reasons, but mostly due to their highly functional, technology-focused approach to sportswear design, as well as their iconic branding/marketing techniques. Similarly, with Patta, I really love what the team there does, and we've worked on a number of reconstructive projects with them.
Your process of de/re-construction also works to expand the shelf life of trendy streetwear. Why does this interest you?
The streetwear industry has become very instant of late. The aesthetic properties and/or resale opportunities of an item are now considered vastly more valuable than an item's construction technique and fabric development. Despite this shift, I personally think it's really important, from a sustainable perspective, to look at the longevity of products and focus on breathing new light into pre-existing products that perhaps didn't survive a trend or simply have reached their use-by date.
Speaking of trends, the slime green color is a trendy one featured very prominently in this collection. Why did this color appeal to you? What do you personally think the color represents?
Fluro yellow is a key component for ALCH, not just for our spring 2019 range. For me, [fluorescent] is traditionally associated with sportswear and hi-vis workwear but it has the power to evoke sport, motion, technology and visibility. For this reason, it is the base color of our mainline labels, swing tags and all branding.
In recreating the classic gilet, what was your process? Also, all of the pockets and buckles feel like a commentary on the purely functional nature of a traditional men's gilet. Was that your intention?
We have created a number of reconstructed gilet interactions over the last few years, always focusing on the raw, deconstructed materials. We start by completely deconstructing the original product, which is quite a lengthy process as we try to re-use every component so as to minimize waste as much as possible. Each seam is unpicked and all the binding, buckles, webbing and labels are kept to be re-used. The material properties and initial product's functional purpose are incredibly important to determining the use of the final design.
What has it been like introducing your new work to the London market? What excites you about the London fashion scene?
Coming from Australia, the industry in London is far more global. Accessibility to resources, brands, creatives is the biggest advantage and brings with it the most exciting opportunities. The London menswear scene is a super exciting place to be at the moment, and it seems to be evolving all the time, especially with the growth of the streetwear industry.
Photos courtesy of Studio ALCH

Sign Up for the Morning PAPER