Belgium-born Paul Van Haver, better known as pop superstar Stromae, is often referred to as one of the biggest acts in the world that no one has ever heard of before, despite collaborating with Kanye West, topping the global charts and selling out Madison Square Garden following the massive success of his second album, Racine Carre. Which is no small feat, especially as a fearless creative force tackling difficult topics like absentee fathers, neo-colonialism and gender roles in mainstream pop music. However, his vision is now going further than the confines of your headphones, with the MADE LA release of his agender clothing collection, Mosaert, this weekend.

Alongside chief clothing designer and wife Coralie Barbier, who also worked on the previous two collections, the line takes Van Haver's vibrant style and translates it into a semi-upscale ready-to-wear fashion line -- and, as such, we caught up with both Van Haver and Barbier ahead of the collection's stateside debut to talk about their inspirations, Belgian surrealism and defying the gender binary.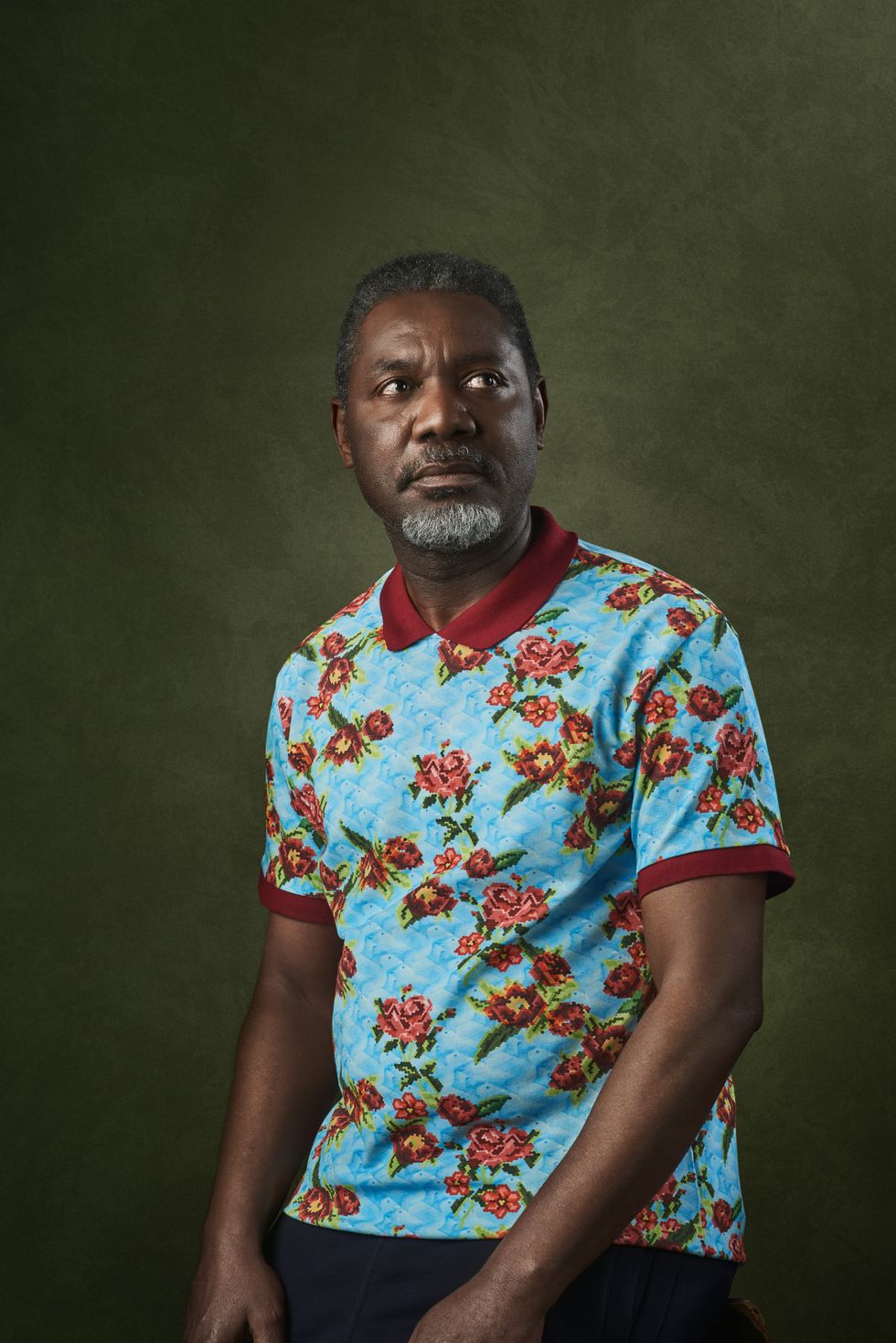 What were the inspirations for the collection?
Paul Van Haver: For the first and second collections, we were completely inspired and driven by the music of Stromae. For the new one we didn't [necessarily] want to split from that, [but we did want] a new inspiration.
Coralie Barbier: In the beginning, we just had one design per song and we created the garment based on that. Now we have [new styles] and, of course, it still keeps in mind the style of the previous capsules, but it now incorporates the African Wax print, [which is a popular West African fabric known for] geometric patterns and colorful prints. The design is now a [separate] creation -- not inspired by a song.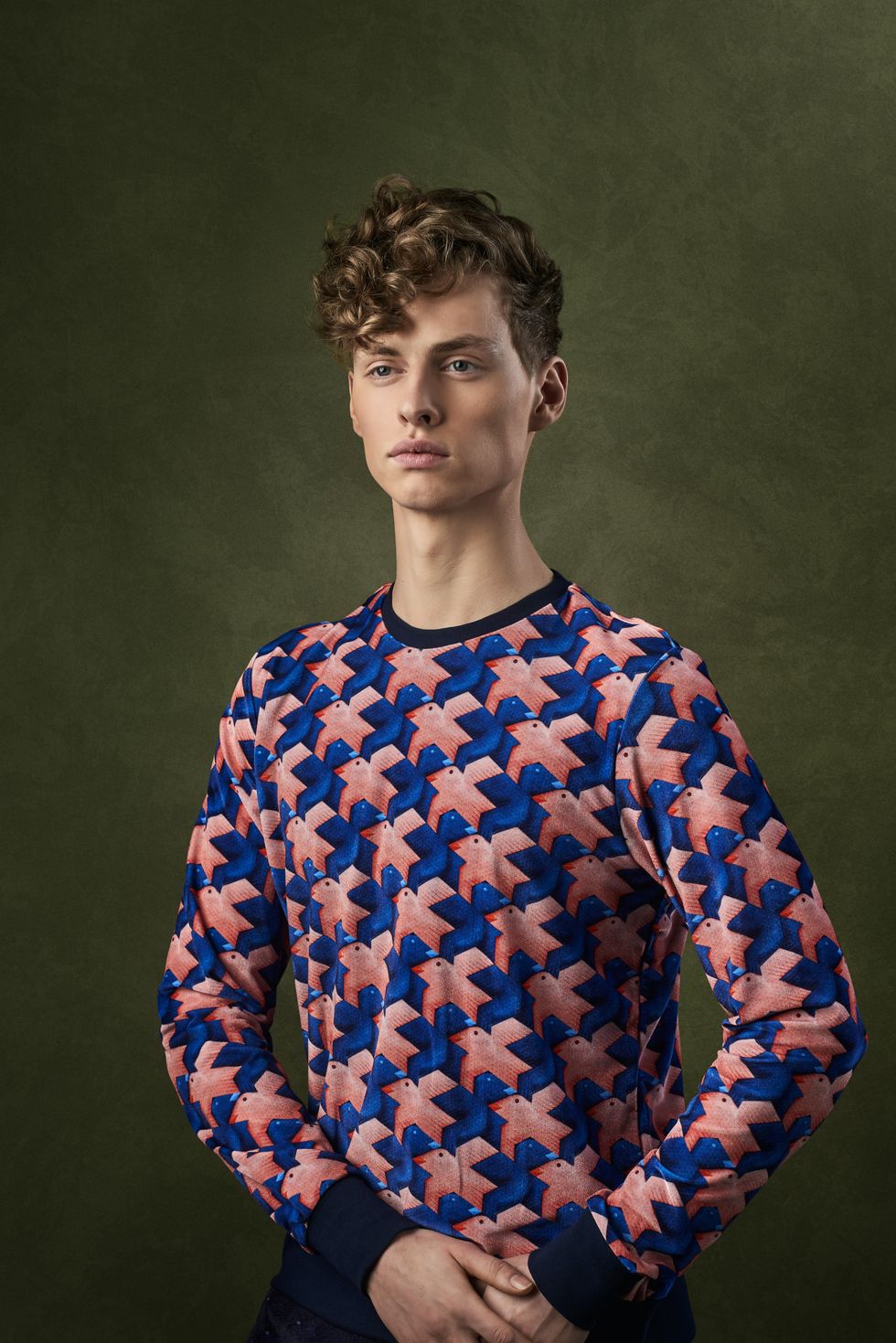 African Wax print and the optical illusion art of M.C. Escher are big inspirations for this capsule -- why?
CB: We wanted to make the African Wax more modern and…
PVH: …[to make the designs] clearer -- like when you see the birds on the blue sweater, it's very clearly inspired by M.C. Escher. It was a long process before we settled on that particular design. But the African Wax, it was too easy to just leave it as is. The traditional pattern was over 50 years old and we wanted to modernize it and [incorporate surrealism into it]. Surrealism is something that is very present in our vision and important to [Belgium's history], so we definitely wanted to find a way to make that a part of the collection.
How else has surrealism played into this collection?
PVH: With every design we wanted to justify why we were doing it. After the graphics came, I was like, "Okay, I love this! But why did you decide to put this triangle here?" -- [I was a little mystified]...However, the whole point of Surrealism is that you don't really have to have a reason, and by working with the philosophy, you don't have to justify it.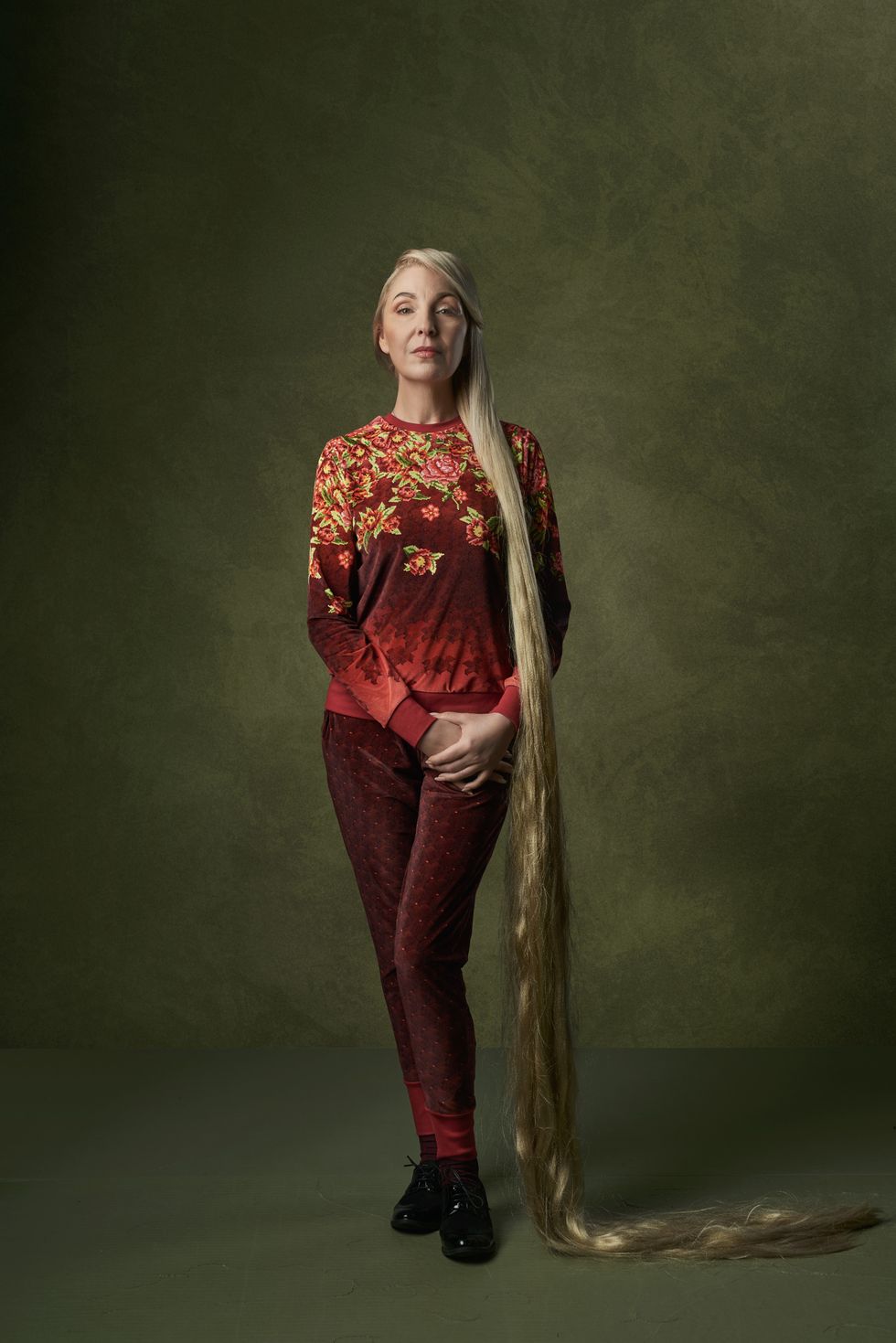 How did you two end up working together as creative collaborators?
CB: I worked with Stromae on the last album, Racine Carre -- bringing the visual aspect of it to life. He had already built up this distinct persona from the first album and it was my job to work with him to take the themes and ideas of each song on the new album and make it into a visual and wearable embodiment of those ideas.
PVH: She was really realizing my vision to have my own unique pieces that I could have on stage. [And then I] wanted to [give this opportunity also] to the world -- so people can have these unique pieces and partake in this vision.
CB: We wanted to use the same suppliers and people who make pieces for Stromae on stage. All of our pieces are made in Europe and it was very important to us to work with the same people and follow the same process when making the capsule collection.
The thing that sets the collection apart, in my mind, is that all of the pieces gender-neutral -- and when you think about it, it makes sense when you look at videos like "Tous Les Mêmes" and see this androgynous aesthetic that reoccurs in your work.
PVH: "Tous Les Mêmes" wasn't really the reason why we decided to do a unisex brand. If there is a reason, it's because she is a girl and I am a man. It was important for us to be able to…
CB: …wear both.
PVH: Yeah, wear both. Maybe it's because I'm a bit jealous of her wardrobe and the feminine wardrobe in general.
CB: We like the way that you can mix and match elements of masculine and feminine clothes to make them unisex.
How does Mosaert fit in with the overarching vision for Stromae? How do you see your music interacting with fashion and vice versa?
PVH: In the past -- during the tour and the release of the album -- everything was completely driven by the music. Now it's interesting, and maybe a bit challenging, because we don't have that. It was easy at the end of Racine Carre [and the other collections], because we could just say, "Okay, what is the music talking about? What is the theme?" and work from there. Now we have to start with the design or the graphic Coralie brings to the table and approach it from that perspective. It's a bit complicated for me -- maybe not Coralie -- to change that vision and the way we used to work...but I think we did pretty well so I think we'll continue.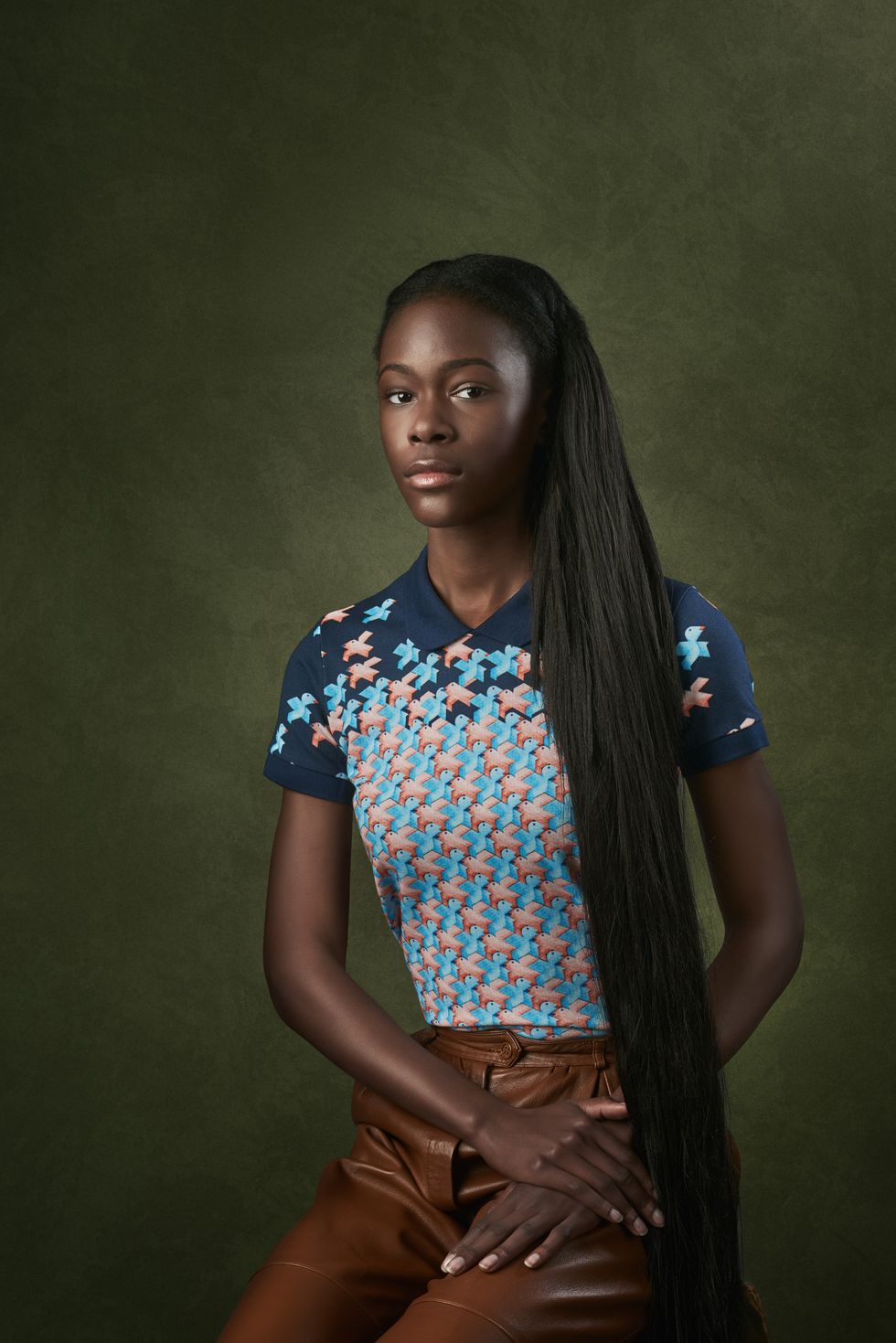 Did you have any prior experience with fashion before you started working with Coralie?
PVH: Not really. This was my first time working with a true professional and I'm a really lucky guy that I get to learn this way. I have my own t-shirt with me every day and that's 'magnifique'.
CB: He's really known for the music, that's his first job. But when he's not involved with that he's into any kind of art -- whether it's architecture or fashion design or video. It's really cool to work with him because he really wants to learn and is invested in each part of the job.
Going forward what's your vision for Mosaert? For Stromae?
CB: For Mosaert, we are going to create capsule 4 soon. It's going to be a huge collaboration with another brand. Of course, we can't say who it is now, because it's a big secret. But we are going to approach it in the same way -- with small quantities, elegant prints and lots of color. We are also in love with shoes. It was one of our dreams to design a pair of shoes but it's tricky, because we want to be able to brand and sell it, so we are looking for a wonderful brand that can achieve this.
PVH: So Stromae is on vacation now...I think all the celebrity and being famous -- no one is prepared for that and nobody is really born for this. I don't know for the next 3, 4, 5 years if we'll see anything. I don't have any answers for the character Stromae. I just want to focus on being less in the spotlight and produce the clothing line. Maybe also [focus on Mosaert, but] not really be in the front of it all. Like produce with another artist or do a collaboration. More like composing, co-writing, and stuff like that.