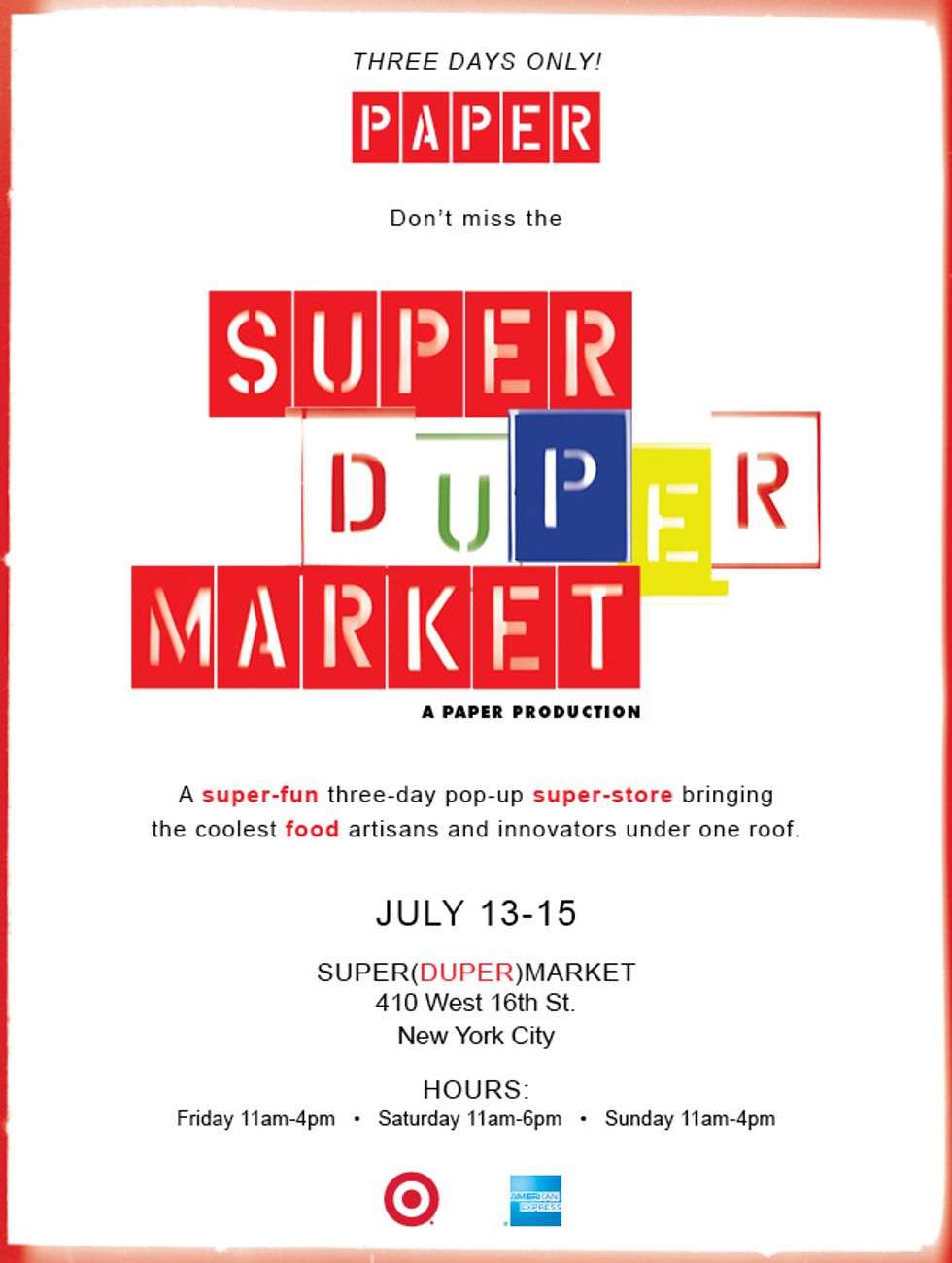 What are you doing next weekend? You're coming to our
Super(Duper)Market
, that's what! The three-day pop-up super-store will feature our favorite vendors, retailers and food fanatics from East Coast to West Coast selling their goods under one roof. It's located at 410 W. 16th St. and will be open Friday, July 13th, 11 a.m.-4 p.m., Saturday, July 14th, 11 p.m. to 6 p.m. and Sunday, July 15th, 11 p.m. to 4 p.m. Cash and credit cards are accepted.
Participants, among others, include...
EAST COAST
Anarchy in a Jar
Brooklyn Grange
The Brooklyn Salsa Company
Brooklyn Soda Works
Danny Macaroons
Dough
Empire Mayonnaise Co.
First Prize Pies
The Gefilteria
Imperial Woodpecker Sno-balls
The Jam Stand
KingLeche Cremes
Kumquat Bakery
La Newyorkina
Liddabit Sweets
Mile End Delicatessen
Morris Kitchen
Nordic Breads
Norma Kamali Olive Oil
Ovenly
Red Rooster
Salty Road
Smorgasburg
Sour Puss Pickles
Soy Hound
Speedy Romeo
Shorty Tang & Sons
Taza Chocolate
Taste of Ethiopia
Whimsy & Spice
WEST COAST
Boulettes Larder
Humphry Slocombe Ice Cream
Sciabica's Olive Oil
Miette
Modern Appealing Clothing
Scribe Winery
Tartine Bakery
PARTICIPATING ARTISTS
Maira Kalman
Andrew Andrew
Artware Editions
Creative Growth Art Center