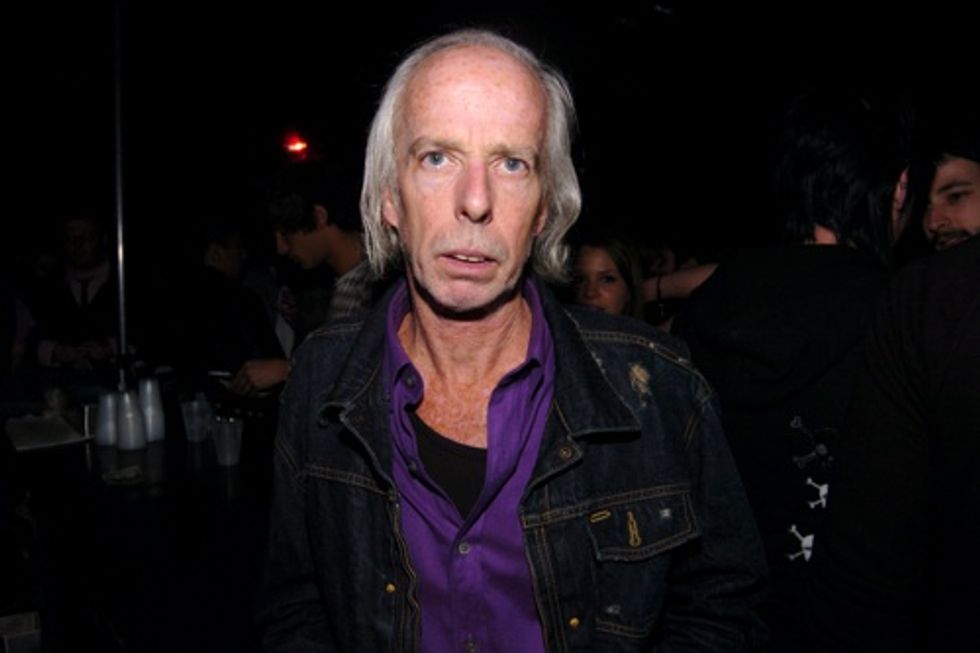 Don Hill
was the last of the great old-school club owners. He grew up in Jersey and navigated his way around the Irish mob bars and rock clubs, which eventually brought him to the city. In the 70s, he helped run the noted
Kenny's Castaways
on West 84th Street. In the 80s he'd manage the popular
Cat Club
on East 13th. Soon after the Cat Club closed in 1990, Don got hit by a car and used the insurance settlement to open his club, the legendary
Don Hill's
, at the corner of Greenwich and Spring, in 1993.
I knew Don as well as anyone, and we worked together for years. He was like your twisted uncle, a mad scientist conducting his own insane social experiment. He was so not your prototypical club owner, instead offbeat, unassuming, kind of a loner, but cerebral as hell and with a true love of rock and roll. Don was also so not the person you'd imagine to name a club after themselves, but for 20 years he had one of New York's coolest clubs. The death of Arthur Weinstein was depressing but Don's truly represents the end of an era -- his passing is to Downtown clubland what the death of Joey Ramone was to New York rock.
I first met Don Hill in the mid-80s when he ran The Cat Club. I'd just moved to town, and for the next year or two Carlo McCormick, Paul Brodbeck and I booked these wild weekly shows called "Dead Cat Mondays" with the likes of Lydia Lunch, Butthole Surfers, Einsturzende Neubauten and early Faith No More. This was way before "alternative" culture. The Cat Club scene back then was Billy Squier, Adam Bomb and ballroom dancing, and everyone there hated our shit, except for Don, who saw it as part of the mix. Don finally had to axe me after I brought in GG Allin, who threw his fecal matter on the crowd and bouncers. Don wasn't even that upset, but owner Pat Kenny had a cow.
Throughout the '90s the only way to see Don was to visit him at the club. Don Hill's was his pride and joy. He was there every night, and part of his genius was an innate ability to maneuver around everyone, from hipsters, prima donnas, gangstas and drug addicts to police, fire marshalls and community boards. That's exactly why his club endured when all others couldn't.
In 1999 I threw a little party for Monster Ballads, the hair metal power ballad CD they used to sell on late-night TV. Everyone thought it was a joke except for Don, who wanted to talk about who played on what. Two weeks later I started my weekly Röck Cändy party at Don Hill's, with videos and big-haired bands, and the monthly all-female metal event "Bitch". I had free reign to bring in old hair metal and punk groups along with a stable of young bands ill-suited for the Williamsburg revolution. Don Hill's remains famous for queer-friendly parties like Squeezebox, Tiswas and Misshapes, but mine was the longest-running. I quit the club in 2006 but I really could've stayed forever. 
Don helped out more people than you will ever know. He was the patron saint of the New York rock scene in its darkest days. He literally helped thousands of bands, offering all a place to play, and a respected few a spot to rehearse. He kept more people drunk and helped out more people financially than can ever be imagined. To me, Don Hill was a friend and mentor. I learned a lot from him, perhaps too much. The most important thing I learned from him is that the ultimate in cool is to just be cool, and that most pretenders dress the part.
I used to love to just hear him talk. Because Don was so unassuming and so in-the-trenches, he always had the most amazing rock stories; be it The Doors in 1967 playing for $5 at Steve Paul's The Scene or Aerosmith in 1972 opening for the New York Dolls at Kenny's.
The club biz became a burden for Don, and I know how conflicted he was about "new Don Hill's." On one hand the club was once again cool and successful, but to him it was a real deal with the devil. Not that his new partners were devils -- they're not -- but the hipster direction, and his lack of creative input, not to mention the direction of the whole club scene, was not what he really wanted. Don was never a hipster, and I can't imagine how many times over the past year he must've had to bite his lip and grin.
Don was found dead the morning of Thursday, March 31st, and word traveled so fast that friends gathered at the club for a midnight toast. I wonder how many others realized that at 12:01 it turned into April Fool's Day. I've been waiting all day for someone to come in and tell me this is all some terrible joke. But it's not. And that's not cool.
Photo from PatrickMcMullan.com