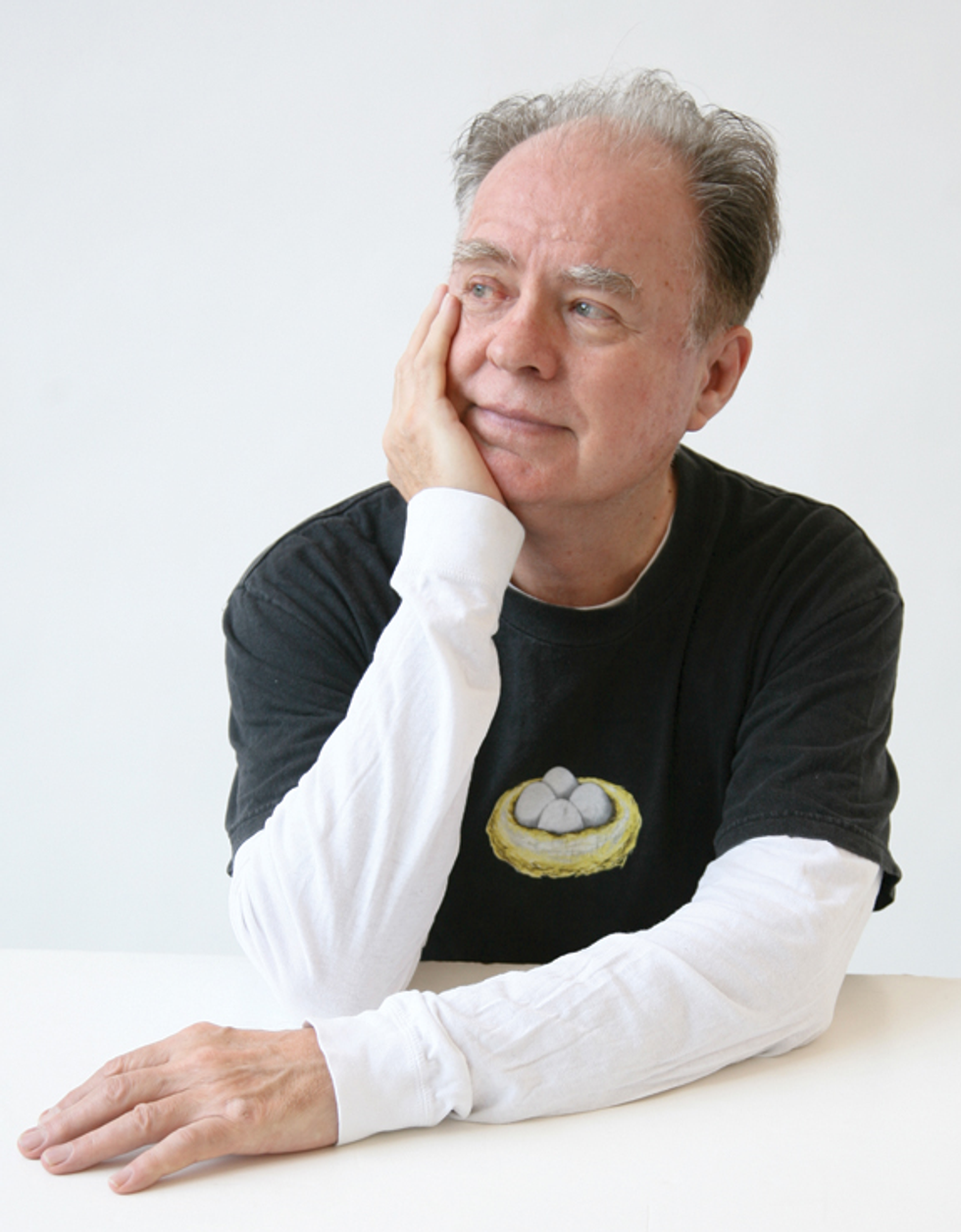 Photo of Tom Murrin by Patricia Sullivan

Two years ago the world of performance art lost an unsung hero. A tireless performer and advocate for its creative community, Tom Murrin personified what it means to be an artist, generously mentoring, advocating and writing about the work of talented people too often working below the radar, mostly in Paper Magazine. Thanks to Tom, Paper was one of the first national print publications to cover the Upright Citizens Brigade and David and Amy Sedaris. In his honor and as a tribute to his creative energy, Scott Adkins, Laurie Berg, Erin Courtney, John Gernand, Sarah Maxfield, Lucy Sexton and his wife Patricia Sullivan, have curated the Tom Murrin Full Moon Performance Festival, named after his monthly shows that celebrated the lunatic in us all. Running at La Mama from April 17-27, the festival features a who's who of performers and friends, including Jonathan Ames, Steve Buscemi, Diana Y. Greiner and Heidi Dorow, Karen Finley, Annie Iobst, Mike Iveson, David Levine, Lumberob, Salley May, Jennifer Miller, Brooke O'Harra and Sharon Hayes, Nicky Paraiso, Peculiar Works, Radiohole, Gary Ray, Saint Fortune, Chris Tanner, and others. There will also be an exhibition curated by Carlo McCormick at La MaMa Galleria of his hand-painted masks, collages, and paintings.
Here, Steve Buscemi talks about his long-time friend and recalls their grungy East Village days and Murrin's influence on his life and work.
I met Tom when I first started going out with [filmmaker, choreographer and artist] Jo Andres around 1982. She brought me over to his apartment on 11th St. She had been talking about her friend Tom and how much she loved him and loved his work, and she had been telling him about me. In fact, she was walking with Tom one night in the East Village when she saw a poster for my show with Mark Boone Jr.,
The Steve and Mark Show
. I had been doing
The Steve and Mark Show
for almost a couple of years and she was walking with Tom and saw the poster and pointed to my face and said something like, "I'm going to get that guy."
When Jo and I first started dating, she actually didn't recognize me from the poster and it wasn't until she was sitting in my apartment and saw the poster that she said, "that's you!" And she told Tom, "Hey,  remember that guy I told you about? Now we're seeing each other." She really wanted us to meet. [
Ed note: Andres and Buscemi married in 1987
].
So I went over to his place on 11th St. and we all ate chocolate Hagen Dazs ice cream and told each other stories. Tom told me what his story was, and I'd find out more over the years.
He was performing as
the Alien Comic
. And I had seen his posters all around town. But I had never seen his shows. I was always intrigued by his posters because he always had the best flyers. And I think it was around that time that Jo and Tom and Dance Noise and Mimi Goese and Billy Shaffner who was producing the Full Moon Shows were all performing. I think that the first time I saw all of them perform was at a Full Moon Show at PS 122, and then I started following all of their works individually. The Alien Comic I followed a lot.
Later, Jo and and Tom were roommates on Ridge St. And then I moved in -- for a little while the three of us were roommates, and I kind of forced Tom out. He took a smaller apartment two flights up which eventually became the Alien Comic [one of Murrin's performing personas] museum because that's where he had all his props. Found stuff that he would drag in off the streets, find, it was just all over his place.
Tom Murrin was a mentor to a lot of people and inspiration to that whole downtown scene, especially coming from the world that he came from. He had been a lawyer before he became a performance artist, and he left that behind and traveled the world doing his shows with Johanna Went. Later, be brought it to the East Village, doing street performances and taking his show it into clubs all with found objects and scenery that he made. He made everything seem so doable and accessible. As long as it had "style and purpose," that was his definition of performance art.
In our world he was the top, and as much as his own work, performance style and commitment to what he was doing, he was as big a supporter to the performance community as anybody. If he liked your work, he was in your corner 100 percent. He was non-judgmental about work. That's why he was so inspiring to younger performers. He really encouraged them and validated them. What you're doing has value even if not fully formed. He saw the potential in so many people, nurtured them and brought them out.
He would go see everything. He was the godfather to our son and he would go see him perform. He was in bands. And Tom would make the trek into the deepest parts of Brooklyn, late at night, see the shows, check out the other bands, stay the whole time and really soak up the whole scene. And even when Jo and I couldn't make it to the shows, Tom would go and write detailed emails about how it all went.
He was always that way, always so supportive and encouraging.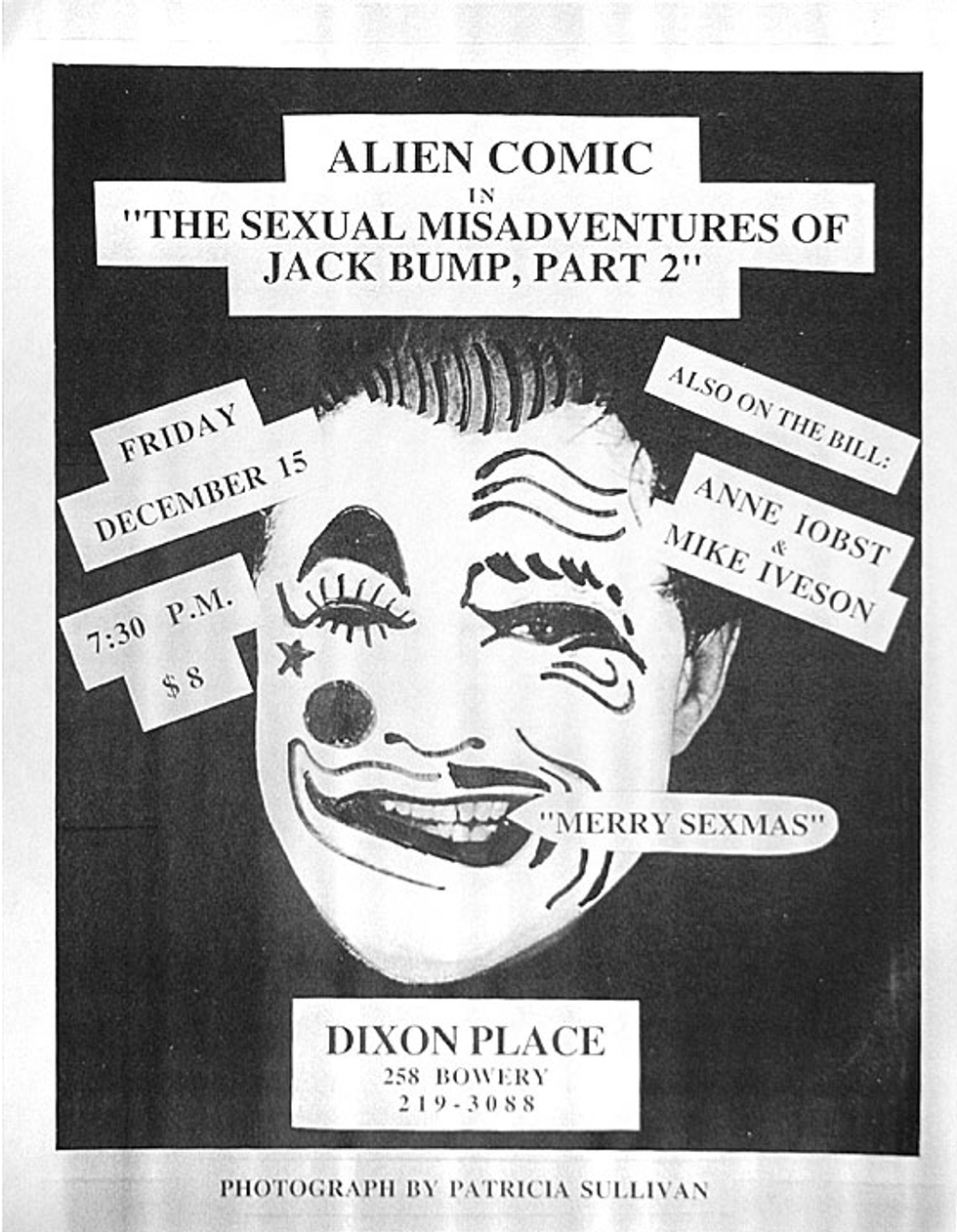 A flyer for a show featuring Murrin's lascivious alter-ego, Jack Bump.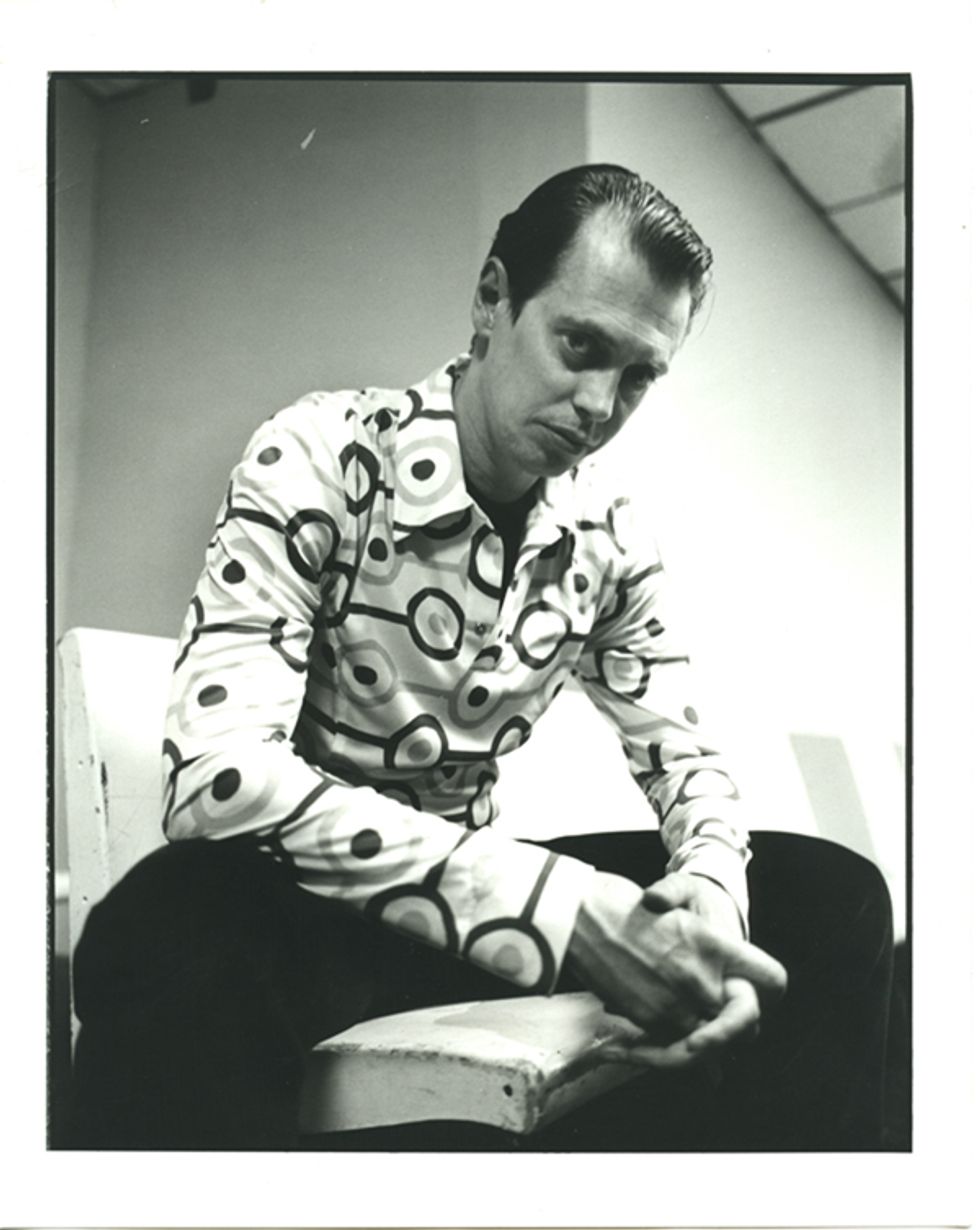 Steve Busemi in
Paper,
1996, for a cover story written by Tom Murrin
.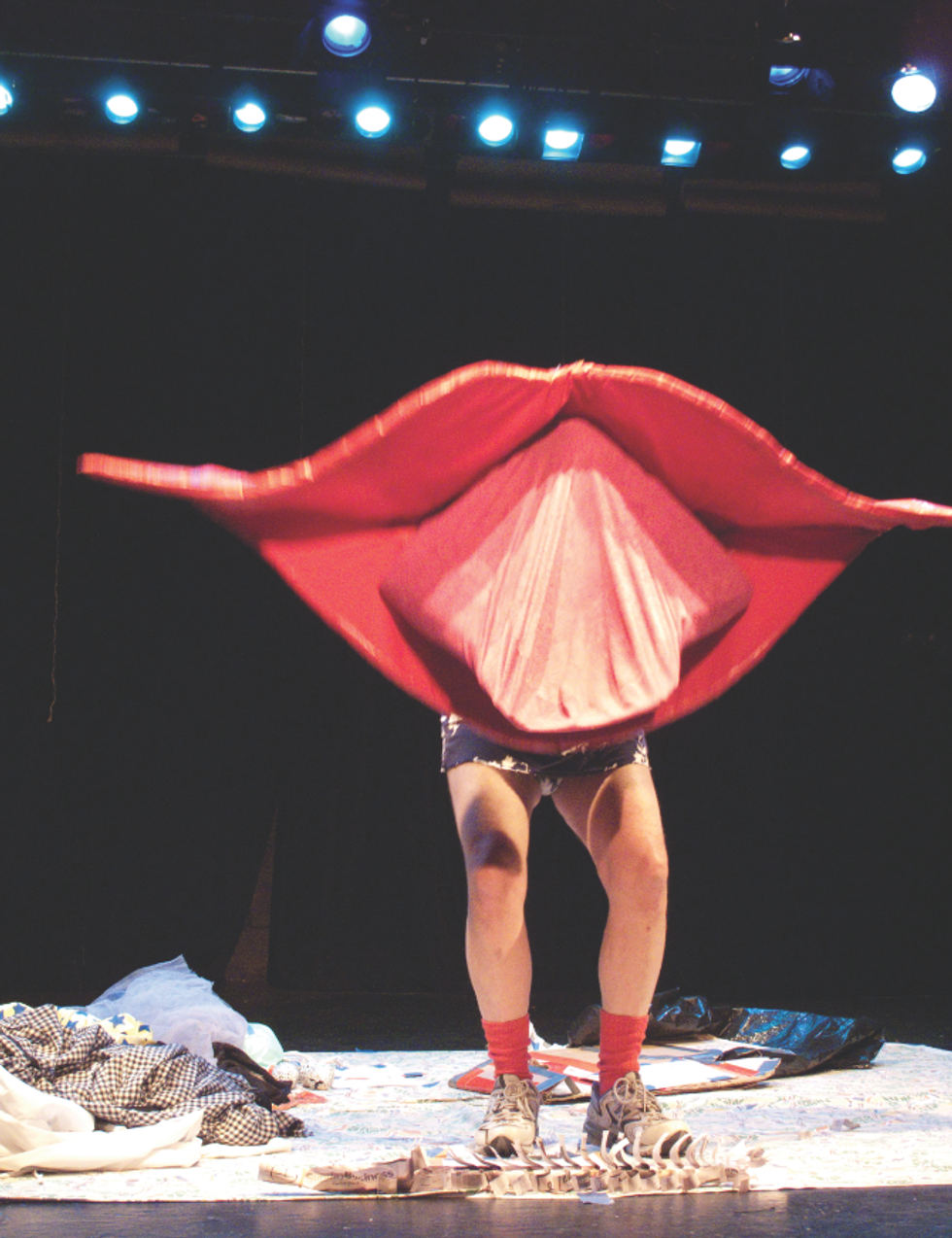 Tom performing at a
Full Moon Show
. Photo by Jim R. Moore.
To see more flyers, photos, art work and amazing video shorts Tom made for MTV in the mid-'80s, visit his fabulously curated website at TheAlienComic.com