For years, Steve Aoki has been known as one of the EDM world's most hardworking and controversial figures. From his crazy stage antics to his admission of not being a DJ, Aoki knows how to get the public's attention. Aoki's latest project however, focuses less on his position as a DJ and more on his family history and why he's so diligent about working. As you can gather from the title, I'll Sleep When I'm Dead, it's not necessarily an uplifting film, but an important one. The documentary—shot during the making of his record Neon Future—takes a look at Aoki's complicated relationship with his father, Benihana restaurant tycoon and former Olympian Rocky Aoki and explores the drive that's been instilled in him.
We caught up with Aoki about why he decided to make the film and the message behind it. You can see a screening of it during the Tribeca Film Festival in New York City on Friday, April 15 at the Beacon Theatre.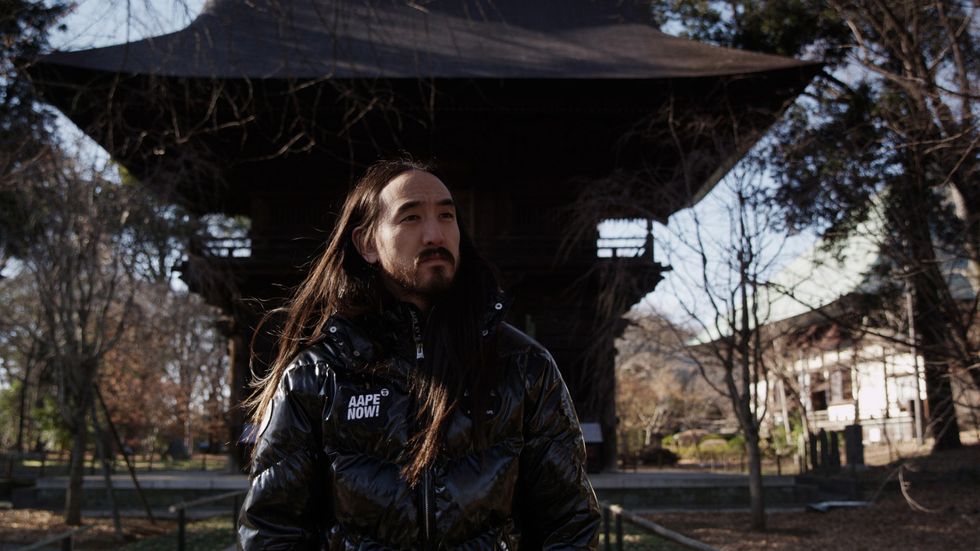 Still from I'll Sleep When I'm Dead
What made you want to make I'll Sleep When I'm Dead?
We started filming this three years ago—it was a long time ago. I'd been filming our own homebrewed videos and putting them up on YouTube since 2011. We had been documenting all this fun tour life. Then I met up with the Jiro Dreams of Sushi team and they came to a show and they were like, "We really want to do something with you." So, I hung out with those guys for a bit and they started to piece what kind of route they were going to go down. It wasn't going to be [a film] on the fun tour life stuff. It is partially, but the [filmmakers] went deeper. They wanted to go more into my family—this personal story. I've never really told that story. It's a very delicate story so I didn't want to go there. I think with the right team I'd go there, which is why I opened the doorway to that world. I don't feel really comfortable diving into that world with people that don't know how to present it. Once I had a comfortable feeling with Justin [Krook] and the team—I just gave him the reins to have at it with an uncensored look at this life and build the story the way they did.
What do you think will surprise people the most about this documentary?
For me, the one thing I'm really happy about is that there's a lot of amazing footage of my dad. Personally for me that's really great to see. When he passed away, I became obsessed with this idea of documenting because I didn't have enough documentation of my father—I wish I had more photos of my father. We went into the archives for it. The other great thing about this is towards the end of the film, there's really this story about my mom who's the one that raised me and who's the most beautiful human being. There's a recap on her that I'm really happy about.
Why did you want to show that complicated relationship between you and your father?
Like I said before, it's a difficult door to open. Justin [Krook] and his team helped open that door. I didn't really want to go there, but this isn't "Steve Aoki's DJ perspective on the EDM world." That's not the story here. Yeah, I'm part of this world—you might know me as a DJ. If you see [the film], you'll see the process that got me from where I was to where I am now and this connection with family. There's a relationship people can get on that level. You might not necessarily need to be a DJ to understand this relationship I had with my father. It might be very similar to other people's relationships with parents. It's more of a human story. The music is more of a side-note to be honest with you. That's why I think this story is interesting—it's different. It's not a commentary on the EDM world. There are enough EDM documentaries.
Why were the video streams so hard to get for the documentary? Getting a screener was tough.
I have no idea. I didn't even know it was guarded. I don't even know what restrictions they put on there.
What's the message of the film if you had to sum it up?
I don't know. There's a triumph, definitely. I guess the idea that you work hard and you get there, but there's a sacrifice. That's the story of my father. He was blatantly about putting work first, but he sacrificed a lot of different things like having a relationship with his family that you would imagine a father and child would have all the time. There's a sacrifice there, so there was a triumph in that pursuit. It's not all happy. It's not an incredibly happy ending. I went to burial sites in Japan with my family, There's a lot of great ancestral stuff for Japanese people. I think a lot of people can relate to that. The film is called I'll Sleep When I'm Dead, so the premise is that I literally don't stop working and it's difficult. There's a lot of sacrifice that happens. At the end of the day, for me, I'm doing what I love to do. I'm so grateful that I can do that. A lot of people don't have that space to say that. In this world, you're never really ever on top. You can immediately fall and be unknown. That's why you have to work hard constantly. You can't just work on the same wheel—you have to change the wheel up because that's how sound and music is now. You have to constantly be on top of it. You can't sleep. There's no time to chill. That's my motto and way of life.
Do you have plans to make another documentary?
Well, I do have this series on my YouTube channel that I've been shooting for five years now. We're on the 200th episode coming up. It's just the road life—the crazy road life. I'm constantly documenting and shooting stuff. I'm always meeting all kinds of incredible people. I don't want to miss out on that. I'm very active on that scope. As far as a documentary, I can't see one happening anytime soon.

You May Also Like
America
Story by Mikelle Street / Photography by Renell Medrano / Styling by Anatolli Smith / Hair by Evanie Frausto / Makeup by Marcelo Gutierrez
America
Story by Rob Dozier / Photography by Moisés Arias / Styling by Jason Bolden