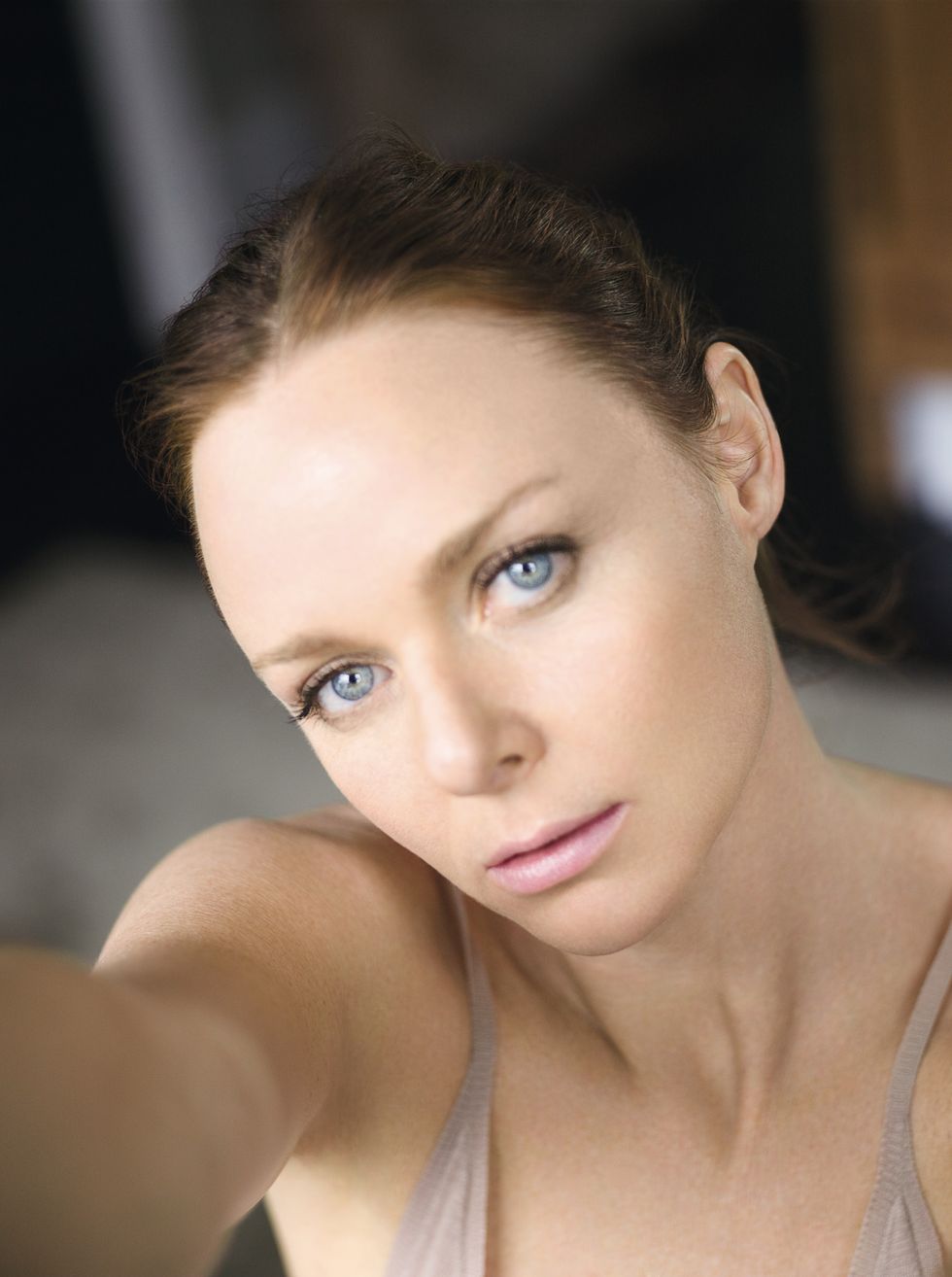 As a longtime cruelty-free fashion addict, I have been girl-crushing on Stella McCartney for ages. So I was giddy as a schoolboy clutching my faux-fur Falabella bag the afternoon we met for lunch at the vegan Crossroads Kitchen in LA. The night before, Stella hosted an insanely fabulous party-slash-fashion presentation at Amoeba Music that featured a cavalcade of every cute celebrity in town and musical performances by Pink, Brian Wilson and Marilyn Manson with Johnny Depp. As we dug into our vegan chorizo scramble, we chatted about fashion, sustainability and our mutual love for film legend Doris Day.

Mickey Boardman: Is it annoying for people to call you the cruelty-free designer?

Stella McCartney: I've been called so many different names for so long. I started off as the child of Paul McCartney, so you know I'd prefer this label to that label. At first, I didn't want to be pigeonholed with anything, really, but I'm actually more and more proud to be that. Sadly, I am the only one in luxury fashion (who designs cruelty-free collections). I am glad to be the reason that a journalist talks about sustainability and cruelty-free fashion. Somebody might read about that mindset, and it might make them think slightly differently about how they consume. If I'm creating a product that's desirable, beautiful, luxurious and can stand the test of time as much as the conventional product made of leather or fur, then it doesn't really matter. If I make a rubbish product, we're not going to be sitting here talking anyway. It doesn't matter how I made it, sourced it or manufactured it; it isn't relevant if I can't make a good product.

Mickey Boardman: Do you feel that since you've started people are more receptive to this kind of thinking?

Stella McCartney: There's a small percentage of people that know of me as a fashion designer, and then a small percentage of that know that they're buying a vegetarian pair of shoes, and I like that. My ultimate goal is that people don't even know — that's when I truly succeed. For me, people shouldn't have to compromise anything to have a great, beautiful product. If you don't notice that I'm wearing a vegetarian pair of shoes, then shouldn't everyone be making non-leather shoes? Why are they not? It's ridiculous to me. Mine last as long, they're comfortable, and they look better! We can't continue to go this way. We cannot sustain killing 45 billion animals a year for food. We don't have enough land, we don't have enough water, we don't have enough grain, and it's inefficient. One hundred football pitches of trees are being cut down every hour in the rainforest, for cattle alone. No matter what you think, it isn't realistic. For me, it's the only way you can create a business, it's the only way you can carry yourself in life. If you're thinking of starting a business, you have to be mindful of that. Sadly, fashion is so old-fashioned. It's so uncool.
Mickey Boardman: Designers are like rock stars now. You seem so natural and comfortable with the press, and with being in the spotlight.

Stella McCartney: Everything I do is honest. Last night, at the party (the presentation of her cruelty-free Autumn collection at Amoeba Music in LA), it was a totally honest presentation. I'm not doing this to be cool, to be the trend. I'm not trying to be something that I'm not. It's cool to be competitive; of course we want the best party, the best collection, but that's not really the starting point. I think because I'm coming from a genuine place, it makes it easier for me to go into those environments and enjoy myself. I'm very lucky to have found a place that's honest.
Mickey Boardman: Do you ever feel pressured?

Stella McCartney: There's always pressure to keep the business improving. I mean… when I start worrying about the people I work with and their livelihoods, they're my second family. We are all working together; we all want it to be a success. Everybody in my company, we all found each other for the right reasons, we are all working, as one, for the same thing, and we all want to spread the message. I've had so many people in the business say, "You'll never have a bag business, so you have to readjust your business plan." I definitely want to prove people wrong. I want to show the luxury fashion industry that you can approach it in a different way and have a healthy business. I love that we are the fastest growing brand at Kering. Meanwhile, Mickey, when did you first want to work in fashion?

Mickey Boardman: Growing up, I never knew you could work in fashion. I just loved 1960s Las Vegas Motown kind of fashion, like the Supremes in Las Vegas. Anything with sequins, like Bob Mackie doing the Cher Special, that to me is heaven.

Stella McCartney: It's like the movie-star swimmer Esther Williams. I used to love those films, when they did all the synchronized shit. That's what made me want to be a fashion designer. That and Doris Day.

Mickey Boardman: Doris fucking Day!

Stella McCartney: I spoke with Doris Day on the phone. My dad is friends with Doris fucking Day. I was like, "Doris, did you throw away all your clothes?" And she said, "No, dear," and I was like, "Well Doris, can I come and see your clothes?" and she said "Yes, dear." I've got to go.

Mickey Boardman: (Mickey is hyperventilating) Literally leave this restaurant and go see Doris right now!

Stella McCartney: She wasn't the sex symbol, she was the little tomboy. What's that movie where she's a cowgirl?

Mickey Boardman: Calamity Jane.

Stella McCartney: I loved Calamity Jane. I was obsessed with the transformation from masculine to feminine, I was obsessed that she was a tomboy and then she became a girl. I think I watched that film more than any film ever.

Mickey Boardman: I loved her Rock Hudson and Cary Grant movies. I loved her glamorous housewife look.

Stella McCartney: She always had a thing with her roles. Katharine Hepburn was the other one. She was in control. When you watched her films, it was like Doris Day wasn't compromising who she was as much as some of the other actresses.

Mickey Boardman: She was like Sarah Jessica Parker was in Sex and the City. Super fashion but when you really look at it, that shit is crazy! Finally, because I'm a gay monarchist, I have to ask if you've ever met the Queen.

Stella McCartney: I have met the Queen. The Queen gave me my honor a few years ago and I was delighted about it.

Mickey Boardman: What did you wear? Were you in a jumpsuit?

Stella McCartney: I was on form that day. I had a navy blue little suit, but it was molded and corseted, and then a little tight long pencil skirt with high velvet blue shoes. I could barely walk. They advise you to wear a hat or a fascinator. I'm like, number one, I'm not going to wear a hat, and a fascinator is not going to happen. The day before, I get a call from the secretary of the Queen who says, "We are all very excited that you're coming, and we are all very excited to see what hat you're going to wear." I'm like, "shit." So I literally called Philip Treacy and I'm like, "Philip, I need you to hook me up, because I'm seeing the Queen tomorrow, and she's going to expect a hat."

Mickey Boardman: So how was the Queen?

Stella McCartney: I wondered, what is the Queen going to say to me? I have really got to remember everything, and I can't remember shit anymore. So I'm trying to gear myself up, and they tell you how you walk and how you have to back away and curtsy. I'm in heels and trying to navigate my way and thinking, "what is she going to say to me?" So I curtsy, and she says, "So, you seem very busy." I was not expecting that, and so I said, "Not as busy as you, ma'am." She sort of laughed and then talked to me about the Olympics. I was not expecting that from the Queen.