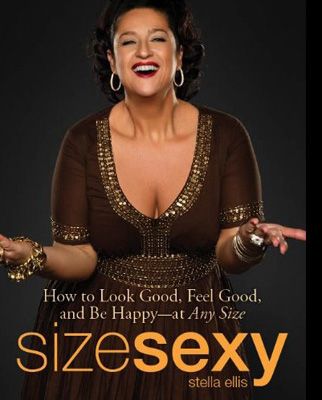 "Sexy is, first of all, a state of mind," argued
Stella Ellis
, the voluptuous model and muse to couturier
Jean Paul Gaultier
, at last Thursday night's party to celebrate the release of her new book,
Size Sexy: How to Look Good, Feel Good, and Be Happy at Any Size.
 The Israeli-born octolingual (!) fashion icon titled her book in response to her ultimate pet-peeve: being labeled as "plus size." Stella's high profile international career and acquaintances of every size (e.g. wispy party host/Cruella de Vil look-a-like
Susanne Bartsch
and her husband, the supe- juiced gym owner
David Barton)
show how large or small, just about anyone can be sexy. "It's something that you have to feel in your mind, and once you have that going, the rest follows," she explains. "You have to learn how to complement the shape of your body, and if you don't have things to accentuate, then you create the illusion of looking sexy with, you know, high heels, boobs, hair, red lipstick, nails, and it's all done, but you've got to remember. Sexy is a state of mind and the rest follows." You hear that, Mary Kate?