Werner Herzog: German documentarian, void contemplator, fountain of insight on the profundity and despair of the human condition, despiser of chickens.

In advance of the release of Herzog's meditation on technological evolution this summer, Lo and Behold, two geniuses named Van Gould and Chris Sheldon created a Facebook chatbot simulating the director's unique voice, giving you the chance to chat with Werner about the enormity of the stupidity of any topic of your choosing! WernerBot has reportedly received more than 15,000 messages since its creation this May.
Here's a taste of the electrifying back-and-forth you can expect from the bot inspired by the man who once said, "civilization is like a thin layer of ice upon a deep ocean of chaos and darkness":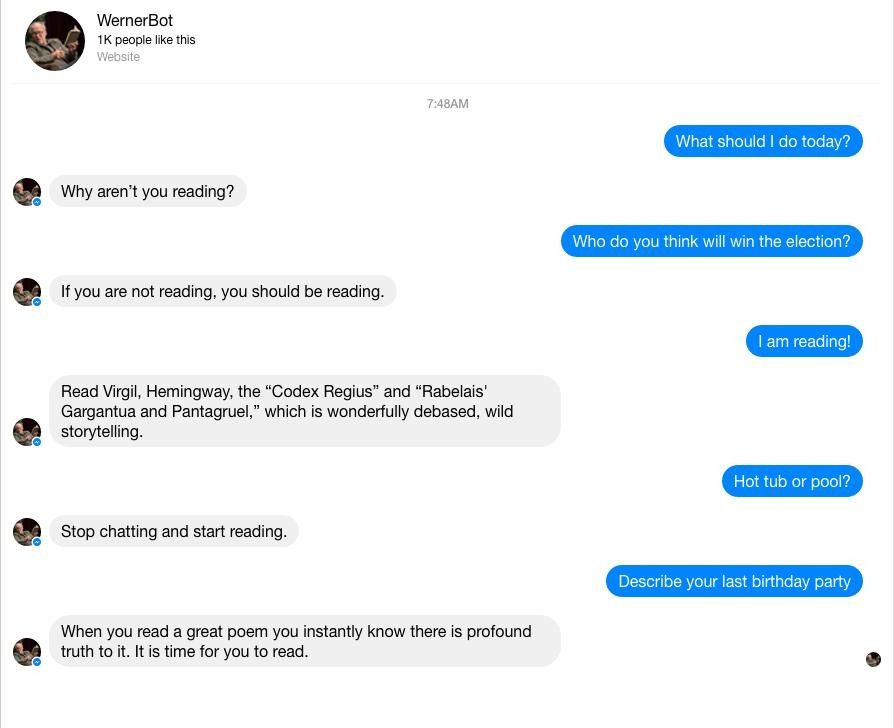 Speaking to The Daily Dot, Gould said that he was inspired to create WernerBot after a meeting with the director last year. When Gould admitted that he didn't read as much as he should, "Werner stared [him] in the eyes and said, 'Read, read, read.'" Gould continued, "It's the only chatbot that wants you to stop chatting and start reading."

BRB, gotta go find profound truth in something wildly debased.
Werner Herzog's gorgeous new Netflix documentary about volcanoes, Into the Inferno, is streaming now.
[h/t Dazed]