If you've been feeling enraged by the lenient ruling against Stanford rapist Brock Turner -- and the subsequently huge magnifying glass it's put on on the horrifying pervasiveness of rape culture -- an event happening in Brooklyn this week is designed to help you take some action and make your voice heard.
On Wednesday, activist Remy Holwick is throwing a "Fuck Rape Culture" event in a Bed-Stuy warehouse dedicated to unseating the trials' presiding judge, Aaron Persky.
Persky, a judge for the Santa Clara County Superior Court who was reelected to the bench in an unopposed election last Tuesday, drew harsh criticism when he reduced Turner's jail sentence significantly because of the "severe impact" jail would have on an otherwise good student and star Stanford swimmer.
Right.
Holwick runs the New York chapter of a feminist online secret society known as GRLCVLT, which includes about 3,000 women in NYC and thousands more belong to chapters in L.A. and around the world. Wednesday night, organized by GRLCVLT, will feature drinks, a space to write letters to unseat Perksy (stationary and addressed, stamped envelopes will be supplied), and live music.
Speaking to i-D, Holwick said 1,000 people have RSVPd for the event, and that the response has been overwhelmingly positive.
Atually, two of the biggest cash donations that came through were from male allies, which was really heartening to us. We've had male-fronted bands reach out who were interested in playing at the event, though I have kept it to female-fronted bands because I want to make sure that we are being true to our message. I think people are realizing that if you get angry enough, it's not hard to get out and do something. If you're just one of a thousand voices, you can find those other 999 voices and put them all together, that's when real change starts to happen.

If you can't swing by the event, you can add your name to this Change.org petition to unseat Persky here.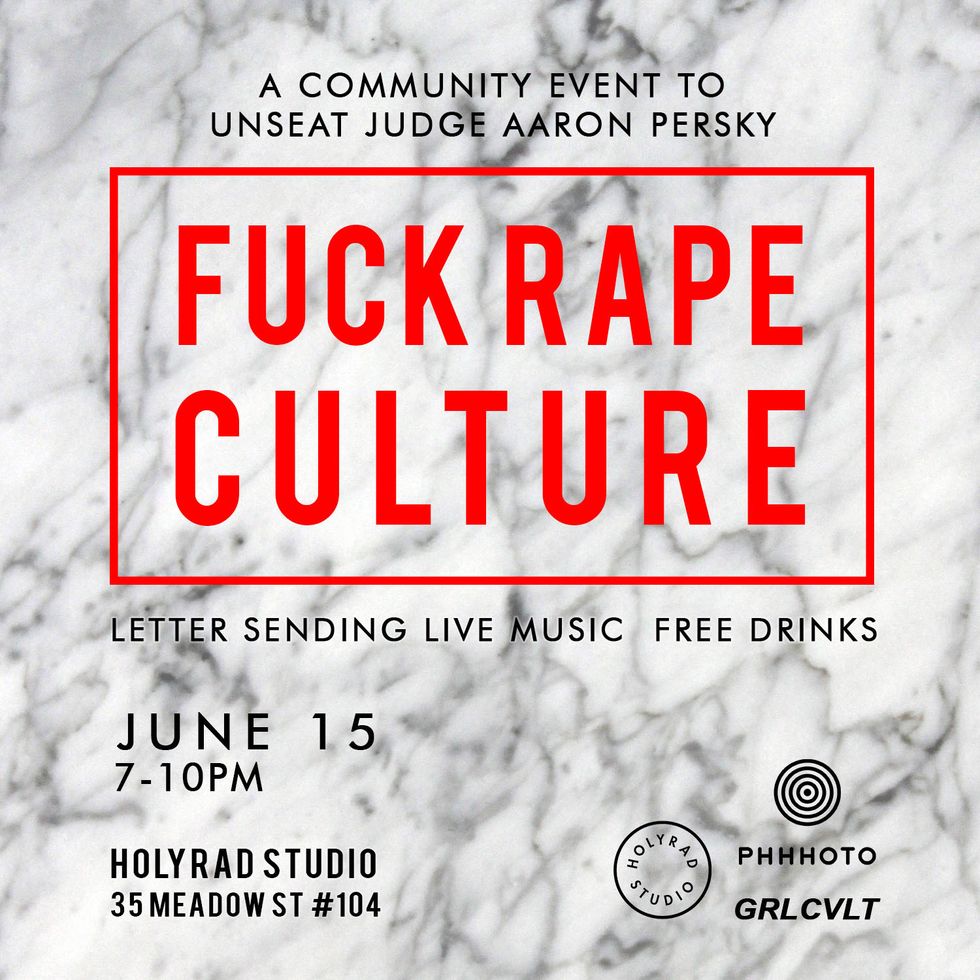 (h/t i-d)