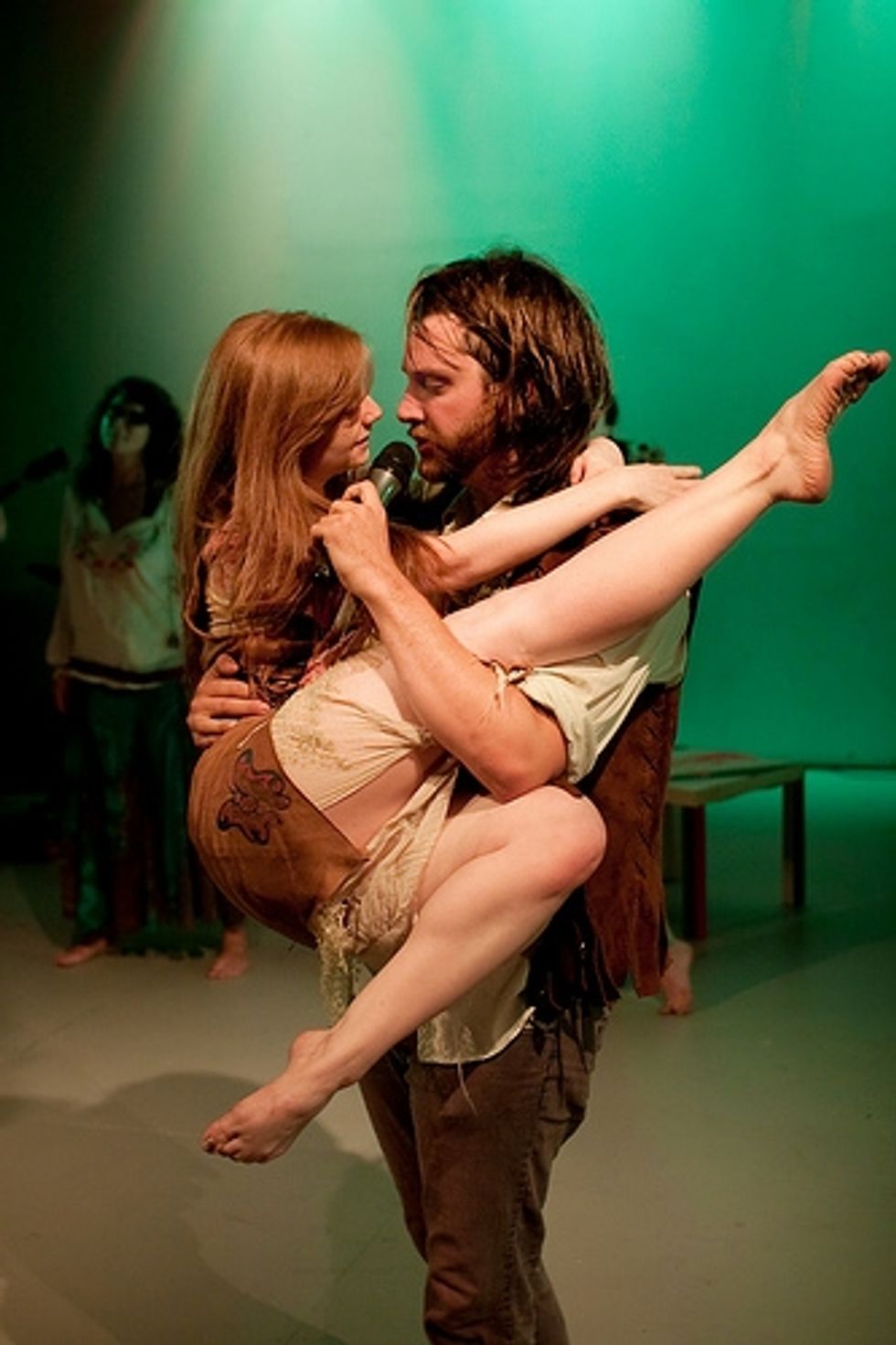 Forty years ago this month the psychedelic '60s came to a screeching finale with the Manson Family massacre of Sharon Tate and friends. Isn't it time for a tasteless musical exploitation of that love decade-shattering event? Playwright/songwriter Travis Stewart (a.k.a. Trav S D) and the Piper McKenzie Theater Company thought so. Their 13-cast member satirical spoof, abetted by an onstage band, The Electric Mess, promises "acid freak-outs, gratuitous nudity and excessive gore." You might call it the anti-Hair musical. I interviewed Stewart, the well-known downtown author (he wrote a scholarly, informative book about vaudeville called "No Applause, Just Throw Money") and all-around entertainer/producer/raconteur.

Hi Travis. What zaniness are you up to now?
It's kind of like a Mad Magazine version of Helter Skelter. It goes through the well-known Manson story that you'd find in a trashy true-crime book or a TV movie.

By "Helter Skelter", you're referring to the title of the book about the case, written by the prosecuting District Attorney, Vincent Bugliosi; which shared its name with the Beatle's song that was Manson's code name for the murders, right?
Musically, we're working with the Beatles' White Album.
Who would you say were your artistic inspirations for this show?
Mel Brooks, John Waters and the Roger Corman movies of the '60s.

What are we going to see?
It's filled with burlesque, one-off jokes. Some people might find it offensive.

I hope so.
We've got this wonderful psychedelic band, and they genuinely love and understand psychedelic music. There's about 12-14 songs.

OK. What character do you play?
My character is a parody of Vincent Bugliosi, the prosecuting D.A. I do him as a Jack Webb/Sergeant Friday type of guy, the police detective from the '60s TV show, Dragnet.

His tag line was 'just the facts, maam.' So who plays Manson?
The main character is not called Manson. He's Willy Nilson. The word play is "nil," son of Nil. Avery Pierson plays Nilson.

What's the run of the plot?
It cleaves closely to the real story, like a TV movie. He, Nilson, gets out of jail in 1967. He's a hood, he's done robbery, car theft, pimping. He shows up at Haight-Ashberry and smells opportunity. There's all these drugs and sex. He's a Hitler type. He's built to manipulate people and to get them to do his bidding. He quickly amasses this family, we call it The Tribe. In real life, there were guys in his family, but here they're all women, seven of them in his gaggle.

Then the massacre...
The murders are depicted, but it will be stylized. And then it gets to the real crazy trial scene, a cross between Revolution No. 9 and Alice in Wonderland, with Laugh-In pop-up gags tossed in.

So the show is a complete arc, from him getting out of jail, all the way through his trial and him going back to jail forever.
Nobody emerges unscathed in this satire. If there's a take away, we sort of make fun of the entire society.

Presented as part of the New York Fringe Festival, at the New Dixon Place, 161 Chrystie St., Aug. 14 – 29, five shows: Fri., Aug. 14, 5 p.m.; Sun., Aug. 16, 8:30 p.m.; Fri., Aug. 21, 11 p.m.; Sat., Aug. 22, 4:45 p.m. & Sat., Aug. 29, 8 p.m. $15. For more info, www.fringenyc.org/seeing/tickets/asp.