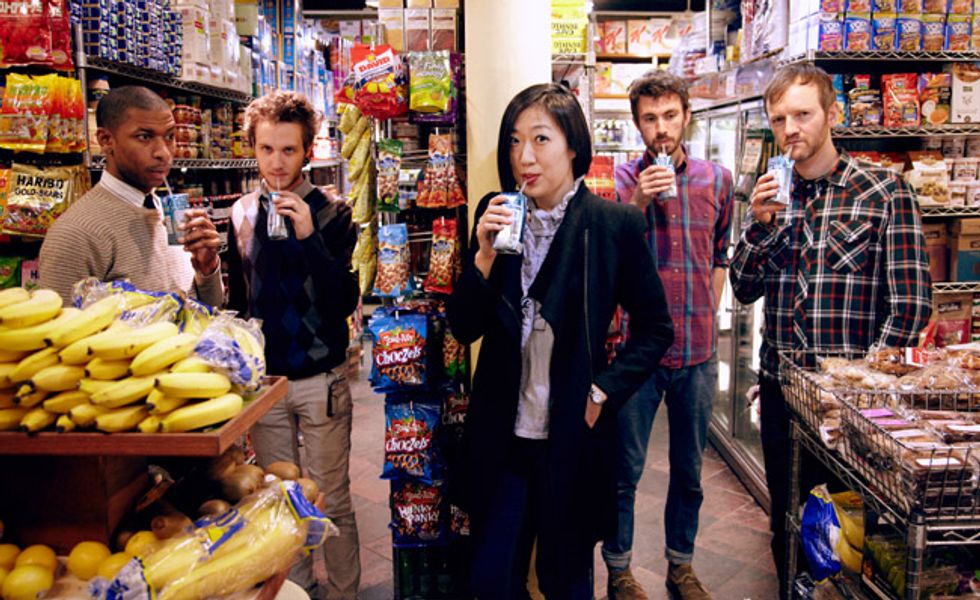 Playwright/director
Young Jean Lee
is known for her originality, intelligence and boldness.  Beginning with
Appeal
in 2004, followed by
Church
,
Songs of the Dragon Flying to Heaven
,
Shipment
and
Lear
, Lee has shown she's willing to try anything, especially things that are hard.  With her latest,
We're Gonna Die
, along with a live band, and aided by the able direction of
Paul Lazar
, Lee, a non-performer, decided she'd like to find out what it's like to be the on-stage star of her own cabaret show.  I spoke with Lee. 
Hi Young Jean.  What do we have here?
I wanted to make a show that any ordinary person could do. Usually, one of my trademarks as a theater artist is that I always have good performers.  Then I thought: what would it be like to make a show that a regular person could perform? 
A non-performer performing?
I guess the concept was that a regular person, who is not a singer, dancer or actor, could be quite compelling; and that everybody has this type of potential in them, to be charismatic on stage, if they could be un-self-conscious and just be who they are. I am not a performer. I know that I am not a performer; so I kind of felt that I wanted to use myself as a guinea pig.  Because, if I had cast someone else, I would have cheated and gotten someone who has natural performance ability. 
So how has this worked out?
So now I'm in the show, and I'm singing, dancing and telling stories.  And I'm not particularly good at any of those things, but I am just committed fully to it.  It's not like karaoke, where you're up there and self-conscious and being bad.  It's me being the best I can possibly be.  And I have a director, Paul Lazar. 
And there's a band.
Some people think it's just a musical performance with the band, but that's not what it is.  It's a show, like my other shows, where we are dealing with universal themes, like aging, sickness and death.  But it's not a depressing show. 
There is the title...
And the reason why it should be performed by a regular person is that the show is about the opposite of being special.  I guess the theme of the show is that no one is special, and everyone is special.  And that's why I chose the cabaret format, because that's the form that depends the most on the specialness of the performer. 
So what are we going to see?
I think everything should be a surprise.  The structure of the show is one unexpected turn after another; and playing around with the cabaret genre, and the expectations that come with that.  It's not a cabaret show at all.  It's a play in that genre, and it turns that genre around. Somebody once told me that the rule of cabaret is that if somebody else can perform it, it's not really a successful cabaret.  But I want to overturn that.  I want to make a show any regular person could perform -- if they had a director. 
I think the most important part of the show isn't about me being a performer.  My dream for this show is that other people, all over the place, will perform it.  It's all scripted, and it's not more than an hour. 
Joe's Pub, 425 Lafayette St., (212) 967-7555. April 1-30. Apr. 1, 2 & 30 at 7 p.m.; Apr. 8-9, 17-18, 22-23, 29-30 at 9:30 p.m. $25 standing, $30 seated. Tickets available here.