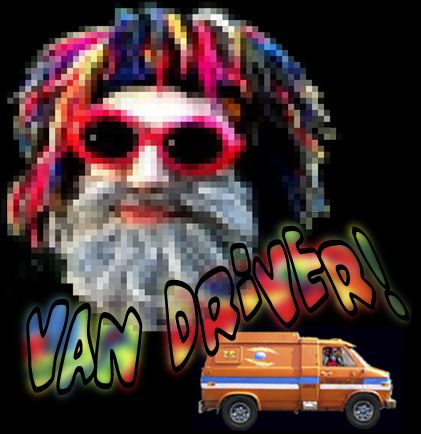 Performance artist Jason Schuler, along with playwright/performer Kourtney Rutherford, and Schuler's acting troupe, The Operating Theater, have consistently staged some of the cleverest, best-produced multimedia performance-based theater in the last five years. There was Mountain View Estates, a dance theater piece in which a house got built, Flat!, a BBC-TV style comedy mystery, and The Present Perfect, a Bunuel-like dinner party melodrama. I recently saw a short segment of their latest show at Tonic's Little Theater, wherein Schuler and friends burst into the theater during a staged reading like a bunch of beatniks from the '60s, and then manage to get everyone involved in a series of goofy rituals and hijinks that recalled the Hippie Nation of that time. I spoke with Schuler.
Tom Murrin: So will you enter as before?
Jason Schuler: Yes, it's as though the hippies have hijacked the show that is planned at the Cherry Lane that night.

TM: Will you play that great video, that sort of sets things up?
JS: Yes, that's Van Driver driving his van, with the psychedelic American landscape passing by in the background, while he espouses his philosophy on aliens, Sasquatch, telepathy and household cats.
TM: Who exactly are all of you supposed to be?
JS: It's loosely based on the cults and communes from the '60s. Also, the happenings back then and Fluxus art, in which the audience is somehow involved in the creation of the art.
TM: Who are some of the other characters?
JS: Kourtney Rutherford plays my common-law wife, Anne Ryder. Megan Stevenson is our estranged daughter, Reignbeau Ryder. Tim Donovan, Jr. plays Tumbleweed, a hitchhiker we picked up years ago. Eben Moore plays the director and Alison Folland channels a spiritual leader from another dimension.
TM: What's the audience going to see?
JS: Van Driver and his fellows performing and speaking about their philosophy on art, the universe and their commune life. You'll see Kabuki, '60s- style performance art and an interpretive dance finale.
TM: Do you have the chicken who told people's fortunes with an ouija board?
JS: No, the chicken passed away peacefully at his Long Island home, but we have another surprise to replace the chicken.
TM: It sounds like you are trying to recreate, in a light-hearted way, the rituals and games of that time and culture.
JS: The show is about creating art that people take with them so that when someone leaves the theater, they don't know the show is over, it continues with them. Even after they get home, they might still be at the show.
The Studio at The Cherry Lane Theater, 38 Commerce St., (212) 239-6200. May 9–June 7. Fri. & Sat., 10 p.m. $12 with reservation, $20 at door.