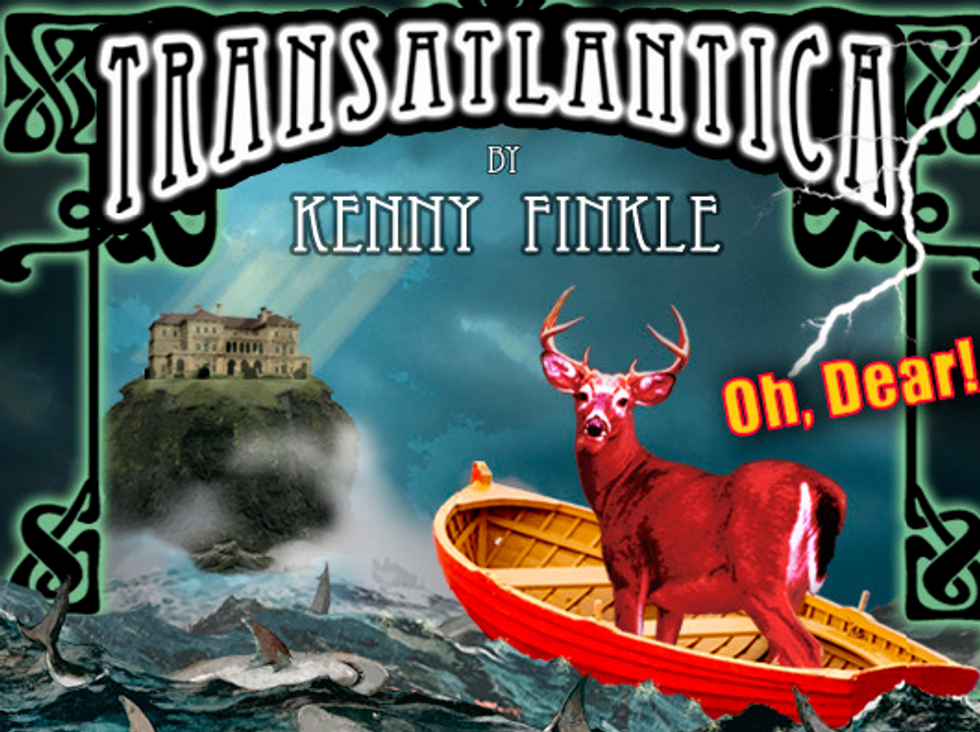 Multi-award-winning playwright
Kenny Finkle
(
Alive and Well
,
Indoor/Outdoor
) has written a comedy about the denial of death.  It's being performed by the Operating Theater, directed by Jason Schuler, one of my favorite theater creators, whose works are always funny and exciting, in the sense that you never can be sure what's going to happen next.  For the finale of
Van Driver
at the Cherry Lane two years ago, the entire audience and cast repaired to a nearby bar on Hudson Street, carrying the body of a woman actor who had "died" in the play.  After placing her on the bar, and following a round of memorial toasts, the woman came back to life, to the delight of all.  I spoke with Schuler. 
Hi Jason.  Tell me what
Transatlantica
is all about.
It's about a Doctor of the Mind, Reginald Reinhold.  He's in session with an eccentric patient, Ilyria, when his wife bursts into the room to inform him that she's dying.  It turns out that Ilyria is dying also.  And every subsequent guest to their house has come to announce that they are also dying. 
Not too cheerful a start.
Eventually Death comes to the door, and we have a nice surprise for that as well.  You know how I like a nice spectacle.  Then we see that Dr. Reinhold has an unusual relationship with Death.  But it's a comedy, an absurd comedy.  Kenny is known for his ribald comedy.  He loves camp humor and sex farce.  There's singing and dancing and sword fighting and large puppets.  There's taxidermy and an outrageous set and amazing costumes. 
Tell me about the cast.
Anna Foss Wilson plays Natasha, Dr. Reinhold's wife.  She is the femme fatale in the piece.  She's hilarious; she was in
The Donkey Show
.  Another character is Udi Bohe; he's a famous director from the Land of Miscellania, also dying.  Keith Chandler plays him.  He has wonderful comedic timing, and he plays him as a flamboyant type.  Another character is Inspector Strange; Pierre Marc-Diennet, who is a professional clown, plays him.  He wears a suit that matches the wallpaper so he can go incognito.  Ilyria is played by Evelyn Sullivan; she will play the harp in the piece.  She's an outrageous comedienne. 
I know how important the visual is to all of your shows; what's the set going to be like?
We tried to use crazy patterns, like a Klimt painting; to make the patterns a forest of color, so that the actors' flesh shows through.  We have a lot of curios on stage.  The Doctor is a collector of mythic taxidermy, like a Jackalope, and a Capricorn (that's a goat with a fish tail) and other odd stuff.  And the set turns inside out at one point in the play, in a manner of speaking. 
Any other plot elements you want to tell me?
One of the major through lines is that everyone is in love with a character named Jacques Jacques, an Adonis who has shared the bed with everyone in the play except Reginald.  Reginald is the main character. He receives people who are dying.  It's his problem, as a psychiatrist, to deal with them. 
I can't resist asking: Does it have a happy ending?
It has an amazing twist, but I can't tell you.  Udi and Ilyria decide to write a scenario to entertain the guests.  And they perform a play for all the guests, in the drawing room of Reginald.  And it turns the play on its ear.  It's really an amazing piece of writing on the part of Kenny. 
Fourth St. Theater, 83 E. 4th St., (800) 838-3006. Oct. 1-17. Thurs.-Sat., 7:30 p.m.; Sun., 2:30 p,m. $18. whereistransatlantica.com.