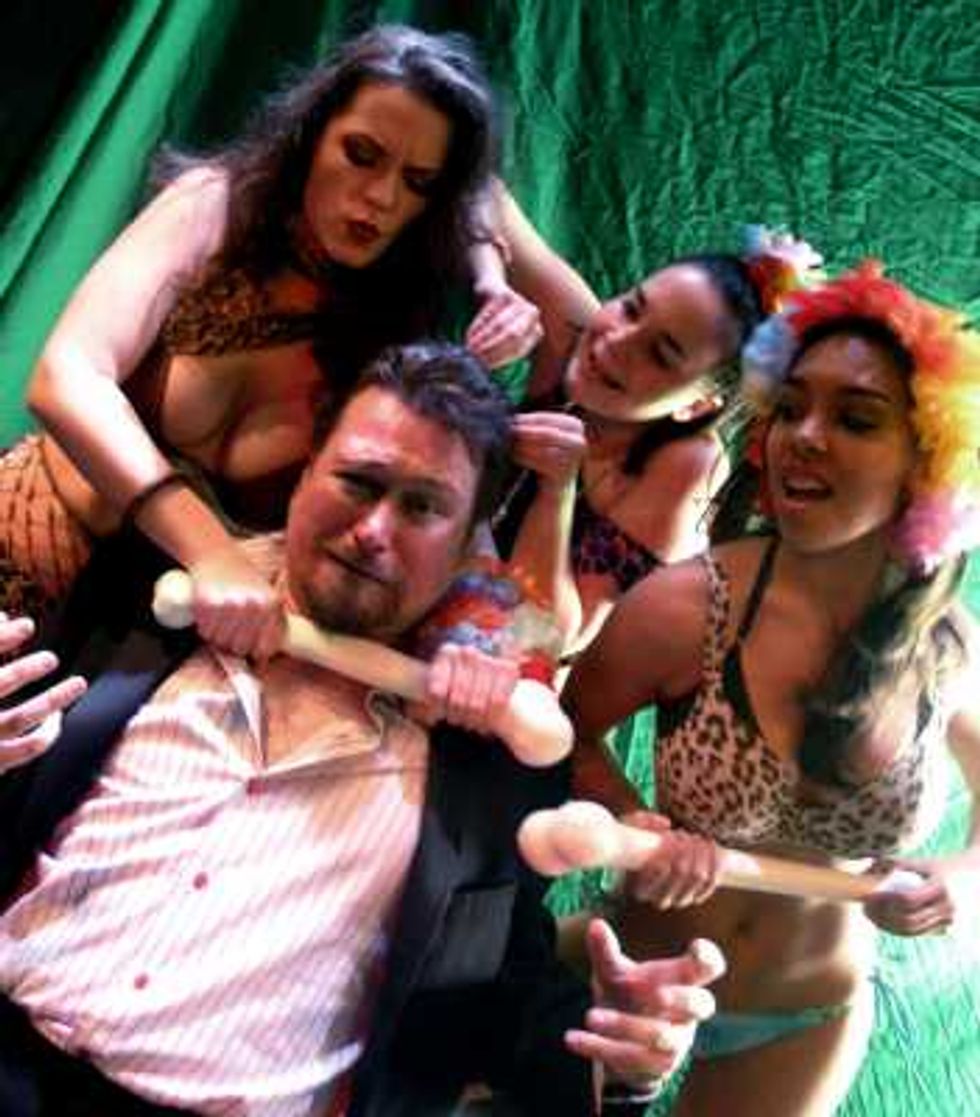 Off-off Broadway has always been a place where all types of theater can flourish, from deconstructed Shakespeare to silly sex farce. Here we have the latter, a new comedy written, designed, produced and directed by Frank Cwiklik, responsible for Bitch Macbeth and Sugarbaby, with choreography by Sarah E. Jacobs. t's set on an island paradise, inhabited by a tribe of powerful and beautiful women. Our hero is a womanizing, actor-tuned-nature-show-host who figures he can make something out of these Amazons.
Tom Murrin: What do we have here. Frank?
Frank Cwiklik: The premise is that there is an island of women, which is every
man's fantasy, but it turns out to be a nightmare, because even though they are all women, they act like alpha males.
TM: Tell me about this tribe.
FC: Their entire culture is based on American pop culture that's washed up off shore, like '70s game shows, '60s men's magazines and catch phrases like "Bring your A-game."
TM: What about our hero?
FC: He's a womanizing, washed-up, over-the-hill actor. He finds the island but he learns it's already been discovered by a Hugh Hefner type of guy who wants out, because it's not the paradise he thought it was. There's another character who helps our hero -- his name is Karl, a self-made millionaire who created his own bachelor pad/theme park on the island. The women don't bother him because he's gay.
TM: And what happens?
FC: Well the main character is going to be rescued by his sidekick and the sidekick's girlfriend, who is an aspiring pin-up queen.
TM: I see you have cast of 15 -- what will the audience see?
FC: Beautiful women making fools of themselves. They're all cave
women. The guys get beaten senseless. The women are all nuts. They settle their arguments with clubs and ropes.
TM: I'm not sure this is feminist or anti-feminist.
FC: The main thing is: the men think it's going to be a paradise and they are very, very wrong.
TM: Will there be dance numbers?
FC: There are several big dance numbers, a lot of comedy routines. It's big, loud, brassy and fun. It's very sexy, silly and violent.
TM: Like Three Stooges violent?
FC: Yeah
TM: I'm there.
The Red Room, 85 E. 4th St., (212) 868-4444. May 11-June 3, Sun.–
Tues., 8 p.m. $20.
Photo by Michele Schlossberg