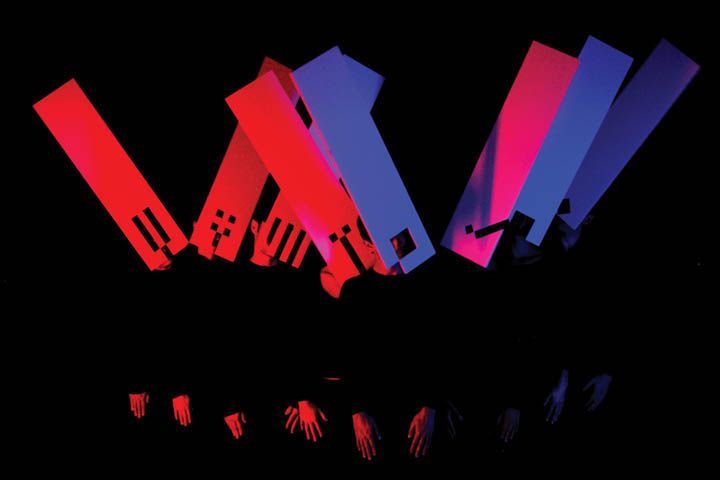 Three Legged Dog has to have an excellent grant writer in their employ; they recently received a $200,000 Rockefeller Grant and followed that with a $400,000 grant from the Andrew W. Mellon Fund. Wow! Some of that may well be utilized in this new show, conceived by sculptor Roland Gebhardt, with choreography and direction by Peter Kyle, video design by Reid Farrington and music by Stephen Barber. 3LD is truly unique in the visual magic it has been able to create in their productions, and Gebhardt's show, The Only Tribe, based on a short story by Rebecca Bonnor-Addae, features masks, movement and projected images. I spoke to Gebhardt, whose design and sculpture work has garnered him a world-wide reputation.

Hi Roland. So what are these masks like that you have made?
They are very stark, white, geometric shapes. They're carried by dancers that endow the masks with character. The masks belong to different tribes, hence the title.
Where are these tribes from? Are these actual specific tribes?
They are abstract tribes. The masks have to do with identities. These different masks belong to different identities of different tribes.

What happens with these tribes?
Like in all societies, there is tribal interaction that is supportive and leads to ritual. Some of it is benevolent interaction and some of it is acrimonious and confrontational. So they explore identity and tribal interaction based on different identity through the piece.

There's dance?
The director did a wonderful job of choreographing the piece, and gave the different tribes different dance dialects to present themselves. They are augmented by visual projections onto the masks. The white masks grouped together form an ideal projection surface.

I've seen some things at 3LD and it's always a visual pleasure. They have tremendous technology to work with.
That's why we're doing it there.

So what happens in the show?
It becomes a narration told with the masks, the dancers' physical shapes and the music. It's not necessarily a comfortable piece. Some if it is awkward and stilted, but that is by design. It doesn't end on a positive note.

How many are in the cast?
There are eight dancers, and with the help of the 3LD technology we will be able to multiply them into several more. It's a fun piece, and visually it will be mind-boggling.

3LD, 80 Greenwich St., (212) 352-3101. Dec. 3–20, Wed.–Sun. $30.