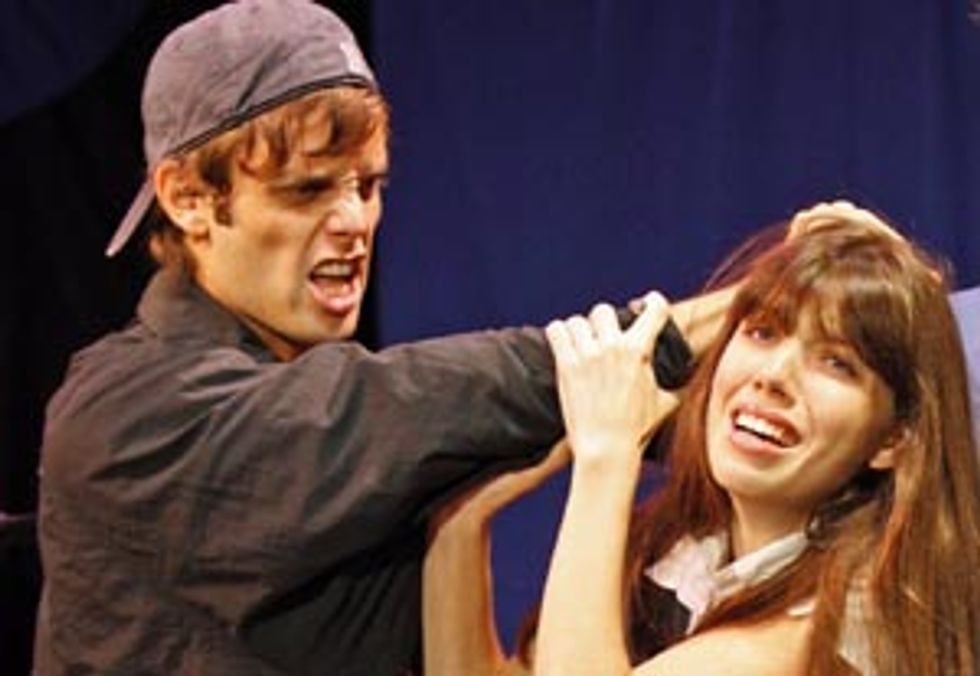 The Columbine Project, written and directed by Paul Anthony Storiale, had its first run this past April in North Hollywood, and was extended twice due to favorable reviews. The entire ensemble cast of 18 has come east for this production. Ten years ago the nation was shocked when two boys, labeled "outcasts," walked into their high school in Colorado and began shooting their classmates. They intended to kill all 250, but did kill 12, one teacher, and themselves. Storiale's extensively researched material for the play came from journals, diaries, and interviews with kids who survived. I spoke with him.

Hi Paul. I saw the Gus Van Sant movie, Elephant, and, of course, read about the incident in the press for weeks.
The difference between some stories that have been told and my play is that I get into the minds of the killers, and show you who they were before the press titled them "monsters." They were real people. I put you in the minds of every character, victims and friends, and then you decide, basically, who is at fault? Who has minimal fault? Who has the most fault? Was it the two boys? Their parents? The police? The school? The community? Who's to blame for this?

OK.
At the same time, we're getting to know these characters quite well. And during the course of the play, they come to be your friends; the two guys, also the several victims, and the victims' parents, and the victims who were not even touched.
What got you to do this project?
My point of writing this is to get the truth out. Everyone needs to know the story. They think they know it, but they don't. They know what the press told them. But they don't know these people or what happened behind the walls of Columbine High School. I try to take them there to show them what it was like before this happened, and give them a sense of what could have prevented it.

It seems like, in the past 15-20 years, this wild shooting up at schools has happened quite a bit.
People have told me that they don't want to see this play. I've had several persons come up to me and say, "I don't want to relive this." The difference between the people who have walked out of the theater after seeing the play and those who have not come at all is that the people who have come to the theater admit that they saw something they needed to see. They are quite moved.

Why do you think that happens?
It's a story about relationships, friendships. There's even a heartwarming story about acceptance. There are many stories in the show.

What's the acceptance story?
Rachel Scott. She was so incredible, accepting to everybody. She basically said to one of the killers, "Why are you so obsessed with death and killing people?" She was trying to help him and understand him. She was shot by the other killer. Rachel Scott went out of her way to accept people for who they are, to challenge them to be a better person.

Have you come up with any reasons for why this happened?
I found racism and homophobia in the school. That was a big thing. It was rampant in the school. The name "faggot" is used to call everyone, except the jocks. In a small town high school, sports is the most important thing, more than academic success even. That plays an important role in this. What I'm telling in the play is that sports are favored; therefore, no one else matters. So teachers treat non-athletes like nobodies, and they treat athletes like they're celebrities, and they're given special treatment throughout.

Actors Temple Theatre, 339 W. 47th St., (212) 239-6200. Opens Aug. 9. Mon., Wed. & Thurs., 8 p.m.; Sun., 7 p.m. $31.50, $56.50.
Photo by Carol Rosegg