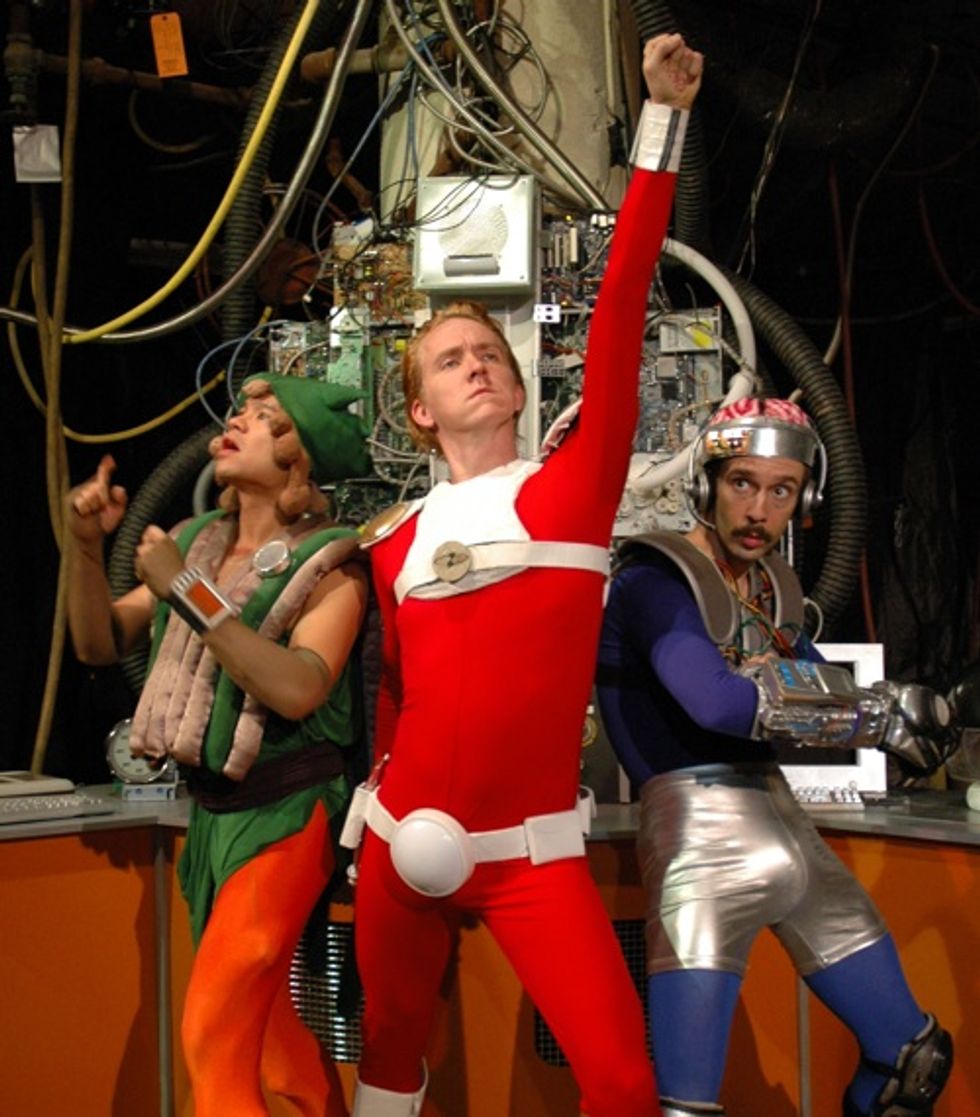 The Annihilation Point
is the work of
The Berserker Residents
, four Philadelphia-based actors who have developed their own comedic theater style and a large following in the City of Brotherly Love. Written by
Tim Sawicki
, and directed by the very able
Dan Rothenberg
, of the Obie-Award winning Pig Iron Theatre Co., also from Philadelphia, the play itself is a sci-fi thriller.  Three renegade time travelers return to the present day from 3037 A.X., bearing a warning of the end, attempting to salvage humanity by time-jumping the audience into the future.  Why not?  And, yes, there will be mutants, flesh-eating nano-bots and inter-dimensional droid vigilantes.  I spoke with the experienced director. 
Hi Dan.  Tell me about the show.
It's a short comedic work, about one hour.  It was a big hit at the Philadelphia Fringe Festival in 2009.  These guys are at the intersection of comedy and theater; "alternative live comedy," I believe it's called.  The piece is a sci-fi Irma Vepp, with echoes of
Monty Python
and
Kids in the Hall
.  I feel it's sublimely stupid.  The trio specializes in sublimely stupid spoofs. 
So what happens to get us to the future and back?
The premise is: They know that the Mayans were correct, in that in the year 2012 there will be an apocalypse. One man has frozen himself, so that he will survive the annihilation point, and in a thousand years, in the future, he will come back. He builds a time machine and he travels back in time to save the audience and brings them to the future, to repopulate the earth. 
How are we going to be introduced to this reality?
The first thing you see is a fantastic ray gun battle.  Then the alien is born from an egg pod.  Then there's a lot of time-travel confusion, presented with string and tinfoil. Then someone is possessed by an alien necktie: an alien parasite is disguised as a necktie.  There's a long discourse on nano-bots.  And then the nano-bots take over the coffee machine.  And then Mrs. Computer takes care of the trio as they blunder through preparing the audience for life in the future. 
And what will that be like?
It will consist of a lot of repopulation. 
Sex?
There's no sex, we just talk about it.  The idea of repopulation alternately delights and disgusts the trio. 
What's the wrap-up?
They try to figure out what it was that destroyed the human race in 2012.  I can't give that away.  That's the whole play. 
Can I say there's a happy ending?
 It's a cliff-hanger.  This is part of a trilogy the group has been working on: "A Crypto-Zoological Trilogy About Various Disasters That Befall The Human Race." 
Abrons Arts Center, 466 Grand St., (212) 352-3101. Previews Jan. 7, opens Jan. 9-16. Performances almost every day, times vary, $15. Tickets available
here
.