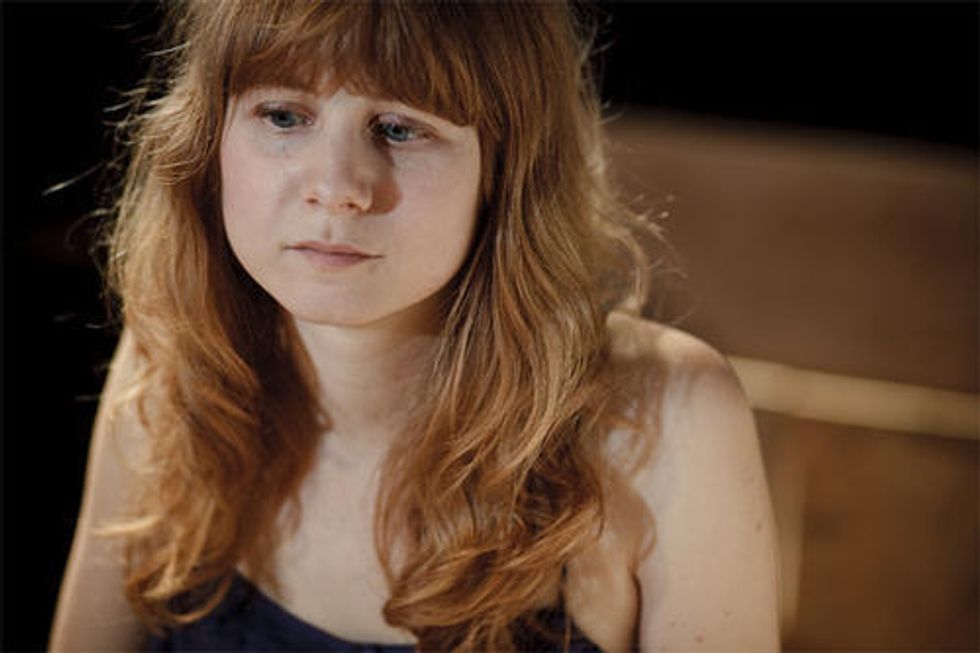 Playwright
Annie Baker
wrote the surprising off-off-Broadway big hit of fall 2009,
Circle Mirror Transformation
, about a group of acting students and the theater games they played. This is her next-produced play, a three-hander, directed by
Sam Gold
, who also staged
Circle Mirror Transformation
. Baker comes from the Mac Wellman MFA playwrighting class at Brooklyn College, and is one more graduate of mentor/playwright Wellman's program, which has given us some of today's finest young theater writers, like
Erin Courtney
,
Sibyl Kempson
, and
Thomas Bradshaw
, to name a few. I spoke with Baker about her new play
The Aliens
. 
Tom Murrin
: How would you describe your new play? 
Annie Baker
:  It's about two young men, who are sitting on the back patio of a coffee shop in Vermont.  It's a staff-only area, which the two young male townies have taken over, and the play is what happens when they encounter a young, lonely high school student who works at the coffee shop. 
TM
:  How old are these characters? 
AB
:  The high school boy is 17, the other two are both in their early 30's. 
TM
: I understand
Charles Bukowski
comes up.  How does he fit in? 
A
B:  One of the townies, called Jasper, is a big Bukowski fan. He's an aspiring novelist. The other townie's name is K.J. He's a University of Vermont drop-out who lives with his mother.  He drinks a lot of 'shroom tea.
TM:  I'm not familiar with that way of taking 'shrooms.
 
AB:  Where I grew up, people put 'shrooms in a tea bag; you boil some water, put the bag in a tea cup, pour in the water, carry it around in the tea cup, take sips and chill out.
 
TM:  What about the high school kid?
 
AB:  His name is Evan. The other two guys pester him as he 's working. He encounters them when he's taking out the trash on his shift.
 
TM:  Does it all happen in one scene?
 
AB:  The play takes place over a period of weeks, but all on one set. I was interested in putting it somewhere the audience is not supposed to see. It's sort of a trash area, a closed space where we're not supposed to be.
 
TM:  I understand there's music.
 
AB:  There is music in the play. Jasper and K.J. occasionally start singing, without a guitar.  They just start singing. It's not a musical.
 
TM:  How did that effect come about?
 
AB:  Where I grew up, people would do that. People would be talking to you about things and they would take up the guitar and just start singing.  I found that amusing.
 
TM:  Where did you grow up, Annie?
 
AB:  Amherst, Massachusetts.
 
TM:  Is this a one or a two-act play?
 
AB:  It's a pretty short two-acts, with an intermission.
 
TM:  Is there anything else you'd like to tell me?
 
AB:  One thing I was interested in exploring is this idea of boredom, and boredom as an activity on stage.
 
TM:  (Laugh.) Most playwrights wouldn't be saying that.
 
AB:  (Laugh.) That's something which was interesting to me in general, and I was specifically exploring it in this play.
 
TM:  O.K.  What about the title?
 
AB:  "The Aliens" is a title of a Bukowski poem. His poetry is about a lot of his pain, about feeling angry and alienated.
 
Rattlestick Playwrights Theater, 224 Waverly Place, (212) 868-1444, previews Apr. 14, opens Apr. 22 - May 23, Mon., 8 P.M., Wed.-Sat., 8 P.M., Sun., 3 P.M., $45.