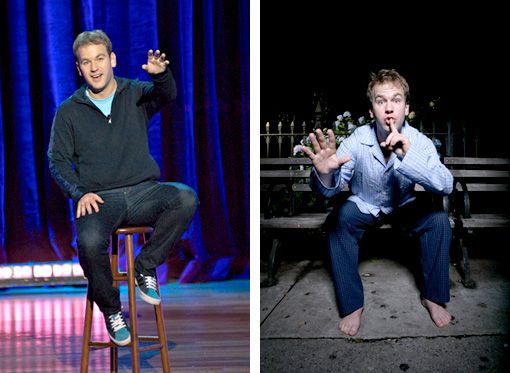 Mike Birbiglia is a funny guy. He's done three Comedy Central Specials, put out two comedy albums, and has appeared on Late Night with Conan O'Brien and NPR. His 2007 My Secret Public Journal Live was named comedy album of the year by more than one publication. He's been working on this one-person show, Sleepwalk With Me, for the past four years, and his dream has been that it would cross over from stand-up comedy venues to the stage. Looks like his dream is becoming a reality. Sleepwalk With Me is being directed by Seth Barris, of the Barrow Group, and one of its co-producers is Nathan Lane, a man who knows a lot about being funny on stage. I spoke with Birbiglia in September, while he was in transit by car, from Pittsburgh to Dayton.
Hi Mike, thanks for calling from the road.
Yeah, I'm doing 21 cities in September and early October, leading up to this show.
Are you doing one-night stands at comedy clubs?
I do this show, which is about 80-90 minutes, and then I do an encore, 20-30 minutes of comedy and songs.
So tell me about the show.
It jumps off with the premise that I'm going to tell a story that is a true story, because I actually had an incident sleepwalking where I literally almost died. I start to tell the story and I fill in the details of the story with other stories, so the people get the idea of how this happened in my life.
So it's more stories than jokes.
It has a campfire feel to it. There's not a lot of bells and whistle. It's not shiny or Broadwayish. It has the feel of someone telling a very personal story around the campfire.
I'm assuming it's funny.
It's funny because it connects with the audience, and hopefully there's something they can take away with them.
Can you give me some examples of the details you go into.
One of the things I deal with is the theme of denial. I had sleepwalking incidents for many years before this. I had a dream that there was a hovering insect above my bed and it turned into a jackal. Now, a jackal that would defy gravity and hover over my bed was very scary. So I jumped up on the bed and I said to my girlfriend, "There's a jackal in the bed." She was able to talk me down while I was still asleep.
I'm laughing because of the matter-of-fact way you tell it, and how surreal the image is.
Another time I dreamed that I was in the Olympics, in this event called "Dust-Bustering." They told me I got third place. I stood up on the podium to receive the medal and the podium was wobbly. Well, I really was up on top of a five-foot high bookcase in the living room, and I fell off. The next morning my girlfriend asked me, "What happened last night, I heard a crash?" I said, "I got third place."
Ha!
That was the point I began to think: "This seems dangerous, maybe I should see a doctor." Or maybe I should eat dinner. That was easier, so I ate dinner. I did this for years.
That was the denial then.
Yeah. These stories lead up to the incident where I almost died.
Well, I'm happy you didn't. And I look forward to seeing the show.
The Bleecker Street Theater, 45 Bleecker St., (212) 239-6200. Previews Oct. 17, opens Nov. 11. Wed.-Fri., 8 p.m.; Sat., 8 & 10 p.m.; Sun., 4 & 7 p.m. $51.50.
Photos by Matthew Rogers