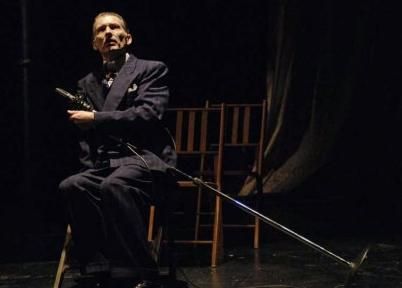 Most off-Broadway theater troupes would be happy to win one Obie Award. 
Anne Bogart
's
SITI Company
, known for its original theatrics, has won seven!  Here they give us theatrical versions of two radio plays.  Co-directed by Bogart and sound designer
Darron L. West
, the first features a group of pre-World-War-Two-era actors, rehearsing a radio play of  Shakespeare's dark tragedy; and, as an added bonus, on four evenings during the run, SITI will reprise its version of Orson Welles'
War of the Worlds
, which preceded, and inspired,
Radio Macbeth
.  I spoke with Anne Bogart. 
Hi Anne.  How did your second radio play piece come about?
Macbeth
is one of my favorite plays ever.  I saw a production of it when I was 15.  It captured my imagination.  I remember it very vividly.  I could say it inspired me to get into theater.  I saw it in Rhode Island.  I was with a busload of other 15-year olds, and we were bused to the theater that day to see it.  I didn't understand the language because I had never seen Shakespeare.  There were witches coming out of the ceiling. I thought to myself: this is the greatest experience I've ever had in my life. 
Wow.  It's wonderful to be able to recall the event that triggered your life's work.
So the play has a very strong emotional hold on me.  And I wanted to do a production that was as powerful, but did not have all the men in kilts or witches and cauldrons.  But without those accoutrements, nevertheless, you could still be taken by the sorcery.  And it is a piece of sorcery, because Shakespeare himself took pieces of sorcerer's incantations, and witches texts, of that time.  So I wanted it to be close to the real experience of the play, without the kilts and cauldrons. 
So what will we see?
You're going to see a group of actors in 1938 who come to a deserted theater in the middle of the night to rehearse Macbeth.  They begin the rehearsal, and little by little, the magic of the play takes over, and we see the play's happenings capture the imagination, and it captures the event. 
It sounds like it will be dark.
It will be dark. 
Now tell me about
War of the Worlds
, one of my favorites.
I think they are related, because, also in 1938, Orson Welles and his Mercury Theatre of the Air scared millions of people with a radio show they did in midtown Manhattan, where they reported the martians had arrived in New Jersey.  As with
Macbeth
, we wanted to do that without all the accoutrements, so there will be no Martians.  But you feel the original fear and trepidation that the people living in 1938 felt. 
Again, what will we see?
What you're seeing onstage is the Mercury group of actors doing the show, making up the show with Orson Welles.  Without actually staging the martians, you see the martians.  You're transported into that fiction, by watching the actors in the studio. 
It sounds fantastic.
It
is
fantastic. 
Dance Theater Workshop, 219 W. 19th St., (212) 924-0077. Radio Macbeth, Oct. 5-16, Tues.-Sat.; War of the Worlds - the radio play, only on Oct. 8, 9, 15 & 16, Fri. & Sat., with Radio Macbeth. $50/$35. siti.org.