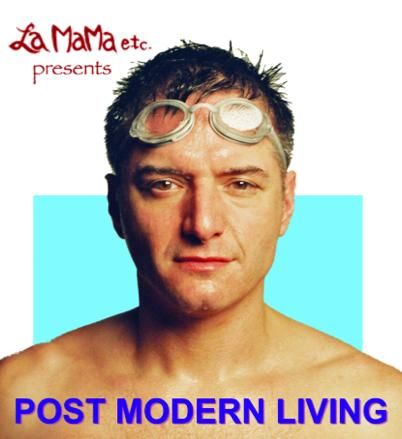 Playwright/performer
Richard Sheinmel
appeared for 10 years as an actor in the legendary
Jeff Weiss/Ricardo Martinez
serial,
Hot Keys
.  He's also worked with
Penny Arcade
,
Reza Abdoh
, the
Ridge Theater Company
and the
Ridiculous Theatrical Company
. In 2006 he wrote and produced three plays called
Modern Living
-- the first installments of a continuing play cycle about his life as a gay downtown performance artist who writes plays about his life. This installment, titled
Post Modern Living
, features two plays directed by the excellent J
ason Jacobs
, from
Theater Askew
, with original songs by
Clay Zanko
. I spoke with Sheinmel.
 
Tom Murrin
: Tell me about
Post Modern Living
. 
Richard Sheinmel
:  It's unlike a typical play, it's more like a short story. I was originally inspired by listening to selected shorts on the radio, like NPR. So what happens is: we bring in a character and they tell a story, and it goes some place unexpected. I'm an artist, this is me; I'm telling stories that people tell me, that I hear.  And then I'm putting it into my medium, which is plays. 
TM
: Give me an example. 
RS
:  One of the plays we did in 2006, called
Sheila Mom
, was inspired by my aunt telling me a story of how she went to a jazz club in the '60's, but then it turns into a story about birth control, and how that changed her life. 
TM
:  Tell me about the two tales we're going to see in
Post Modern Living
. 
RS
: 
The Twelfth Day
is the first one. It takes place on the 12th day of Christmas. I play the performance artist, Mitch Mitchell, who writes the plays, and I'm going to tell the story. In this play he recounts the story of how he fell in love with his lifetime companion, Chester. That's the meat of the story, but the real story is about how childhood ends. There's a certain time in your life when you can't go back to those childhood Christmases.
TM:  What's the second tale?
 
RS:  Uber Mom. That's a story about my mom's breast cancer, how she found out about it, how she beat it, up to this point; how it tested her faith, how she-re-affirmed it. It's a story about spirit and life and people around us.
 
TM:  So this is your real mom, just as the character of Mitch is really you?
 
RS:  I really should refer to them as the characters, but it's really my own life, and it's a parallel. The stories are dramatic and funny, and there's music. The songs introduce the stories and are from the same world as the stories.
 
TM:  Tell me about some of the other actors.
 
RS:  Chris Orbach, the son of Jerry Orbach, he sings and plays. Catherine Porter, from Peculiar Works, she plays Meg, an actor in the first play, and Grace, a doctor who examines Joy, the Uber Mom character, who is played by Wendy Merritt. Nick Hilgers plays Chester.  Frank Blocker plays Robby, my mentally disabled brother in the play. Also there's Briana Davis, she plays Jerry, a spirit that haunts Uber Mom. The show is about one hour, two short plays, no intermission.
 
TM:  Many playwrights draw on their own personal life for their stories, but you seem to be more upfront about it.
 
RS:  I was inspired to write this kind of play when I performed with Penny Arcade.  She is a performance artist who writes plays about her own life.  And, after working with Jeff Weiss for all those years; well, I love actors and I didn't want to be up there on stage all by myself.  It seemed to me, the way to do it was to tell these stories with people who are up there on stage with me.
 
La Mama, E.T.C., 74-A E. 4th St., (212) 475-7710, previews Apr. 16, opens Apr. 18 - May 2, Fri. & Sat., 10 P.M., Sun., 5:30 P.M., $18/$13.