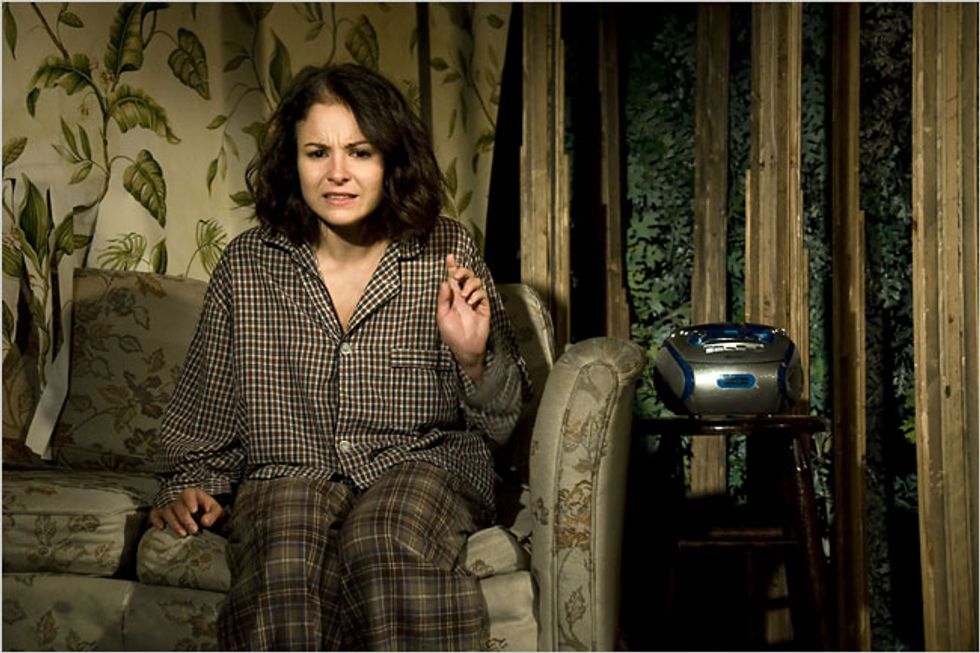 LAByrinth Theater Company is one of our city's treasures; not only for its repeated high-quality productions, but for its programs that nurture novice playwrights. Their Summer Camp Intensive Workshops are a valued experience for any participants. Michael Puzzo, primarily an actor, has been working with LAByrinth since 1997. His first play, The Dirty Talk, was well-received; this, Lyric Is Waiting, is his second. The four-character drama, 90 minutes without an intermission, is about a passionate relationship involving mental illness and obsession -- and how one comes out on the other side of such an intense experience. Lori Prince plays Lyric and Britt Whittle plays Ned. I spoke with the playwright.
Hi Michael. Talk to me.
The play is about a co-dependent relationship, and about a man looking back -- sort of a dream -- and trying to figure out what he did wrong in the relationship; because he's not the co-dependent one, he's taking care of Lyric.
His name is Ned, right? And who are the other two characters?
There's the Sexy Librarian (Kelly Mc Andrew) and Bigfoot (Joseph Masi).
I can't pass up a play with both Bigfoot and a Sexy Librarian in it.
It's a mosaic-like look at what turns out to be a six-year relationship. We see little bits and pieces, flashes of points in this relationship; like when they meet, the break-ups. But Lyric is mentally unstable. So it's also sort of a look at the guilt in taking care of, and living with, someone who is unwell in that way.
Give me an example.
We see scenes of Lyric and Bigfoot. Lyric has a lot of unhealthy obsessions and one of them is Bigfoot. The play is a very personal story.
I imagine people have asked you if it's based on your own personal experience.
None of it actually happened to me, but all of it is true.
OK. Tell me about The Sexy Librarian.
The Sexy Librarian is in Ned's dream. She is sort of a guide who helps him look closely at the parts of his life he needs to look at. Bigfoot and the Librarian are fantasy figures for each of them, and they help them to get what they need in the play. The Sexy Librarian is a male archetype figure, a fetish, but also a classic nurturing figure.
I remember being a little boy and wondering what my dad did at work all day. He'd leave in the morning and he'd come back at night. I had a fantasy about what he did, and Ned has the same kind of thing with Lyric and Bigfoot.
What would you call this kind of play?
It's a romantic drama. It's not a romantic comedy, but it is funny. It deals with romance in a different, dramatic way that I think people will appreciate.
You wrote it at LAByrinth?
I wrote it six years ago and have done workshops and readings, and people seem to identify with it. I've been in LAByrinth 12 years, I'm an actor first. LAByrinth encourages us to try on different hats. They are the only reason I am a writer; one day I tried it. Every word I have ever written has been read out loud by the best actors in the city.
The Irish Repertory Theater, 132 W. 22nd St., (212) 727-2737. Aug. 2 – 22. Wed.-Sat., 8 p.m. $18.
Photo from The New York Times