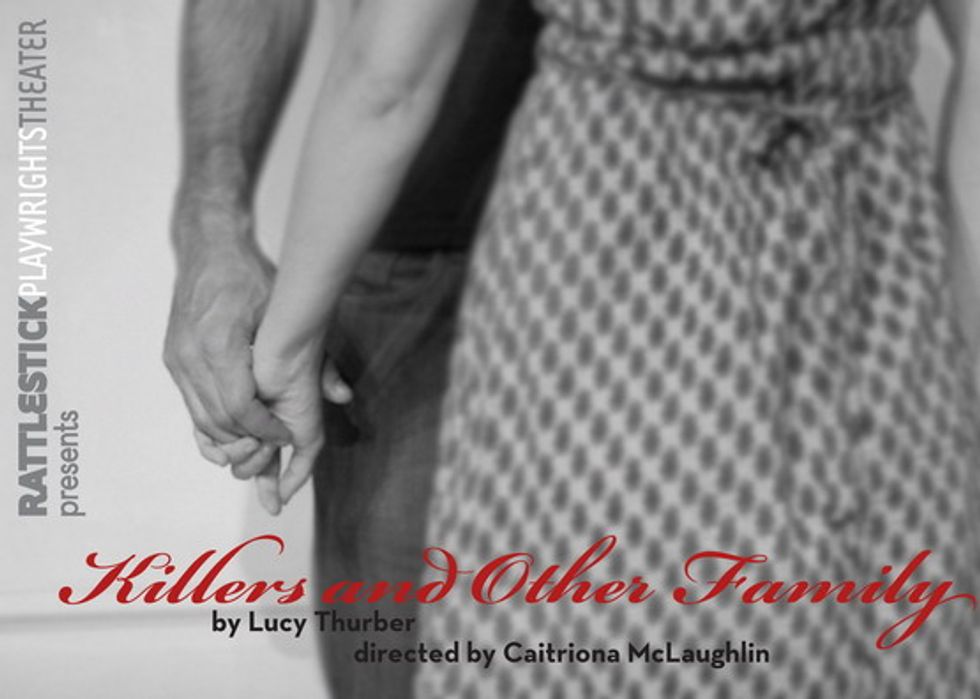 Playwright Lucy Thurber scored a sensation in June with her Monstrosity, a three-act futuristic epic about a training school for teenage fascists that had a cast of 40. Here, with Killers and Other Family, she scales things back a bit with a four-character drama, but the title lets you know she's still pulling no punches. Directed by Caitriona McLaughlin, the 80-minute intense ride centers on Elizabeth, happily living with her girlfriend in Manhattan, only to be surprised by her brother and his best friend, who arrive on the run and ask her to hide them. I spoke with Lucy.

I understand that this play was done at the Rattlestick Theater in 2001, and now they're bringing it back to kick off their 15th anniversary season.
Yes, it was my first professional production. I was super excited and I made a lot of young playwright mistakes. So I have to give a shout out to David van Asselt, the artistic director of Rattlestick; he said to me, "I didn't think we got it right the first time, let's do it again."

Wow, that's pretty great. Tell me, what's the nature of the play?
The play is made to function as a waking nightmare. It masquerades as realism, or naturalism, but it's not really. But it's supposed to be that way; that you can't tell if it's really happening or if it's all happening in the main character's head.
So that's not the way it was presented in 2001?
The first time, it was done straight naturalism. But the play has to ride a line. For example, the imagery of the set the first time around made it impossible to have any elements that were not naturalistic.

What else is different?
At the end of the play an "almost-rape" happens. In my mind, that's the main character deciding who they are and who they are going to be the rest of their life.

I love the title; how does that fit in?
The play is about how we can't escape our families, and how much is inherently us, and how much do we have a choice in who we are going to be, and how difficult it is to make decisions, to enable us to step away from the bad things from where we come, as well as acknowledge the fact that where we come from is a huge part of where we are as people.

Tell me a little about how the play gets going.
Elizabeth is in her NYC apartment, which she shares with her girlfriend. She's on the verge of finishing her dissertation. She's happy things are going well. Then her brother and his best friend, who happens to be the guy she lost her virginity to, burst in. They're in trouble and they've come to her for help.

Who's the fourth character?
Her girlfriend, who comes into the situation. The play is also about loyalty, and what everybody does to feel needed and to survive. When the boys show up, the walls in Elizabeth's world turn from natural to psychological, and her girlfriend is part of her natural world, and represents what Elizabeth wants.

Anything else you'd like to say?
There's a major question of what is real and what is not. A lot happens, a lot of excitement. Madness ensues.

Rattlestick Playwrights Theater, 224 Waverly Pl., (212) 868-4444. Previews Sept. 17, opens Sept. 24-Oct. 11. $45.