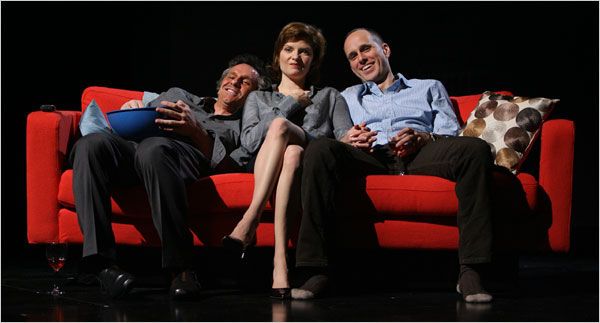 Happy Now?
is a play with an intriguing title.  We've all heard that phrase, usually delivered with a sarcastic edge, after some sort of screw up.  Here the playwright,
Lucinda Coxon
, from England, and the director,
Liz Diamond
, have fashioned a contemporary comedy around just that question. 
Mary Bacon
plays the lead role of Kitty, a married woman with a solid job, aging parents and a dog.  I spoke with the director. 
Hi Liz.  Tell me about this play.
First and foremost, it's a very funny play.  It's a contemporary comedy of manners, in the tradition of Congreve or other social satirists.  There's a kind of high velocity to it, which I associate with the great English writers of dark satire, like Pinter; but also some of the more light-hearted but incisive writers, like Oscar Wilde. 
Alright.  Now tell me about some of what happens.
Lucinda has written a play that resonates with me because it describes most accurately that moment in a woman's life when she realizes that this life of dog shit between the toes, an overbearing mother, an overworked husband, and an overwhelming job is her life; and it may, or may not, ever get better, or more perfect, or more fulfilling. 
OK, that sounds good.  Now tell me a little of the action in the play.  I know you have seven actors.
The play is largely written from Kitty's point of view.  She's at a moment of crisis in her life.  Her boss is succumbing to cancer, and she must take over.  Her husband, Johnny, has taken on a new, demanding job in the public schools.  And then she has a chance encounter with an attractive, successful middle-aged guy who proposes sex with no strings attached.  
Now we're going somewhere.
Kitty dismisses the overture as the work of a shameless boor, but in the weeks and months that follow, as her life becomes more impossible, his fairy tale warning begins to come true, and the temptation he has set before her becomes increasingly attractive.  
Now that you're warmed up, give me a final summation.
"Is there," asks Kitty, "another life, an alternative life, a shadow life, that she could be living, that would be freer, more beautiful, more fulfilling than the life she is living now?"  That is the heartbeat of the play.  
You're good at this.  One or two acts?
It's a two-act play, about two hours in length.  
Primary Stages at 59E59 Theaters, 59 E. 59th St., (212) 279-4200. Previews Jan. 26, opens Feb. 9-Mar. 6. Tues., 7 p.m.; Wed., 8 p.m. $60.
 
Photo by Joan Marcus