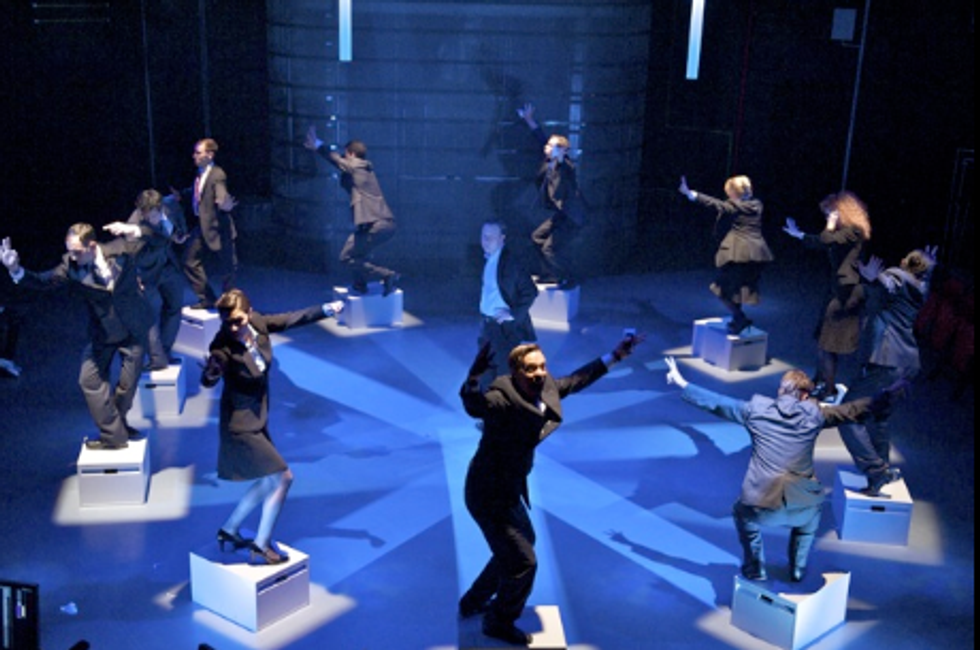 29-year old playwright
Lucy Prebble
has already taken London by storm, winning multiple awards for her play about the Dallas, Texas energy company that imploded into a 2001 financial scandal.  Now it's coming to Broadway, with the capsulizing ads on the sides of MTA buses reading: "A True Story about False Profits."  Directed by
Rupert Goold
, the strong cast includes
Norbert Leo Butz
as
ENRON
president
Jeffrey Skilling
,
Gregory Itzkin
as CEO
Kenneth Lay
, and
Marin Mazzie
as V.P.
Claudia Roe
. I spoke with the playwright before a recent rehearsal. 
Tom Murrin
: Tell me about your play. 
Lucy Prebble
:  I've written a show inspired by real events, about Enron, the energy company.  It's supposed to be a trip inside a financial bubble. We follow the main character, Jeffrey Skilling, from his appointment as president, through his rise, to his resignation and the collapse of the company. 
TM
:  That's a full arc. 
LP
:  One of the interesting things for me is the shape of the play, looking at it as a classical tragedy. Theater has always dealt well with tragedy, and when I was originally looking into the story, I felt Jeffrey Skilling was a traditional over-achiever, as Macbeth, or even Faustus, who made a pact with the devil. There were similarities in his rise and fall.  And so I used that as a sort of blueprint, to form a theatrical way to tell the story. 
TM
:  So this is a show about the inside workings of a business company? 
LP
:  I always felt that business in general isn't looked at as much in art; and, considering that most people, in the West, work for companies, it seemed a slightly neglected area. So I thought: 'Is there a way of showing this world of finance on the stage without being boring?' For me, that was the main impetus behind it.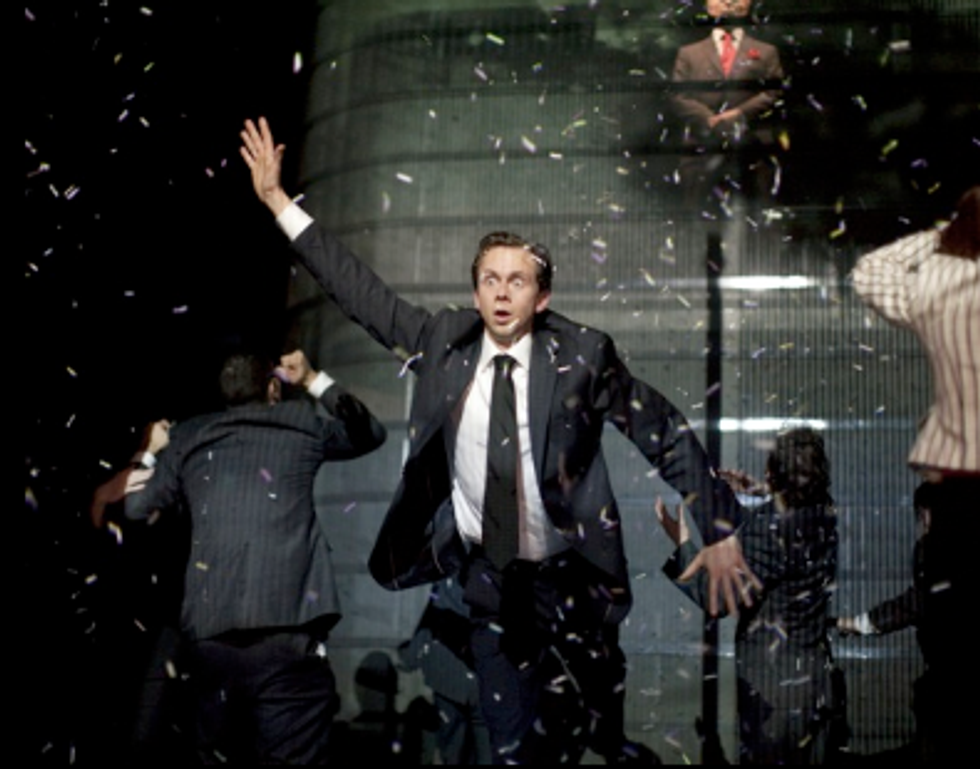 TM
:  What will we see then?  
LP
:  It's fundamentally a play, but there are elements of video, music, choreography and dance.  They are there to illuminate the excitement and thrill of when you're riding high, within the bubble as it were. And we thought that the best way to illuminate it, instead of men in offices talking about financial instruments, would be to break out in song, to show the show business side of business. And Enron was very much this kind of company. It was flashy and it was confident, and the marketplace and Wall Street fell in love with it. The principle behind the show is to explain the intricacies of how a company like Enron operated and how it fell, but to do it in an entertaining way.  
TM
:  Give me an example.  
LP
: You can see the relationships between Jeffrey Skilling and the other executives, like Kenneth Lay, and also the chief financial officer, Andy Fastow. An interesting thing with him is that he adored Jeffrey Skilling, he looked up to him as a hero and a mentor. Later, in the trials, he betrayed Skilling, he testified against him. That's a classic drama thing, the protégé betraying the master. So there are a lot of elements of tragedy and classical drama itself. It's written right into the story. When you look past the numbers and the dry finances, there's a very human story behind it.  
TM
:  And it's not a musical.  
LP
:  Right, it's not a musical. It doesn't have the form. It's a play, but we have music. It's a mixture. It's a three-act play with an intermission. There's the rise, at the top, and the fall.   
ENRON
at the Broadhurst Theatre, 235 W. 44th St., (212) 239-6200, previews Apr. 8, opens Apr. 27.