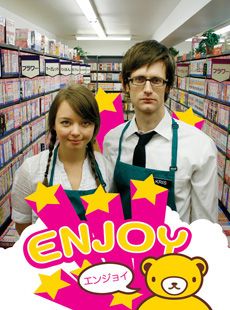 ENJOY
is a new play by
Toshiki Okada
, a popular contemporary Japanese playwright/novelist. It's being staged by a smart, innovative, chance-taking director,
Dan Rothenberg
, an Obie Award winner for his fine work with Pig Iron Theatre Company, such as their recent
Chekov Lizardbrain
. Okada's play, translated by Aya Ogawa and produced by Off-Broadway company The Play Company, is a present day, offbeat comedy about the day-to-day doings and occasional romances that occur among 20 to 30-year-olds working in a Tokyo manga café, where you can read comics, eat, access the Internet, even shower. There is a cast of nine American actors. I spoke with the director.
Tom Murrin: Hi Dan. First off, can you explain the title?
Dan Rothenberg: I can't. The playwright was very cagey with me. This was his first commissioned play. He was an underground playwright, putting on plays in a basement. Then the New National Theater commissioned this play. I looked at the title and I wondered, 'Maybe this title was sarcastic.' The play is about part-time workers, who feel marginalized in Japanese society, and how they feel the gaze of the middle-class salaryman on them. I wondered if the audience at the New National Theater would feel like, 'Here's a play about people we don't want to see;' and if the playwright was delivering a kind of "fuck you" play to that audience, and that the title "Enjoy" was a final elbow-to-the-ribs to this audience. So I asked the playwright if my theory was correct, and he said, 'Not at all. It's named after a Bjork song I like.'
TM: My thought was that it was a reference to what a wait person often says after they serve your meal.
DR: Yes. It's a phrase from the service industry and the play is about that. That is true, but also the play is about how impossible it is to enjoy life when you imagine other people looking at you all the time.
TM: What is the playwright's writing like?
DR: The play's writing is convoluted, self-conscious, circular, with cascades of language. It's what people wonder, if they are weird, if they are normal. It takes place in a manga café, which is kind of like a comic book library, where you rent a cubical for an hour and sort of check out of life. You're renting privacy by the hour, which is important, because Tokyo is such an enormous city.
TM: Tell me about how the play unfolds.
DR: The play is a lot of story-telling, and re-enacting and examples, rather than actions. There is no setting for the play. It takes place in people's minds, in the theater. It's easy to transpose it to an American setting. It still takes place in Japan. But the only way we signal that is because the characters say it's Japan.
TM: How do you feel about that?
DR: It was important to me that an American audience take this play as a play about us, about people here, about people I know; and not about people from an exotic culture. The first half of the play is about the question: How old is too old to have a part-time job? This is something Americans have a strong opinion about, especially now, because there is a global recession. In Japan, when the play was written, 2005, Japan had a bubble that burst, and we, and other countries, are having a duplication of that.
TM: What happens in the second half of the play?
DR: It's a continuation, but it's really about boyfriends and girlfriends in that situation; couples together, couples breaking up, impossible and possible love affairs, and how this work situation affects it. And that's what's brilliant about the play. It's about economy, but not about policy, but rather the way we feel economics in our lives, which has to do with questions like: "Is that gift too expensive?" or "I can't date someone with a job like that."
59E59 Theaters, 59 E. 59th St., (212) 279-4200, previews Mar. 25, opens Apr. 6-25, Tues-Wed., 7:15 p.m.; Thurs.-Fri., 8:15 p.m..; Sat., 2:15, 8:15, p.m.; Sun., 3:15 p.m., $35-$5. Student rush box office only.