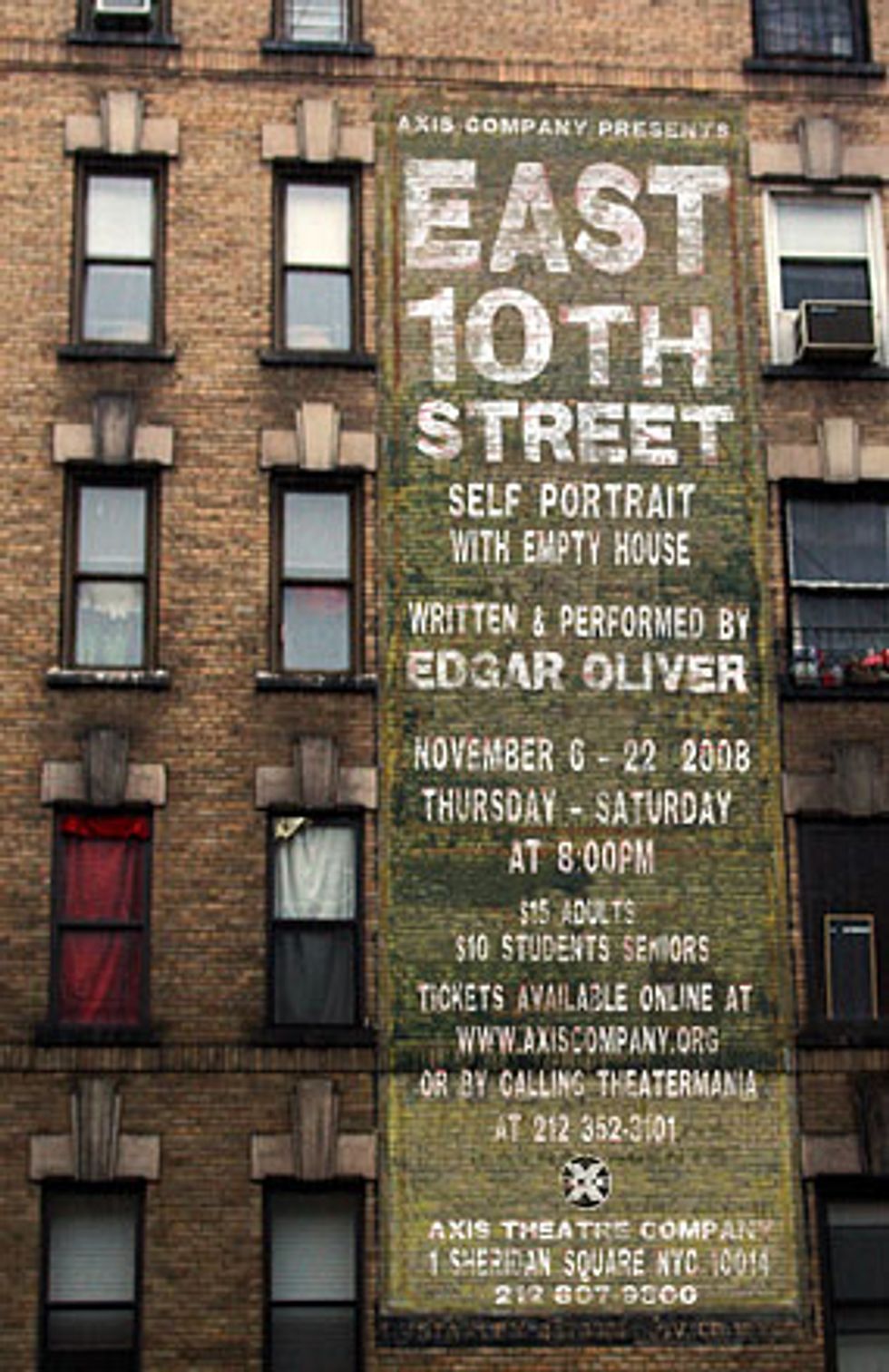 If you've ever heard downtown playwright/performer/legend Edgar Oliver speak, you won't have forgotten him. He has the most distinctive, mellifluous voice; it's gentle but spooky, almost ethereal. He's a native Southerner, but there's no accent. His cadence is slower than most New Yorkers, but his tone is rich, soothing and completely captivating. Edgar has been a Lower East Sider since the late '70s and has acted in and written many plays, notably those done at La Mama, like The Seven Year Vacation and Mosquito Succulence. For the past eight years he has acted in shows directed by Randy Sharp at Axis Theater, and she will direct him in this one-person memoir show about the places where he has lived.
Hi Edgar, how are you?
Very well, thank you.
So please tell me what we are going to see when we come to your show.
Well, you'll see me on stage, telling stories about, well, my life, you know. As to what else, it hasn't been completely staged, and I haven't completely written it yet either.
OK, that's alright.
But hopefully you'll see different houses in your mind, which are a part of my life. One of them is the one I live in now, and I have lived in for 30 years, all the time I've been in New York. And hopefully you'll also see the various lunatics and eccentrics who have lived with me, and my sister, Helen, in the house over the years, and you'll get to know them a bit.
For example?
You could say, if truth be told, these people -- well, two of them -- tried to kill Helen and me on a daily basis.
I know Helen, she's a great painter; and she painted the sets, I believe, for all your plays, at least the ones I saw at La Mama.
Indeed, she did.
OK, are there other houses you talk about?
Yes, other houses that I return to in my dreams, like the house on 36th Street in Savannah, Georgia where I grew up. And I hope you'll get to know my mother and Helen, my sister, and something about my childhood as well.
I remember seeing your plays at La Mama. They were strange, Edgar.
For years it was a tradition that I'd premiere a play at Halloween. People began to associate me with Halloween.
Why do you think that?
Well, they were a bit macabre, but I think in a humorous or a funny way. They were always about my childhood memories.
Tell me a little about Gentlemen Broncos, the movie you did for Jared Hess, the director of Napoleon Dynamite. I loved that movie.
The movie is about the adventures of a teenage boy. He's probably about 17, and he writes science-fiction novels. It's about his wild adventures with his mother, who designs ladies lingerie. In the movie, whenever anyone reads his sci-fi novel, the novel comes to life. So the movie is part real and part sci-fi, and I play the villain in the sci-fi world, and I also play the villain's clone, a crazy scientist.
Oh, that must be great.
Yes -- oh wait a minute, my cat's doing something crazy.
That's fine, I've got time. You know, Edgar, people love to hear you talk.
Oh goody, I hope people enjoy hearing me in this show.
Axis Theater, 1 Sheridan Square, (212) 352-3101. Previews Nov. 6, opens Nov. 8-22. $15/$10.