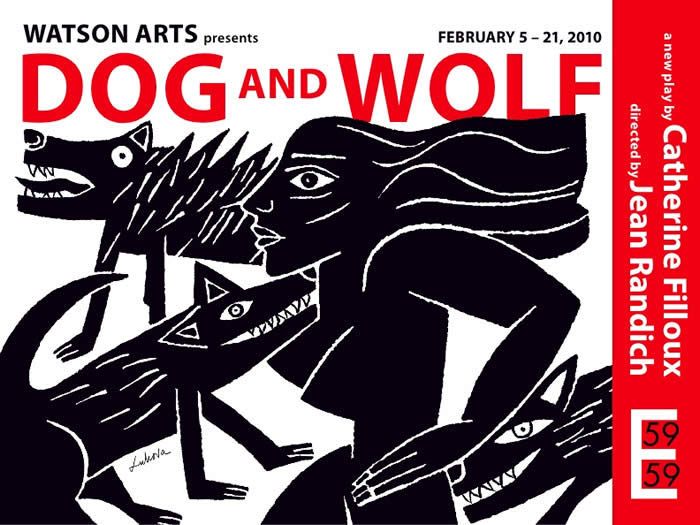 Dog and Wolf
is a new play by
Catherine Filloux
, and the fifth collaboration with her director,
Jean Randich
. Filloux is a person who has been concerned with human rights and social justice for the past 20 years, and her plays reflect that commitment. Her
Lemkin's House
was about the Polish lawyer who invented the word "genocide" and devoted his life to having it declared an international crime.  This play, with a cast of three, is about a female refugee from Bosnia who has been traumatized by the death of her own family and the mass graves of her homeland.  She disappears, and her wheelchair-bound attorney travels to Eastern Europe to track her down.  I spoke with the playwright. 
Hello, Catherine. Please tell me about your play.
 This is a play about a woman, Jasmina, a refugee from Bosnia.  She is involved in trying to educate people about the genocide in Bosnia, and also, she is seeking political asylum in the U.S.  Her lawyer is Joseph, a high-powered, successful asylum attorney who has never lost a case. What happens is that the asylum case doesn't turn out the way Joseph had anticipated, and so he is taken to a world that he would never have imagined. 
And the third character?
 The third actor, a woman, plays a judge in the asylum trial, and also plays Jasmina's mother and a waitress in Bosnia.  The play runs without intermission, about 80 minutes. 
So what was your inspiration here?
I have spent a certain amount of time in Bosnia; Lemkin's House was first produced there.  And I was very inspired when I went to the annual commemoration of the genocide in that country, at a place called Srebrenica.  It was incredibly moving, and it inspired the play.  
So is Jasmina based on a real person?
Jasmina is completely fictional.  
The press release explains that the title refers to a French expression that describes that time of early night, when the light is so dim that one cannot distinguish between a dog and a wolf
.
It's a political play; of  intrigue, identity and pursuit.  Joseph is completely plunged into unknown territory, and Jasmina herself lives in unknown territory all the time.  She suffers from PTSD, Post-Traumatic Stress Disorder, based in part on trauma with her family and mass graves involving her family.  It's a play between two people, the woman and the lawyer.  He is disabled and utterly confused, but he makes a huge transition in the play.  
59E59Theaters, 59 E. 59th St., (212) 279-4200. Previews Feb. 5, opens Feb. 9-21. Tues. & Wed., 7:30 p.m.; Thurs., Fri. & Sat., 8:30 p.m.; Sun., 3:30 p.m. $18.