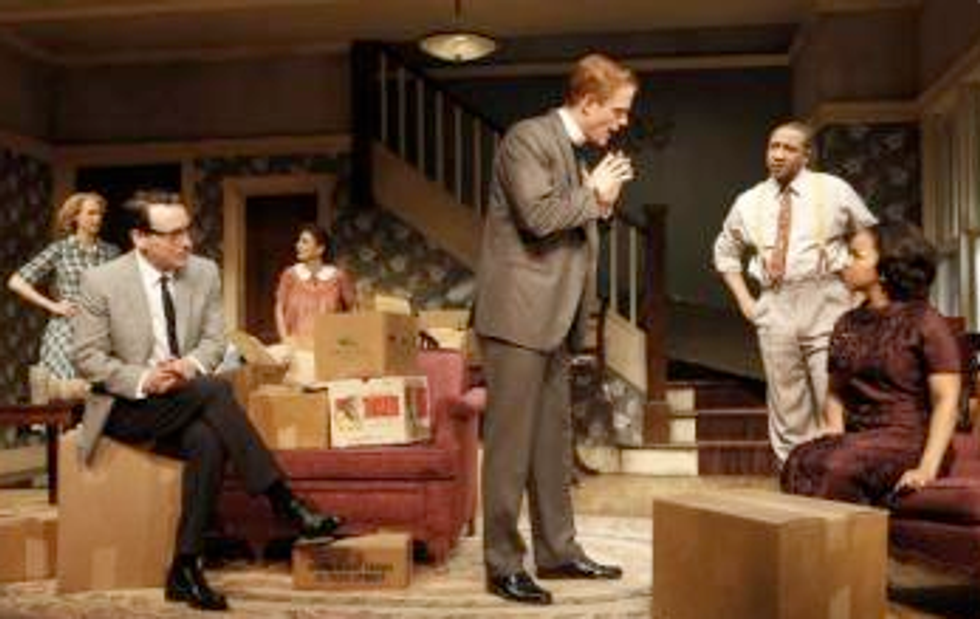 Playwright
Bruce Norris
has had five previous plays premiered at Chicago's legendary Steppenwolf Theater. His latest,
Clybourne Park
, directed by the excellent
Pam MacKinnon
, was loosely inspired by
Lorraine Hansberry
's American classic,
A Raisin in the Sun
, and is set in the same Chicago neighborhood.  In 1959, a white family moves out; in 2009, a white family moves in. 
Frank Wood
, Tony Award winner for
Side Man
, and
Annie Parissie
, wonderful in
The Credaux Canvas
, lead a cast of seven  I spoke with director MacKinnon. 
Hi Pam.  Tell me about this new show.
Bruce Norris is probing the psychological and emotional underpinnings of race relations vis a vis real estate.  The first act takes place in 1959, in a solidly middle-class white neighborhood.  The first black family is moving in.  It is sort of the off-stage action of
A Raisin in the Sun
. 
How does that work?
It's Bruce's creation completely, but there is one white man in Lorraine Hansberry's play, Karl Lindner, and he is also in Bruce's play, in the first act.  Karl has just come from his second scene in
A Raisin in the Sun
, where he has failed to convince that family, a black family, to move into the neighborhood.  And he shows up here to try to convince the white family, who
are moving out, to stop the sale.  That's the action of the first act.
Ah, that sounds interesting.  What's next?
In the second act, we jump ahead 50 years, and the exciting thing for the acting company is that the same seven actors get to play seven new roles.  We're sitting in the same living room, but everything about the neighborhood has changed in those 50 years, and it is now predominantly a black neighborhood. and a young white couple wants to move in, because it's become a fashionable area again.  
OK, I like the symmetry here.
But the new white family wants to demolish the entire house and rebuild, and that becomes a bone of contention with a black family who have roots in the neighborhood.  They want to preserve the neighborhood and not have a Spanish style, three-story, too-large-a-house-for-the-plot-of-land, be there.  
So fireworks ensue in the second act?
It's really great.  The first act is truly a personal piece; the language, and how people conducted themselves back then.  The rules of etiquette were very strong, but crisis makes rules of etiquette fray, and that is also the case in the second act.  The social and conversational rules have changed; for example, regarding who is now allowed to express their mind.  But there are still certain rules of what is polite and impolite conduct.  Especially when you're dealing with property and family.  
Tell me a little about the playwright.
First, Bruce is a big thinker; second, he has worked a lot at Steppenwolf and so he's really great at writing for ensembles.  The playwright who wants to work at Steppenwolf  has to be able to write for large groups, has to be able to deal with many actors on stage at once, and Bruce Norris has that talent.  
Playwrights Horizons, 416 W. 42nd St., (212) 279-4200. Previews Jan. 29, opens Feb. 21. Tues.-Fri., 8 p.m.; Sat., 2:30. & 8 p.m.; Sun., 2:30 & 7:30 p.m. $65.