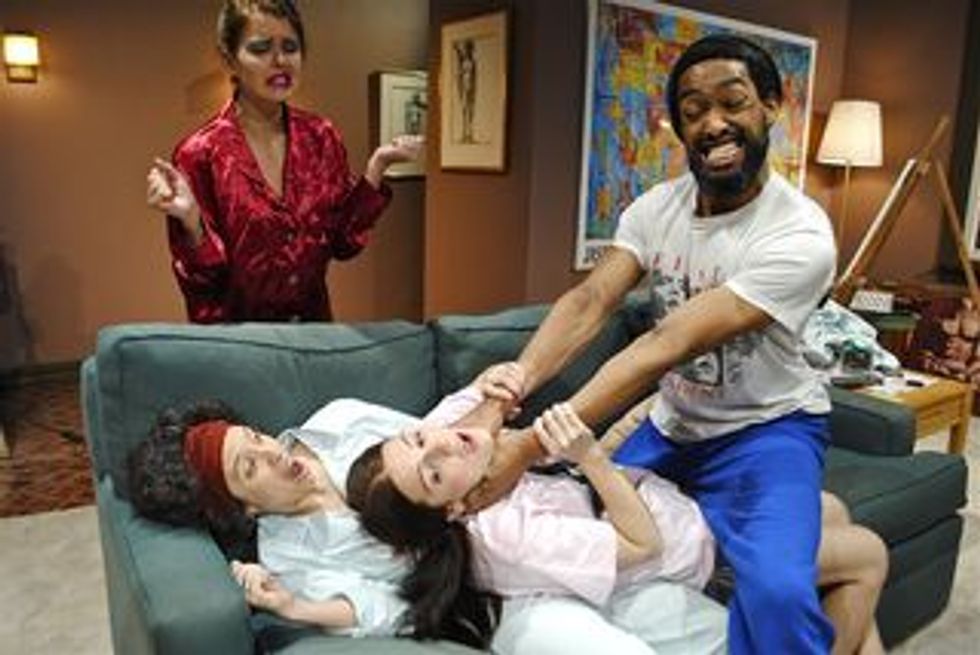 Let me state right off the bat that I love the
Amoralists Theatre Company
. Their
Pied Pipers of the Lower East Side
and
Happy in the Poorhouse
were funny, exciting and made me feel I was watching a genuine breakthrough in ensemble theater.  Here is a new play by their resident playwright/director
Derek Ahonen
. It's about a lesbian couple, one black and one Jewish, who have overcome years of alcoholism and self-doubt to remain loving partners.  However, when their absent daughter, Garance, becomes publicly accused of cannibalism, things get chaotic. Bigots phone, a long lost brother shows up, and then, of course, the cannibal appears. I spoke with Ahonen on the phone, while he happened to be changing subway trains at an outdoors station. 
TOM MURRIN
:  Hi Derek, I can hear the trains going by.  Wasn't there a famous short story called something like "Bring Me the Head of General Garcia."? 
DEREK AHONEN
:  The title is from a long line of cool titles; I thought it was cooler with "Your Daughter". 
TM
:  O.K. Shoot. 
DA
:  The play is about the hell that two loving partners, Jackie and Contessa, are put through when their absent daughter, who has run away from home, turns up in the news as a cannibal. It's basically a love story about the 2 women and how all these outside forces are trying to destroy their love. 
TM
:  You're kind of a romantic, Derek. In both
Pied Pipers
and
Poorhouse
, there was a lot of "I love you" dialogue going around. 
DA
: It's really different from all my other plays. But it's similar in exploring a very conventional love within a very unconventional family. You're going to see a sonata. Piper was a bolero; this one is a sonata.  It's a very delicate, tempered love story of two women, who are on stage the whole time. And you have all these outside forces, such as alcoholism, long-lost family members and bigoted civilians, trying to destroy their love; and the daughter too. 
TM
:  How does the cannibalism fit in? 
DA
:  Metaphysically, or on a deeper level, it's about self-cannibalization, and how people eat away at themselves, and destroy themselves day by day. Also, it's very funny, like the rest of my plays. It's a drama first, filled with laughs; 95 minutes, no intermission. 
TM
:  I understand that the cast of four is all new actors for your troupe. 
DA
:  We're growing the company a little bit. We've done this every single year. This is our 5th anniversary season. We wanted to do a completely new show with completely new people. 
TM
:  Can you tell me more about the show? 
DA
:  Beyond the love story, and the sonata, the big pay-off is when the cannibal emerges and all hell breaks loose. You'll see some insanity. It's a change in direction. People who have grown to love our other works will find this an interesting change in direction. And people who hate the work we do will notice a change in direction too. 
TM
:  (Laugh.)  I'll probably drop that last line. 
DA
:  No, no, leave it. It's funny, and I want people who hate us to come see it too. 
P.S. 122, 150 1st Ave. @ East 9th St., 212-352-3101, ps122.org, Through April 2. Wed.-Sat., 7:30 p.m., Sun., 3 p.m., Mon., 7:30 p.m., $40 for adults, $20 for students, 2 additional Sun. matinees, Apr. 9 & 16, with $10 tix.