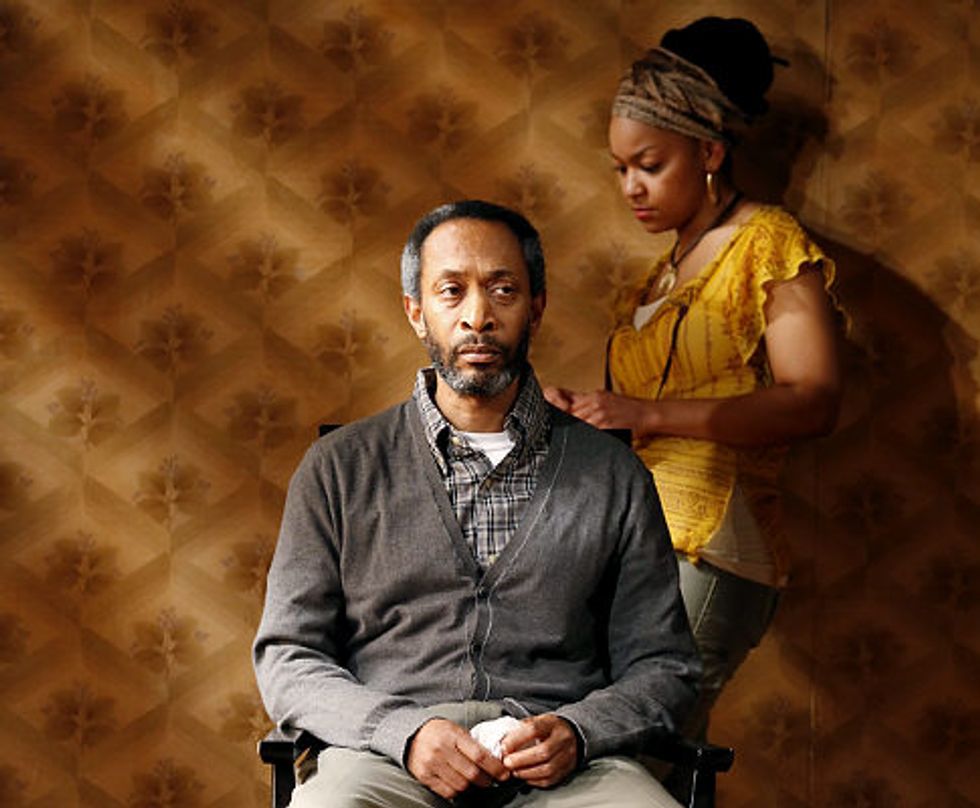 Jamaican-British playwright
Debbie Tucker Green
has been making quite a name for herself in London.  She broke through in 2003 with
Dirty Butterfly
, and followed that with two plays at the Royal Court:
Stoning Mary
and
Randa
.  This one,
Born Bad
, received the Olivier Award for Most Promising Newcomer in 2004.  It's about a family trying to make sense of its past.  There's a cast of six, and I spoke with the director,
Leah C. Gardiner
. 
Hi Leah.  How are you today?
I'm quite excited that Soho Rep is courageous enough to bring over this wonderful, complicated play. 
Tell me about it.
It's a wonderful twist on family drama, that combines a play with language, sound and emotion; and that encourages you, once you get on for the ride, to stay on the ride till it's over.  It's one hour long, but within that one hour, every possible emotion that you own is tapped and explored. 
Tell me a little about the play's language.  I understand that, in London, the family was Jamaican British, and here they are Jamaican American.
The playwright was very interested in how it translated.  It's very much like an American audience seeing Shakespeare or an Irish play.  Although the language is quite different, you understand the intention and the meaning. 
It's a play that is written non-naturalistically; but these family members, from the playwright's point of view, are dressed very naturalistically, and perform naturalistically, to ground us in a reality, because the subject matter is very visceral and real to all of us. 
As difficult as the material is to take, we, in some ways, are given breathing room, because of the style of the language, which is non-naturalistic. So we're balancing naturalism and non-naturalism simultaneously, which is very exciting for an audience member to experience. 
Tell me about the people in the family.
There are two parents: mother ("mum") and father, sister one, sister two, brother and Dawta.  There are four adult children and they come home.  They are all living their own lives and they come home for a family event, like a Sunday dinner.  The eldest child, a daughter, Dawta, confronts the parents with a personal memory.  In the course of the play, she then confronts her siblings, who then take her, and us, on a ride of support and denial.  But there is a twist at the end of the play, that doesn't affect the Dawta at all. 
Let me ask you about Dawta.
That's a Jamaican way of callings someone "a woman who makes bold choices", it's specific. 
Oh, I thought it meant "daughter."
That's what's interesting about this play.  You think it's meaning something, and then it actually means a little more.  And let me say that the acting is first rate; the six actors are some of the most talented in the city. 
Soho Rep, 46 Walker St., (212) 352-3101. Previews Apr. 5, opens Apr. 7-24. Tues.- Sun., 7:30 p.m., $30 general admission, $40 premium reserved seating.