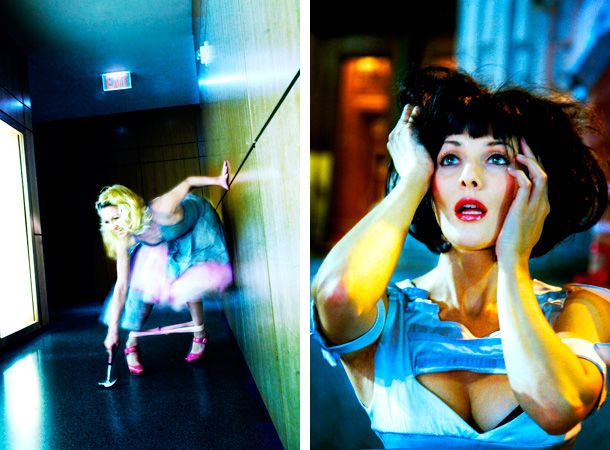 Wax Factory, the inventive, mixed-media theater/dance group is 10 years old this fall. I remember seeing one of their early shows out at the then-uninhabited Can Factory in Brooklyn, near the Gowanus Canal, and was delighted by the ways they used the empty spaces and confronted and moved the audience around. They perform a lot in Western and Eastern Europe, and their latest, BLIND.NESS (Love Is a Four Letter Word), has a design team from Yugoslavia called Minimart, a video by an Italian, Antonio Giacomin, and electronic music by Random Logic. Simone Semenic co-wrote the script with director Ivan Talijancic. I spoke with both Ivan and performer Erika Latta, who has been with the troupe since its beginning.
Good morning, Ivan and Erika. Tell me first a little about Wax Factory.
Ivan Talijancic: Our belief is that theater has been the most multi-disciplinary of all art forms; and our work celebrates and explores the multi-discipline nature of this form. Also, we like to collaborate with artists who are not usually working in the theater. This keeps us on our toes and challenges us, and brings another dimension to our work. Another trait is the international nature of our work. Every single one of our pieces has an international aspect or collaboration. Also, depending on the nature of the project, we re-invent our approach.
OK, so tell me about this show. Erika?
Erika Latta: It's about love and that place that leaves you trembling and laughing at the same time.
I understand that you lead an all-female cast.
EL: Yes. There are four New York actors; myself and three other women. It's about love, and we each have a different relationship to love. We are different personalities, and are on different mental landscapes. The landscapes can be absurd or frightening. Anybody can relate to love because everybody has been in love; and the audience can project their own feelings onto the landscape.
So, Ivan, what are we going to see?
IT: "Love" is a very general term, so our departure point was that we were interested in looking at all the conflicting emotions that love stirs up in its wake -- when you have it, when you don't have it, when you lose it. Often when we speak of love, we think romance/bliss, but love can make you do crazy things. You can kill for love, or you can kill yourself for love. So the piece is darkly humorous.
EL: That's what the title means: it makes you blind.
IT: Also, the subtitle "love is a four-letter word" is a quote from a Bob Dylan song. I like the subtitle because it gives a hint as to what context we're looking at here. We're not going to do a Romeo and Juliet. It's something more on the left side, or as Erika puts it…
EL: To the left of things.
P.S. 122, 150 First Ave., (212) 352-3101. Oct. 12-Nov. 1. Thurs.-Sat., 8 p.m.; Sun., 6 p.m. $10, $15 & $20.
Photos by Tasja Keetman