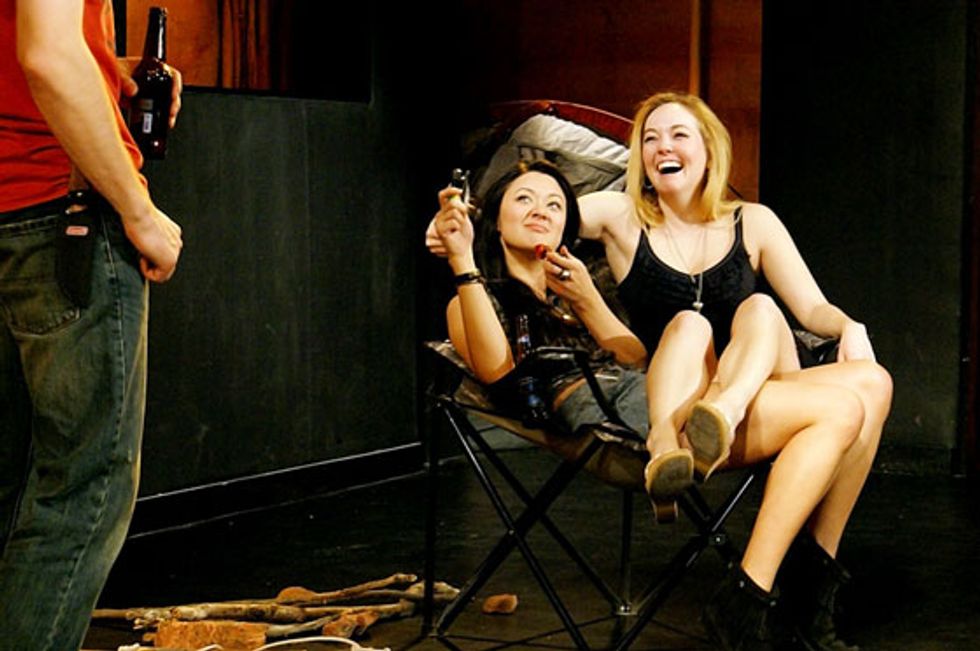 Above: Nicky Schmidlein and Satomi Blair. Photo by Dan Applegate.
This is a new play by
Trista Baldwin
, directed by
Mia Walker
, featuring performers from the
Flea Theater Company
's resident actors,
The Bats
. They play four college students, en route to a fun-filled fling in Las Vegas, who stop off at the Grand Canyon, and that's where things start to happen. I spoke with playwright Baldwin, who teaches college students in Minneapolis. She's the author of a number of previous plays; and, like this one, with intriguing titles too, such as
Chicks With Dicks
and Patty
Red Pants
. She laughs easily, speaks fast and has a congenial phone personality. 
TOM MURRIN:  Hi Trista.  I love your title; how did you come up with it?
TRISTA BALDWIN
: It came to me pretty early on in the writing of the script. It's really the core of the play: an exploration of what's sexy now in America. There are a couple of influences I was thinking about. First, that porn has gone mainstream, and it influences all sorts of aspects of our culture. Even CNN News. 
TM:  How so?
TB
:  When I've been at the gym and watched CNN, which is mute, some of the facial expressions that come up, from both male and female anchors.  If you're not paying attention to content, and you're just looking at faces, some of the expressions, well . . .  
Another influence for me was that during the Hillary Clinton vs. Barack Obama contest, I felt like there were a lot of older, intellectual women who didn't understand that a lot of young women were not going to vote for Hillary Clinton. I feel that some older women are so out of touch with young women today. And
American Sexy
focuses on the state of young women today; what they think of themselves, and of each other. 
TM:  Now lead us into the play itself.  We've got four college students, two guys and two girls.
TB
:  The main character is a young woman named Lexi. Then there is her friend, Jessica, who is focused on getting her man, Darren. One of the things I'm interested in doing is exploring the sub-text. Lexi and Jessica, they play around a lot with their sexuality. And the way they go about it, it kind of results in blowing things up. 
TM:  How do you mean?
TB
:  While they are willing to play around with their sexuality, they're not prepared for the emotional aspect of it. One of the key points in the play is exploring how this new media affects our sexuality. For example, being caught on somebody's phone. We're living in a kind of "dare" time period. 
TM:  Jessica is interested in snagging her man. What does Lexi want?
TB
:  She just wants to be above it all. She's wrapped up in her own bubble. She doesn't want a man. Whereas Jessica has princess dreams, and wants to get married, Lexi wants to be free. And what does that mean now? One of the questions of the play is: What kind of girl can survive the terrains out there today, in the pornification of America? 
TM:  Tell me about the two guys.
TB
:  Andy, he's an old-fashioned white boy. He's caught up in trying to be cool in this new world. He has love on his mind; but what is that? Darren, he's kind of a regular guy, urban sophisticated, pretty easy-going about the sexuality. But he's manipulative with the girls. He's kind of a pawn between them, and he tries to play that. He enjoys the show (of sexuality between the girls) but he gets messed up along the way. 
The Flea, 41 White St., 212-352-3101, theflea.org, previews Jan. 15, opens Jan. 29 - Feb. 22, Thurs. & Sat., 9 p.m., Sun. & Mon., 7 p.m., added performance, Feb. 27, 7 p.m., $20.