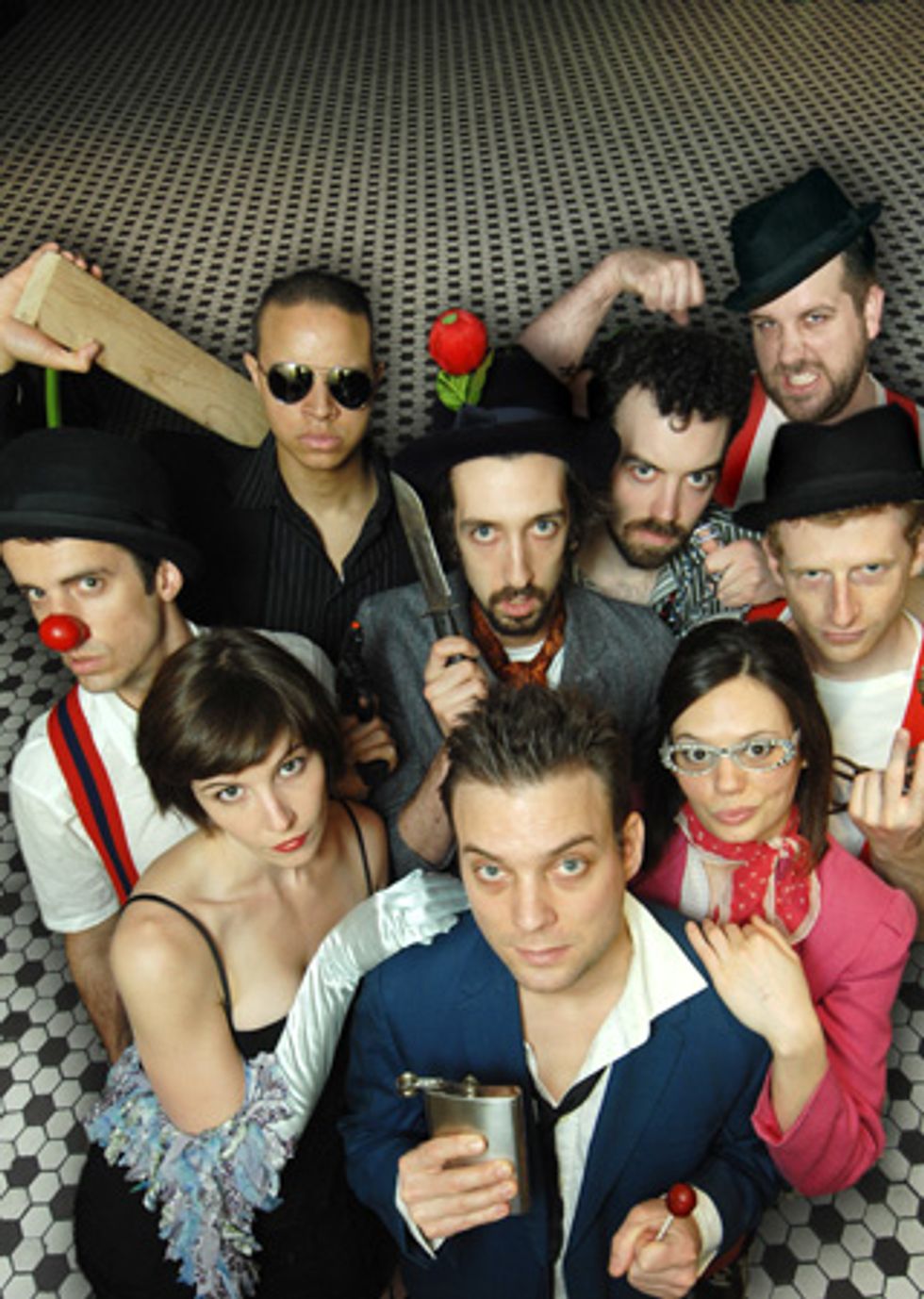 All Kinds of Shifty Villains is a new play, which can be briefly described as "carnival-noir," written by Robert Attenweiler, and directed and choreographed by Rachel Klein. Attenweiler is a young, often-produced L.E.S. playwright and Klein has had a lot of circus and acrobatic experience which she's used to supplement her theatrical direction of 20 downtown shows. I spoke with both of them on a conference call.
Tom Murrin: What exactly is the premise of this show?
Robert Attenweiler: We're trying to fuse circus or carnival with 1930's crime fiction and film noir. Rachel comes from the circus/clown tradition and I've been reading a lot of crime fiction, and we thought it would be a nice pairing.
TM: And how has it worked out?
Rachel Klein: The process has been interesting. I haven't worked with a playwright in development before. But we both knew different actors, and we put a group of actors together and he started writing it, and I started working with the actors, adding a physical animation to the plot that was developing.
TM: How did this process work?
RA: I would bring in something that I wrote, say, the generic situation: a femme fatale comes into a P.I. (private investigator)'s office with a problem, and then we'd see the actors do it. It became a strong ensemble piece because, working with the actors, I was able to write for their voice, and use their personalities to make unique crime fiction characters. Also, the way Rachel worked with them influenced what I wrote.
TM: I understand that there is a cast of 3 women and 8 men. What happens in the show?
RK: I would say it's like a live action cartoon of sorts. The physical presence and stylizing is not natural, but it comes from a place of truth.
RA: I like to think it's Tom Waits meets Dick Tracy. These characters are drunks, addicts, thieves and lovers, and then, when you add clown physicality, you get more.
TM: Is there a plot?
RA: Max Quarterhorse is a noir detective, a hard-drinking, hard-boiled womanizer. At the top of the show, he's had to quit smoking, and due to nicotine withdrawal, his work takes on a hallucinatory quality.
RK: Max sees things on stage that the other characters don't see. There are a lot of physical clown archetypes. The femme fatale. Precious Jones, is reminiscent of Jessica Rabbit, Marilyn Monroe and Betty Page.
RA: At the beginning, Precious Jones has a mystery for Max to solve. There's a spark of sexuality between them, which draws Max into a crazy convoluted world, where each step draws him further into this underworld of villains who are plotting his doom!
RK: There's also the use of music -- a gritty rock 'n' roll vibe that carries the show, as far as tone. There are excerpts from modern music as well as loungy piano sound from the '30s.
Kraine Theater, 85 E. 4th St., (212) 868-4444. June 12-28. Thurs.-Sat., 8 p.m.; Sun., 2 p.m. $18.