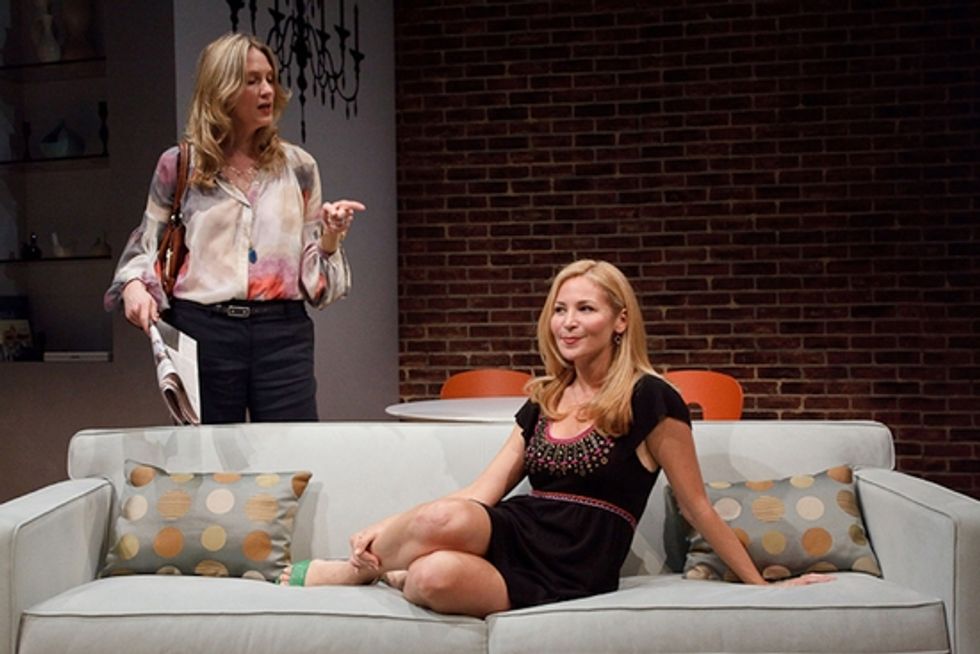 With all the memoirs being written today, who's to say what's true and what's false? What really happened in your life? If you were to write a memoir, could you claim it was 100% accurate? Cusi Cram has written a play that addresses that riddle, and the very capable Pam MacKinnon directs. A Lifetime Burning is about Emma, a trust fund darling (played by Jennifer Westfeldt), who imagines her life as if she came from a less privileged background. The only problem is: she calls it a memoir, gets a nice advance and then has to deal with her sister, who is outraged. I spoke with the convivial playwright.
Hi Cusi. How would you describe your play?
t's a dark comedy that takes a look at the modern obsession with true stories, and the "true-life" memoir. It poses the question: "If you were given the opportunity to re-write your life, would you?"
What's the framework?
It takes a look at the question through the lenses of two sisters; one has written a pretty fictional memoir. What does that do to a nuclear family, what are the familial fireworks that ensue?

I see there are four characters.
Emma is the writer. Tess is the sister, who is more than a little angry about the situation. Lydia is the publisher of the memoir. She's an amalgam of a certain British woman in New York, a woman in a position of power. Then there's Alejandro. There's a love story in the play, but we won't say with who.
And what ensues?
It's a bit of a rollercoaster. There are twists and turns, unexpected things happen along the way. You get pieces of the story that add up to the whole play.
I recall the scandal about a writer who wrote a book that Oprah praised and then it turned out he made it up, and he had to go on Oprah and eat crow.
That was James Frey. The book was A Million Little Pieces. It seems like there's been a spate of these fake memoirs. So the play is definitely inspired by some of these stories and different aspects.
Is A Lifetime Burning the title of Emma's memoir?
No, that's a quote from T.S. Eliot about memory and how memory changes, and how hard it is to remember what happened.
I can understand that.
In Emma's memoir she creates a less-privileged background for herself. And there are a bunch of reasons why and how she does this. The play takes a look at aspects of privilege and how that manifests itself in New York, in the time we live in. It has a satirical element. I'm certainly poking fun at privilege. It's mostly about the two sisters battling it out.
Do you have a sister?
I have a sister who I love. People think this play is about us. She was an actress. But it's really not her, or us. It's funny because some people think it's true, but actually, I like to make things up. I like to write plays. People think I'm protesting too much though.
Family dramas are a big part of American theater.
The story of everyone's family is somewhat sacred; and if you tell something based on truth, they have a reaction to it. Because writing is dangerous, inevitably. There is some kind of consequence. There are a lot of different elements to this sister-sister relationship in the play, and why this causes such Sturm and Drang.
Primary Stages 25th Anniversary Season honoring the Female Playwright, 59E59 Theaters at 59 East 59th St., (212) 279-4200. Previews July 28, opens Aug. 11-Sept. 5. Tues., 7 p.m.; Wed.-Fri., 8 p.m.; Sat., 2 & 8 p.m.; Sun. 3 p.m. $60.
Photos by James Leynse