When Sue Stemp launched her New York-based eponymous womenswear line in 2006, it seemed as though her dreams had been fully realized. The English designer, who had gained experience working with fashion labels like Daryl K., Tocca and Alexander McQueen, had quickly gained a cult following: Kate Moss was spotted in a buttery-chiffon dress and Kim Gordon in a velvet mini with Theodora Richards and Daisy Lowe styled for Stemp's fashion presentations.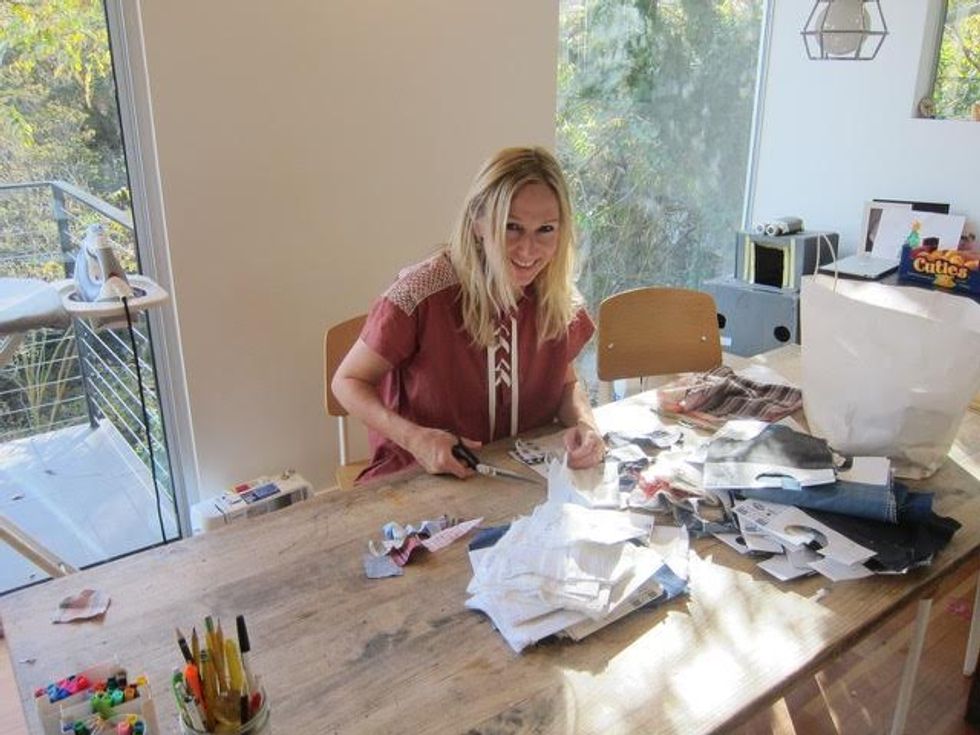 Then the recession hit. "We really suffered from it," says Stemp, who is a member of the CFDA. "I loved New York, I'll always love New York -- but I realized then, that it was time for me to move."
So in 2009 she and husband/business partner Paud Roche moved to Laurel Canyon, the pocket in Los Angeles where Joni Mitchell, Neil Young, Carole King and the Mamas and the Papas penned some of the most prolific Americana music of the late 1960's. "I found the nature and the weather and the space—I found it really inspiring and just thought, 'Wow I really love it here,'" Stemp says.
Those surroundings would ultimately spark St. Roche, a sustainable and ethically produced womenswear line that channels the ease and natural beauty of Stemp's new world. For Summer 2016, there are ruffled and off-the-shoulder flamenco-inspired sun dresses, lacy white maxi-dresses and flowy trousers that could chicly transition from a trip to the market to a night out with friends (prices range from $189-398). Most every textile comes from India, where Stemp travels at least twice yearly to personally meet with the network of specialty fabric producers she's built over the years.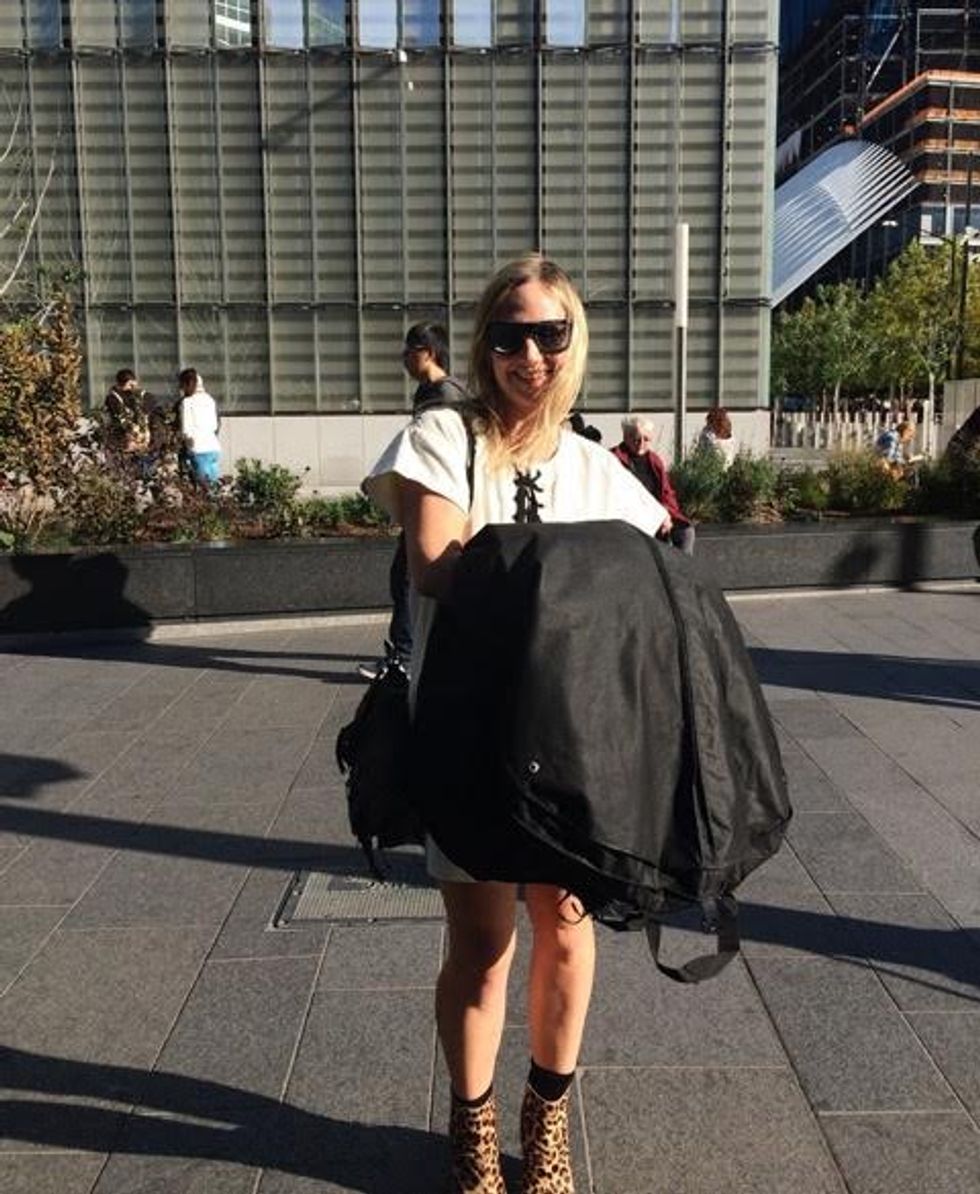 For now, Stemp hopes to grow the brand "slowly and organically" as she balances motherhood (she has a six year-old son and nine year-old daughter) with business development. "It's a lot of hats to wear and my social life is nothing like it used to be [laughs], but at this moment I'm looking to real life as my inspiration."
PAPER spoke with Stemp about her world travels and conscious consumerism. Here are excerpts from that chat:
How did you get interested in fashion initially?
Since I was 14, I wanted to work in fashion; I always knew it was what I wanted to do and I'm lucky to still be doing it.
Where is the name of the brand derived from?
"St." comes from Stemp, my last name, and Roche is my husband's last name—my married name. I also thought it sounded a bit like a glamorous beach destination, like a St. Tropez kind of place.
Laurel Canyon seems as though it's been a special place for you to create.
It really is and the people that live here are very interesting and cool, it feels very village-like—which I love. It can feel very removed at times, as though you're up in the mountains, but then there's Chateau Marmont ten minutes down the road. Reality is just around the corner.
Where do you draw inspiration?

I'm really inspired by artisanal handcrafted textile techniques. Almost everything is made in India; it's all handcrafted, hand-embroidered, hand-dyed. The amazing thing about India is that when you travel around it, you realize that each village has its own specialty, its own way of doing things. When you're there, you're bombarded with the music, the smells, the color—it's a real treat. But there is still an Englishness to it—afternoon tea—and I love that contrast. In a way, it's a country that seems so familiar to me and I quite like that.
What is it like when you're in India looking for new material?
I work with specific families in India. The people I work with in Rajasthan –you go there and give them a design and they'll just carve it out in front of you. It's just gorgeous. The hand hand-embroidery and weaving techniques are just beautiful. And then I have a few things made in L.A., which makes sense for me because many of the eco-fabrics that are made here. I work with someone out here, for example, who makes organic cordurouy; it's so gorgeous but the fact that it's also sustainable makes it that much more special for me.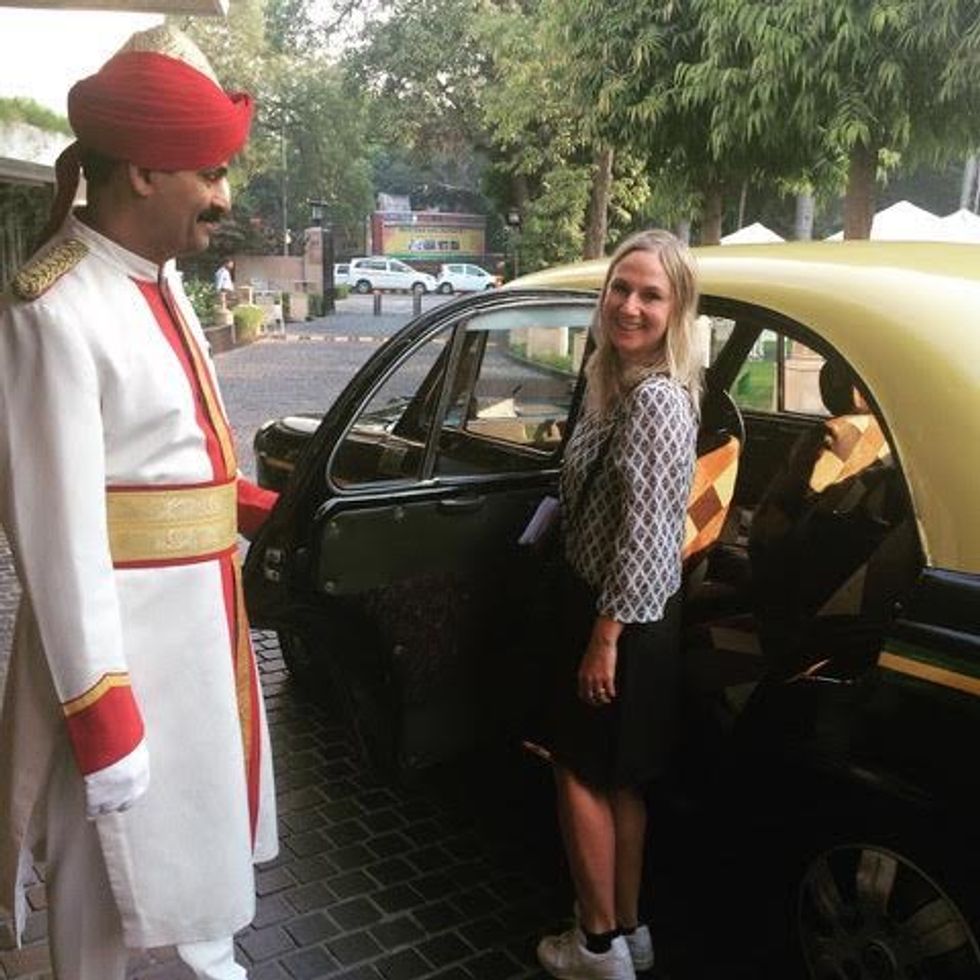 Do you remember first time you went to India and the feeling you got from being there?
I think with Rajasthan, for example, it's what you would imagine India to be: bright pink, bright orange, so much gold, women dressed-up, the black eye-liner. It's Just so gorgeous—and it also has a craziness to it, which I love. The energy there is so interesting—the markets, the wedding bazaar with a million types of ribbon. They also have vintage textiles you can find if you hunt around. It's beautiful, the level of craftsmanship there.
Why the decision to keep conscious consumerism at the forefront of your work right now?
I think the West Coast, even with the drought that's going on, we're more aware of sustainability. I believe that every little bit helps—it's impossible to be completely sustainable, completely environmentally friendly, especially on a small scale which is what we are. But you try the best you can, as much as you can and hope that it grows.
I love that each piece is beautiful, but it's also not priced incredibly steep.
I think the recession changed the way people shopped—and that's something I wanted to keep in mind with St. Roche. I try to keep it as affordable as possible, I don't want each piece to be so precious that it's not out of reach. There are handmade elements and personal details but I want the pieces to be worn—that's important to me. I want what we make, to be something you can live in.
Having gone from London, to New York to the West Coast -- looking back is there anything you would tell your younger self?

Every step leads you in new directions: stay focused, but stay open.
Peep through a smattering of St. Roche SS'16 collection.
You May Also Like