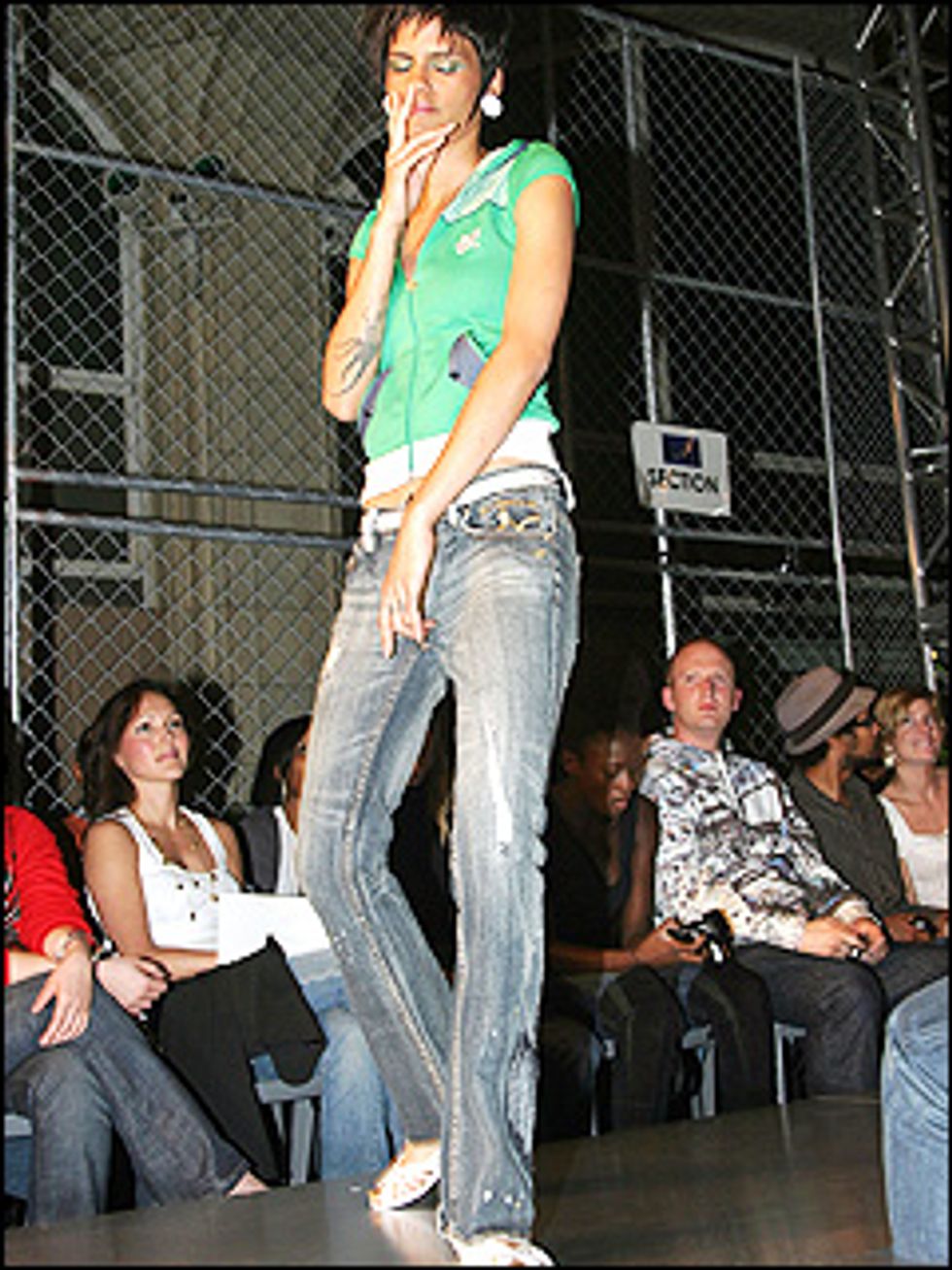 If the Escalades and white stretch Hummers that stepped out the other Tuesday night in order to shuttle their respective high rollers to the Sprite Street Couture Showcase at Guastavino's could talk (like the cars in Cars), they would have said "Damn, Gina!" And they would have been voiced-over by Martin Lawrence. Indeed a gentle breeze coyly blew up the short skirts of the plethora of models who sauntered down the blue carpet. We swore we saw a Town Car wink. The models and their skirts were joined by Missy Elliot, Kanye West, Farnsworth Bentley and Josh Hopkins (Charlie Babcock) from Pepper Dennis.
These heavy hitters (hey, we DVR Pepper Dennis) were here to celebrate the national relaunch of Sprite. In order to play up its original association with the hip hop community, the lemony-limey company staged a fashion show featuring the urban-friendly designs of Etnies, LRG, Rocawear, Triple Five Soul and WESC. As Nelly Furtado's Song Of The Summer, "Promiscuous" blasted over the loudspeakers, strutty models (including but not limited to Kim from America's Next Top Model and one-named wonder Omayrah) made their way down the runway. Our favorite piece was a cobalt blue WESC dress, made from T-Shirt material think American Apparel, but less skinny 12-year-old Iranian-Irish girls and more booty.
Following the show, folks descended the spiral staircase to a light-blue-lit room filled with chicken satay trays. We noticed Neck Face and his sk8er boi posse, lounging with a group of leggy model-types. We spotted that guy from X-Men, James Marsden, talking with Josh Hopkins and some leggy models. We also spotted someone who we swore was from One Tree Hill, but couldn't confirm, talking with Susan Sarandon spawn-about-town Eva Amurri (looking lovely, we might add). With enough chicken satay skewers to last us a lifetime, we made our way through a sea of models (too many models!) to the Second Avenue bus, where we glided downtown, a soft breeze wafting through the half-open window. If that bus could talk, it would have said, "Ever since I could remember/ I been poppin my collar" and it would be voiced-over by the Three 6 Mafia.
PHOTO BY CAROLINE TOREM-CRAIG