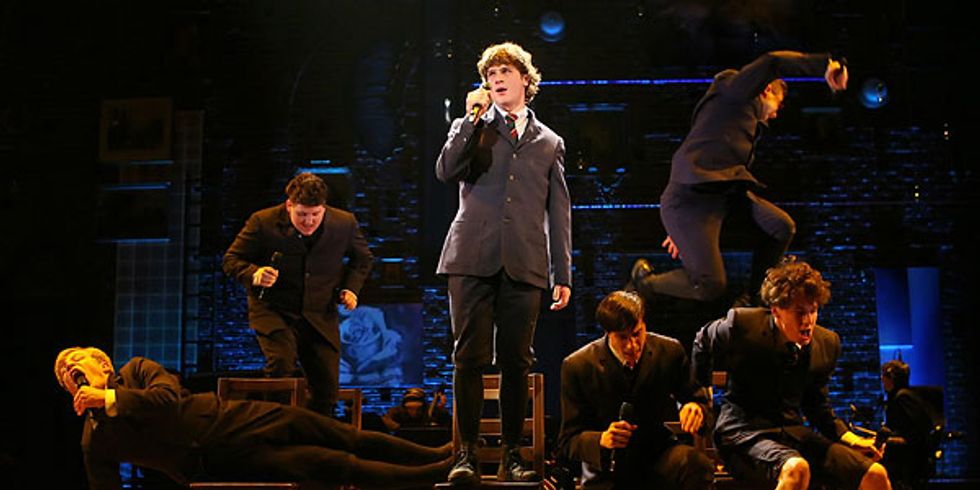 Hooray for Spring Awakening, my favorite show that opened on Broadway this year. The edgy musical, written by Duncan Sheik and Steven Sater, based on the 18th century German play by Frank Wedekind about angst ridden-adolescent sexual discovery, has been nominated for 11 Tony Awards including the biggie, Best Musical. This means they will perform on the nationally televised awards show on June 10th which can help boost ticket sales The show also received nominations for Best Leading Actor in a Musical (cutie Jonathan Groff, featured in PAPER's Dec./Jan. issue) and Best Featured Actor in a Musical (John Gallagher Jr.).
Spring Awakening's competition in the Best Musical category is:
Curtains: Written by the famous songwriting team of John Kander and Fred Ebb, it's a comedy/murder mystery show-within-a-show. Funny and entertaining, but nothing revolutionary about it at all. However, I would be OK with David Hyde Pierce winning the Best Leading Actor in a Musical category.

Grey Gardens: The play's based on the 1976 documentary of the same name about Jackie Kennedy's cousins, the Bouvier Beales, who ended up living in a dilapidated mansion in East Hampton. The performances are amazing, but the music and book for the first half ( the second half is based directly on the documentary) are not.
Mary Poppins: Another mammoth Disney production that is (of course) based on the movie. I went expecting to see the movie and it ended up being different and not in a good way. This is just a filler nomination it will never win.
Pictured above is a scene from Spring Awakening with Tony nominee Jonathan Groff in the forefront.