Do you ever find yourself reminiscing about better days, maybe circa the turn of the 21st century, when towering platform shoes and "Girl Power" and that cheeky band of British lasses, the Spice Girls, were at the heights of their power? Armed with a gilded tooth, tearaway trackies and power pop pipes, Mel C, better known as Sporty Spice, was an integral part of the iconic group. And while the Fab Female Five may have dissolved in 2000, she has remained on the pop music grind, emerging as a bonafide solo superstar with her debut LP, Northern Star. 16 years post-Spice and Mel's still at it -- and still slaying -- with a string of European dance pop hits and her own label, which will release her forthcoming LP Version of Me later this month.
In anticipation of her imminent return, we spoke to Mel C. about what she considers her most mature and honest album to date, the social media-centric fame game of today, and, yes, why she won't be part of a Spice Girls reunion any time soon.
Your lyrics are always personal. Tell me about your journey writing and recording this album. How'd you choose the title?
I started recording the album three years ago. And, for the first time, the album wasn't my only focus. Because in the past, I've gone "Right. It's album time" with back-to-back writing sessions. But, with this record, I had other stuff going on. And actually, I think it's really benefited the record because I never got stale, you know? It just felt like life kept on happening and all of these scenarios kept coming up, and it was really inspiring. I didn't feel like I was repeating myself because I was just taking my time, so that was really cool. One of the songs on the album, as you know, is "Version Of Me," and I thought this is a really good album title. Each record has been me at that moment in time, and this is really an expression of what's going on in my life in the last five years. So, that felt really good. I also like the thought that we all do this, we all have versions of ourselves. We're very different speaking to our friends than to our boss, or when we're in school with a teacher. We are this person, but there's so many versions of us.
The album is very pop with a capital P. I could hear these songs all over the radio. Would you ever consider writing for any of today's pop stars?
Yeah! Absolutely. I'd love to do that. I have wonderful collaborators that I work with, and I've met some new people on this record as well, which has been really great. But it's funny because obviously I am a more mature artist and I'm older now. There are great girls out there -- in the last decade or so, women have ruled. The biggest artists are Beyonce, Rihanna, Katy Perry, Adele. They are all winning. Girl Power is in full force, and that's really, really wonderful. I have had that success with the Spice Girls, but I think it's really lovely just to be able to express myself, and I think if people can identity with these lyrics now, they're a little bit older, because my life experiences have to echo with the people. It's really nice to get those across.
Artists like Adele have shouted out the awesomeness of the Spice Girls. How does that make you feel? The Spice Girls' impact is very real!
Oh, it's so incredible. And even people just in the street, DJs and stuff, it's incredible. And all the other Spice Girls -- we get so many compliments and how we've changed people's lives. We didn't even realize we were doing it, you know? But it had such an impact on a generation. We're so proud.
Let's talk about the return of '90s fashions. Sporty Spice-inspired streetwear is everywhere, even on many a catwalk. I was wondering if you really dressed like that behind-the-scenes. And, did you feel pressure to keep it Sporty because of your nickname?
It's funny, because we really did all kind of dress that way. We were given those names by a magazine, and we sort of became a character. I grew up in a part of England where all the kids wore sportswear. That's what they did in the '80s when I was growing up. And I went to performing arts college, and tracksuits were just what I wore. When we first got together as a band, we'd have coordinating outfits. I remember one day, we had Adidas t-shirts and jeans on, and Victoria looked a bit ridiculous. And another time it was baby doll dresses, and I looked ridiculous. And that's why we just went, you know what? We don't need to dress the same. You dress like a lunatic, Geri. And Victoria, you always look more chic than anyone else. Why don't we just be who we are? And that became a huge marketing dream, really.
What people don't talk about enough is the influence of your incredible dip-dyed ponytails.
I love those ponytails. I lost one once. I forget where we were, but I think it was in Europe. Do you remember "Step To Me"?
Of course!
So we used to get a bit rock n' roll, and I would swing my hair around -- I had long hair, but the pony was a piece. And one day, it swung out into the audience. That wasn't a good day. Oh My God, thank God there was no YouTube.
Even so, you seemed pretty reserved compared to like, Geri pinching Prince Charles' bum. I've never seen photos of you falling out of the club, either.
I realized quickly that I didn't really like that part of fame. I didn't like being shot by paparazzi or people writing about me. And I think there comes a point when you're in the public eye, probably more now than ever, when you have a decision. And you can either court it or you don't. It can be huge. It can raise your profile, it can make you more successful in whatever you do. I suppose now, it would get you deals and however the world works these days. I chose not to play that game. And I think, in a way, here in the UK, there is some kind of respect with that. It's a game, you know? You either play or you don't. Of course, if I'd been up to some scandalous behavior, which of course I do on the weekend, then maybe I'd be in the press. If the story was out there, they would print it. But the mundane, daily, "Oh, she's just wearing some type of pants." I don't get that that much. There's less interest. Or maybe I'm just really boring!
You and Posh aren't part of the buzzed-about albeit mysterious Spice Girls reunion. Was this a difficult decision? Was there a sit-down with your bandmates?
Before we had any sort of plan, we had some meetings. And Victoria had already bowed out, which we all completely understand. But the four of us, we had fun chatting, and we thought maybe we could do something. We did have a series of meetings, but I just didn't really… something was bothering me, and I just thought… I had a decision to make. I kind of wasn't 100% into it. When we first sat down, one of the first things we said was everyone has to be happy and comfortable. Today, we're all parents, we all have lives and partners and careers and everything. It's not the nineties anymore where we used to be really tough on each other, because we all wanted the same thing. We all wanted to succeed. And I found it really difficult to make the decision, because I didn't want to let the girls down, and there are fans who want to see it. But the girls were really gracious, and we respect each other enough and I respect the girls that they want to continue. But we're just in different places right now. And I'm just not feeling it as a four piece. Eventually I said, "It's gonna be a no. I'm sorry."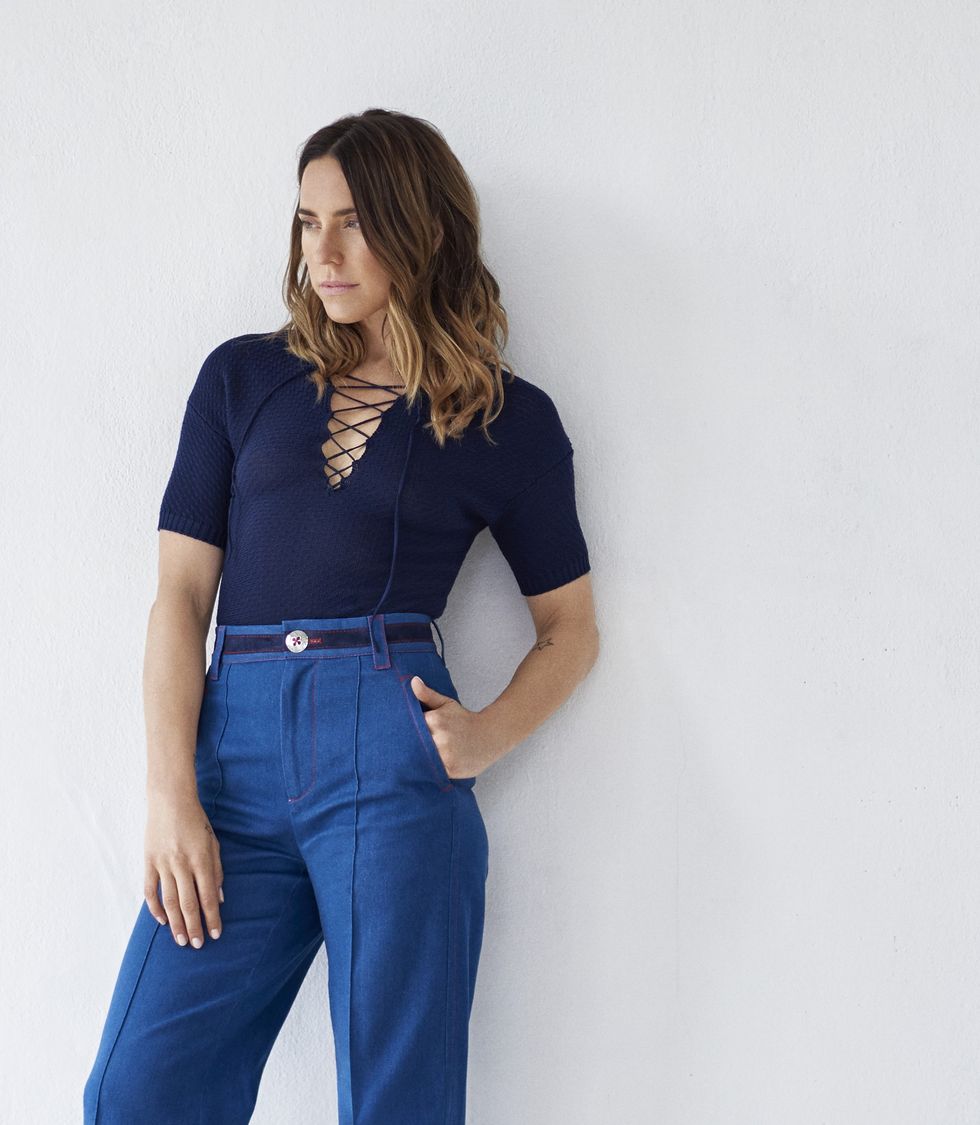 Photo by
And being a Spice Girl is hard work! I remember you talking openly about suffering from mental health issues during that chaotic time.
I think what happened to us was so unique and it was so amazing, but there's loads of repercussions that come with it. Getting some sense of normality and reality, I found that hard and I did suffer from some depression for some time. It's something that I'm aware of and learning more about mental health. And I think people are talking about it more. It's incredible to hear the statistics. Lots of people aren't seeking help and they're suffering in silence. I think it's really important to talk about it. I can't blame my time with the Spice Girls. I think it was just my life experience being a bizarre one. It kind of threw me into a bit of a spin. I've learned a lot from that and I've learned how to take care of myself now.
Talking about that grown-up Woman Power -- what do you like the best about yourself today?
I feel very liberated in that I care less about what people think. I feel more courageous than I did when I was younger. All of us young people are so concerned with what people think, and then you realize when you get older that you can just worry about yourself. You can just chill out and enjoy. I like that about being older.
What would you tell your younger self who was in the midst of the Spice mania?
I would totally say, "Enjoy every minute because it's not gonna last forever." And you have to think beyond this point. The wonderful thing about youth, you know, is we think in the moment. But I think it is probably handy to think about life beyond.
All photos by Marlene Marino.

You May Also Like