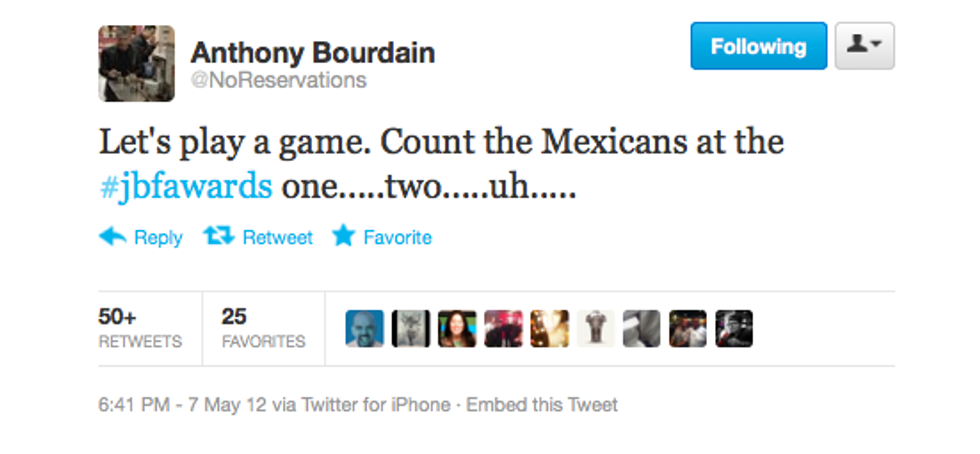 Last night's James Beard Awards brought out the country's top chefs, restaurateurs and foodies for their annual get-together in New York City.  Eater has a full list of all the winners
HERE
and we shared our thoughts on the evening
HERE
, but we thought you might like to know what other folks are saying about the ceremony as well.
"Like the Oscars without the dance numbers."  --
Florence Fabricant
(
NYT Diner's Journal
)
"Lets play a game. Count the Mexicans at the #jbfawards one...two...uh..."  --
Anthony Bourdain
Tweets
about the absence (and lack of recognition for) Latinos art the awards
"I just ran over chef (Jacques) Pepin on my way here.  My bad." --
Tory Miller
, chef/owner of
L'Etoile
after
accepting his award
for best chef in the Midwest [JournalSentinel]
"With respect to all you New Yorkers, Chicago may be the #1 restaurant city in America -- I'm just sayin'. " --
Charlie Trotter
disses NYC
while presenting an award. [ChicagoTribune]
"You don't reserve tables at NEXT, you purchase tickets, much as you would for a concert." --
J.M. Hirsh
on "Best New Restaurant" award winner, NEXT
. [Salon]
AND:  Congratulations to former PAPER art director
Richard Pandiscio
and his design firm for winning the award for "Outstanding Restaurant Graphics" for The Americano restaurant in NYC's
Hotel Americano
.