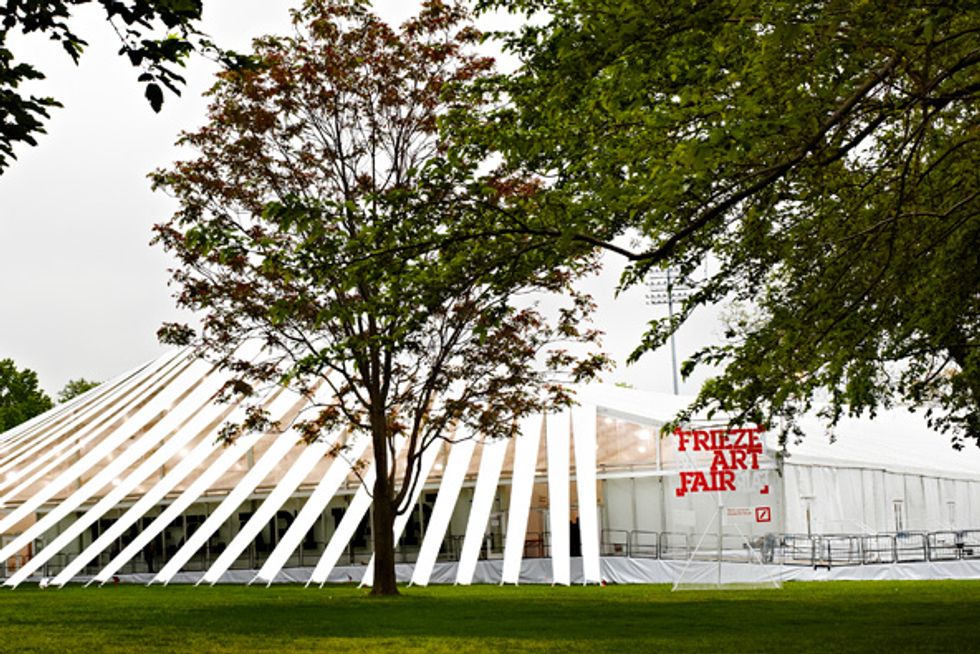 Better hurry!  Today is the final day
for FRIEZE
on Randall's Island so it's your last chance.  Here's what others are saying about the first New York edition of the popular London art fair:
"The architectural equivalent of a white stretch limo."  -- Writer
Holland Cotte
r describes the venue, designed by architects
SO-IL
(who are
featured in our May issue
). (
NYT
, May 5, 2012)
"The first half hour was like 2007 all over again." --
Adam Sheffer
of New York's
Cheim & Read
gallery.  (
Bloomberg.com
)
"It was great!  Smiles, kiss kisses, sausages grilled by
Gavin Brown
. Everybody seemed to be in a good mood." -- Artist
Kalup Linzy
(
Huffington Post
)
"
Jennifer Rubell'
s vagina nutcracker took the cake for mindless fair spectacle." -- Writer
Paddy Johnson
(
Art Fag City
)
"The place -- how do I say this nicely -- smells.  A strange odor of rotting meat or something of the sort pervaded the aisles toward the back of the tent venue." --
Benjamin Genocchio
(
ArtInfo.com
)
We actually liked the "nutcracker" thing and we've got a video to prove it. (Thanks to our friend DB Burkeman for taking
this video
!)