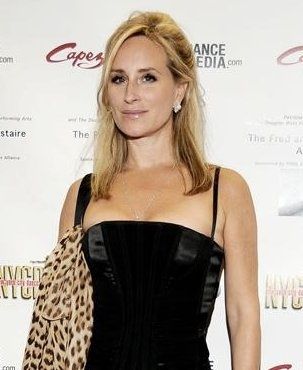 Ta da! Our Reality Bites column, in which we chat with our favorite reality television stars, has returned after a  hiatus. And who better to kicks things off with than firecracker
Real Housewives of New York
star
Sonja Morgan
? PAPERMAG recently sat down with Morgan to talk about the new season of
Housewives
, getting plastic surgery, dating Billy Idol and her recent DUI arrest.
You've really become a bigger presence on the show this season. Has Real Housewives been a good experience in your life?
It's very scary to say yes to a reality TV show. I already had my place in life, I already had my place in society, and I already had my charities.  I married a blue blood and I come from a very wonderful family and have a wonderful daughter, but I've had a really difficult divorce with no settlement and then I had a movie deal [with my production company] go badly so I thought doing the show would be great for my career.
You were the new girl last season. Was it hard coming into a group of women that had already been working together?
They were very nice to me. I think they were relieved it was me and not some pot-stirrer.  But this is my first full season and I think it's open season -- everyone gets their turn at the tumble.
Does that mean there's excitement to come this season?
A lot of excitement. People tune in to see drama and you can leave it to my co-stars to stir the pot. I'm not a pot-stirrer this season but I do forget to put my petticoat on.
Chris Marsh
from
Project Runway
made me a masquerade ball outfit but my stylist forgot to put on the petticoat. When I bent over my underwear was totally up my butt and you could see a lot. I had a Britney moment.
You and Cindy, the show's newest cast-member, are starting to clash a little bit. How would you describe her personality?
Cindy is a great addition to the show because she's different from all of us, she's sort of like a rock star groupie, and she's a little pot-stirrer.
Were you upset that she said the painting your boyfriend did of you was unflattering?
The pressure on him was huge and then for Cindy, who doesn't even know him, to say that was hurtful.
Are you ever shocked at what you see the other women saying about you on the show?
Shocked! You remember both sides of the story, but when they cut the film they may only show one side
You and Countess LuAnn are getting along this season. Is that a new friendship?
I've always been friends with her. When we got divorced, it was at the same time. We were two divorcées out there hot to trot. I always got LuAnn.
Is that because she's a Countess and you married into American royalty?
Well, we both traveled with the same circles in Europe. You don't have to be royalty to be accepted, but there's a saying, 'Thems who got it, got it.' She knows that.
Alex is trying her hand at modeling this season. Did that surprise you?
I love Alex, I think she looks fabulous this year, but the dress that she wore to my art party, the bondage dress with the shoes, it didn't work. Her husband Simon also makes fashion faux pas.
You kicked her out of your house that night.
I knew Alex was coming in with her face all twisted to start, but when she first walked into my party I told her, 'What happened at the marriage equality march is water off a ducks back.' I meant to just break the ice and make her comfortable. I didn't want her to think I had issues, I wanted to move on. I mentioned Simon during our conversation and I couldn't remember his name properly and that just set her off.
Have you guys made up?
Oh yeah, it was over in less than 48 hours. She's my friend. This show is stressful.
Last year in the Hamptons you were arrested for allegedly driving drunk. What happened?
I will tell you something that I haven't told anyone: I had a designated driver who was supposed to pick me up but when he didn't come I left, I said, 'End of party, I have to go.' And that's when I got pulled over for stopping and rolling. I called my lawyer and I refused the Breathalyzer. I really can't talk about it.
It seemed like a rough time because you filed for bankruptcy not long after that happened.
The chapter 11 is because I have a $7.5 million judgment against me and to pay that bill I would have to give up my house in NY and my house in France. I'm going to fight, I'm a survivor, I went from a pedestal to a toadstool! But nobody's going to feel sorry for Sonja Morgan.
You were recently on Watch What Happens Live and mentioned that you went to FIT and lived with three gay roommates.
Those gay roommates! They dressed me and did my nails and my hair and gave me strength to be me. When I told them about the guys calling me, whether it was Matt Dillon or Cheap Trick or Billy Idol, they told me, 'Go girl, you only live once.'  So we had a really nice time. It was Studio 54!
How can you turn down a party with Billy idol?
I went out with Billy for a while. That was nice.
You dated him?
It was scary because he was dating Perry Lister, she had red hair and was like six feet tall. He's a vegetarian and a very nice man.
And what about Matt Dillon?
Yeah, we had one whole date. Then he left me to go with another girl. It's an experience and its fun. I lived, I'm living, and I'll always live. I'm not going to stop living because people are judging me, because it could all be over tomorrow. As long as at the end of the week I have taken care of my daughter, my family and my friends everybody can judge me. I'm an old lady!
You've become pretty popular among the gay community, too. Do you think of yourself as a gay icon?
I think part of the definition of 'gay icon' is 'fashion icon.' I finally Googled gay icon....
Did your picture come up?
No, my picture did not come up. I'm too young for that! I think it's better if you're dead to be an icon. What came up on Google was glamour, drama, being a survivor and the fourth thing was sexual androgyny or sexual ambiguity, so according to the definition you're not a gay icon if you don't have that fourth thing: sexual ambiguity.
Which you've hinted at on
Housewives
episodes but otherwise refuse to talk about.
But the community knows, they know who Sonja is. I don't need to forecast [broadcast] to the world what I'm doing.
On the first season you introduced someone as your plastic surgeon on-camera, so you're apparently open with your beauty upkeep. What have you done to help yourself out?
Sleep is number one, especially at my age -- you have to get eight hours of sleep. You have to eat well --  don't eat anything boxed. Live like the Europeans and have everything fresh. And then sex. You have to have sex! If you're not having sex you're not going to stay young. Look at the Countess this season, its night and day!  As far as surgery goes, when I was 25 I had silicone put in these smile lines here. I'll never have to do it again. Done.
Is that all you've done?
I had a cyst that kept growing under my chin, a big huge bump. I fell when I was roller-skating in Venice smoking a cigarette and I got a huge scar, so I have a doctor working on the scar now. I've had Botox, but I have to be careful. Botox lasts me a long time, for most people it lasts three to six months. For me it works for like two years. If you over-Botox I guess your forehead gets really overbearing, I already have a huge forehead.
You didn't plump your lips?
I recently plumped my lips. Ramona took me in to Dr. Sharon Giese and she injected my lower lip with temporary filler. If I like it I'm going to do it permanently. It's more balanced and its more 'Cover Girl' but it's not Sonja. I did it out of insecurity and I don't know if I want to do it permanently.
How long do you see yourself doing Real Housewives?
I really don't like being in the spotlight. I'm hoping that just by being myself the fans will accept me. I'm also hoping that at the end of the 17 episodes. people will understand that I'm just human. I have a lot to share, I have a lot of wisdom and a lot of experience,  but they'll never really know the complete Sonja from a reality TV show.