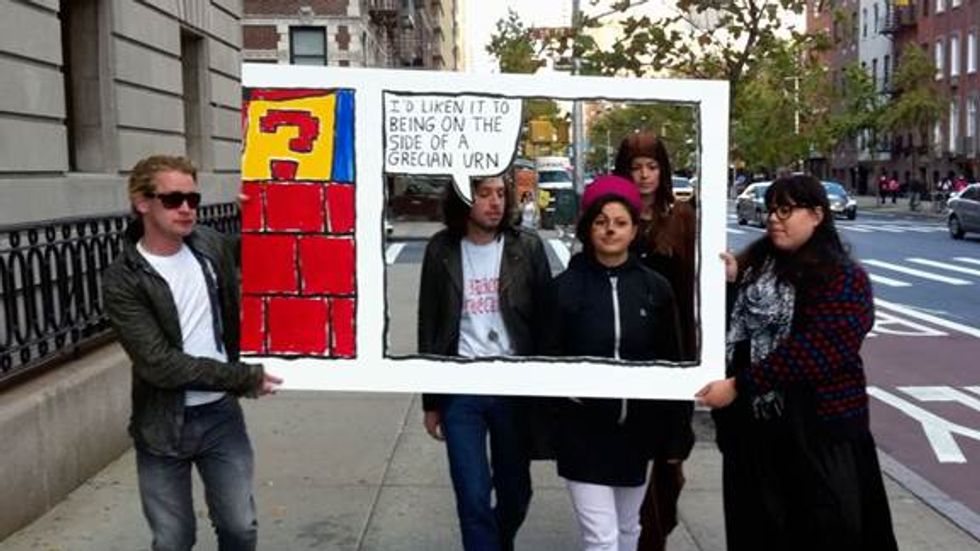 Last night, a scraggly bunch of downtown types descended upon the
Anthology Film Archives
for a screening of Ex-Moldy Peach/singer-songwriter
Adam Green
's cinematic debut,
The Wrong Ferrari.
The "screwball tragedy," shot entirely on an iPhone, stars Green as a guy named "Greenester" who does a lot of weird things (including dressing up like a dog and snorting Ketamine) alongside his friends --
Cory Kennedy
,
Macauley Culkin
,
Alia Shawkat
,
Devendra Banhart
(whose voice was dubbed over by
Evan Dando
),
Dev Haynes
,
Isabelle McNally
,
Har Mar Superstar
and the like. The movie is about... well, we don't really know to be honest, and have no real words to describe it except one we made up last night: "post-self-indulgent." But inspired by the recently-released doc,
Blank City
, about the DIY film scene of '70s and '80s-era downtown New York, we left feeling happy that there are still crazy kids in this city attempting to do things that are creative and nuts.
You can stream and download the movie for free
here
.