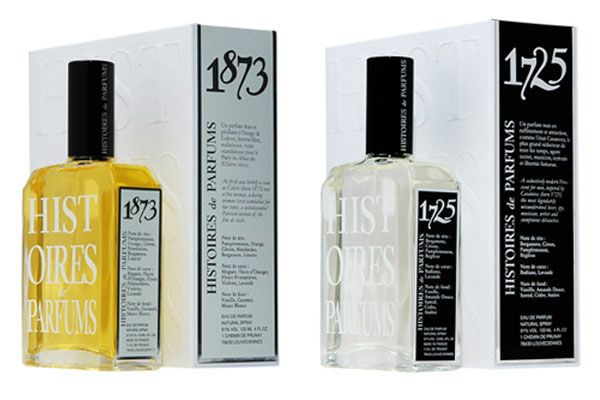 Meet the newest addition to the PAPERMAG blogroll, Smell Ya, wherein our resident perfumaniac Jonathan Boschetto will talk base notes and aldehydes, while reporting on the latest fragrance-related goings on. Below, his first column.
Good news, perfumistas! French niche perfume house, Histoires de Parfums, is landing stateside. The collection, created by epicurean cum parfumeur Gerard Ghislain, was founded in 1999 and has been available only in concept stores and luxury boutiques outside the US. Until this January, that is. As Ghislain has it, the series of 12 fragrances reads like a library, each scent a story to be "read on skin." At the core of the collection is a set of seven eau de parfums, each named for the year of birth of an eminent historical figure. 1873, for instance, evokes Colette, the coquettish French writer, with a mix of refreshing citrus notes over a core of wild flowers and sweet musk. 1740 is the Marquis de Sade -- an enchanting and refined spiced wood, both tempting and seductive that definitely puts the Marquis back in the Sade. Three other scents are "soliloquies," richly crafted fragrances built on a single flower, such as Blanc Violette, Noir Patchouli and Vert Pivoine. Vert Piovine, inspired by Ghislain's mother's favorite flower, is a green, fresh floral that would wear particularly well in spring. The final two fragrances comprise the "erotic," cult lit section -- Ambre 114 is an oriental, spiced amber unlike any amber perfume we've encountered, with head notes of thyme and nutmeg, flushed out with rose, geranium, vetiver, sandalwood, cedar and patchouli over a musky tonka and vanilla base. Yum for both men and women. The real gem, though, is 1969, which is a free-loving caravan of fruits and spices, with the depth of patchouli and white musk. It smacks of a good time, just like its namesake.
Underscoring the library gambit -- even the labels read like book spines! -- is truly elegant craftsmanship. These are fragrances to be worn, to evoke memories and to create them. They are not concept-pieces (we could easily imagine 1740, the Marquis de Sade, made sadistic and cruel, maybe with some bloodiness or effluvia). Ghislain's training at the famed ISIPCA, after years working as a restaurateur, shows plainly. Just about each of these fragrances offers a unique spin on a traditional family of perfumes. Any of these would be a great stocking stuffer for those up on perfumerie or, really, anyone who likes a new accessory. Available in 120 mL for $185 at Takashimaya, NYC.