Skylar Grey is a singer whose voice is as recognizable as it is ubiquitous, having lent hooks to some of the biggest songs over the past 10 years, including Fort Minor's "Where'd You Go," Diddy's "Coming Home," Dr. Dre's "I Need a Doctor," Nicki Minaj's "Bed of Lies" and Macklemore's "Glorious." But Grey is doubly talented as a highly sought after songwriter, penning songs like Eminem and Rihanna's "Love the Way You Lie."
Though she's perhaps best known for her work with rappers and at one point had a recording contract with Linkin park's label imprint, Grey got her start in folk, performing professionally in a music duo with her mother called Generations as a child. Now Grey is committed to returning to her roots, delving back into the folk music she grew up in and rejecting the stress and claustrophobic repetition of life in LA as an industry songwriter for the freedom and serenity of life on a sprawling ranch in Napa.
PAPER caught up with Grey, inseparable from her partner Elliott who joined us for the interview, before her performance at the iconic hotel and music venue the Surf Lodge in Montauk.
I heard you were planning to put out a new album soon.
Things are changing in this industry—do you put out an album or just put out songs? We're just trying to figure all that out right now. With the new music, I'm going back to my roots which are a lot of acoustic and folk-inspired music from my childhood. I grew up listening to Joni Mitchell and Fleetwood Mac and stuff like that. I miss that era in music, and then also I'm just really a fan of strong lyrics and storytelling and singing about true things. So, there's a lot of story-telling in my songs, straight from my diary. This is the love of my life, Elliott, and I write pretty much everything about him these days, so it's a lot of love songs.
So, lyrically it's very personal?
Very, very personal.
So many of your songs, even the made for radio, have a very raw feel to them vocally and lyrically. Why do you think your writing lends itself so well to hip hop hooks?
It was a big surprise to me when I had my break in hip hop because I grew up playing folk music. I was always a fan of all different genres—just as long as it's good quality and creative, I admired it and wanted to understand it better. I just nerd out and that's why I think I've worked in so many genres. I think maybe what works with what I do combined with something like hip hop is the vulnerability. With my hooks, I feel like rappers will open up more and will be more vulnerable themselves, which is a cool thing to listen to and then also draws in a completely different audience. The first rap song I ever liked was "Stan." What drew me in was Dido's voice and the hook, it had such a vibe. And when I listened to the storytelling that Eminem was doing, I was like, 'Wow this is so creative, I've never heard anything like this before.' It blew my mind and made me want to get involved in a similar way. That Eminem and Dido combination just was very intriguing to me.
"It was a big surprise to me when I had my break in hip hop because I grew up playing folk music."
Is it a genre you see yourself working in for the foreseeable future?
I am going through a phase right now where I just want to really explore my roots, but I don't think I'll ever stop working with other genres or other people. If I were to ever stay in one place for too long, I would probably get really bored because I'm just too adventurous musically. I look at my career through two different sides—the writer side and the artist side.
Is the writing process different for the two different sides?
When I write for other people, it's still pulling from my own experiences to come up with the words. It's always personal writing a song. When I sit down with an artist, it will always start out as a therapy session and I'll ask them what they want to talk about or what they want to say on their album that they're missing, what they are feeling that day or what's their vibe, and then I put myself in their shoes a little bit and write it from that person's place.

These days, do you work with a writing partner?

I've been working with Universal for ten years or something like that, and they are constantly sending me sessions where I'm going in with a producer or an artist or going in with a writer, it's always random stuff. I love to be home in Napa and have a studio there, and in the past I loved working in my own studio and locking myself up in the room. But more recently, I've been writing with Elliott a lot and he became my songwriting partner, that happened naturally. We wanted to be around each other non-stop, and I didn't want to lock myself in the studio and not see him for a few hours. I want him to be involved.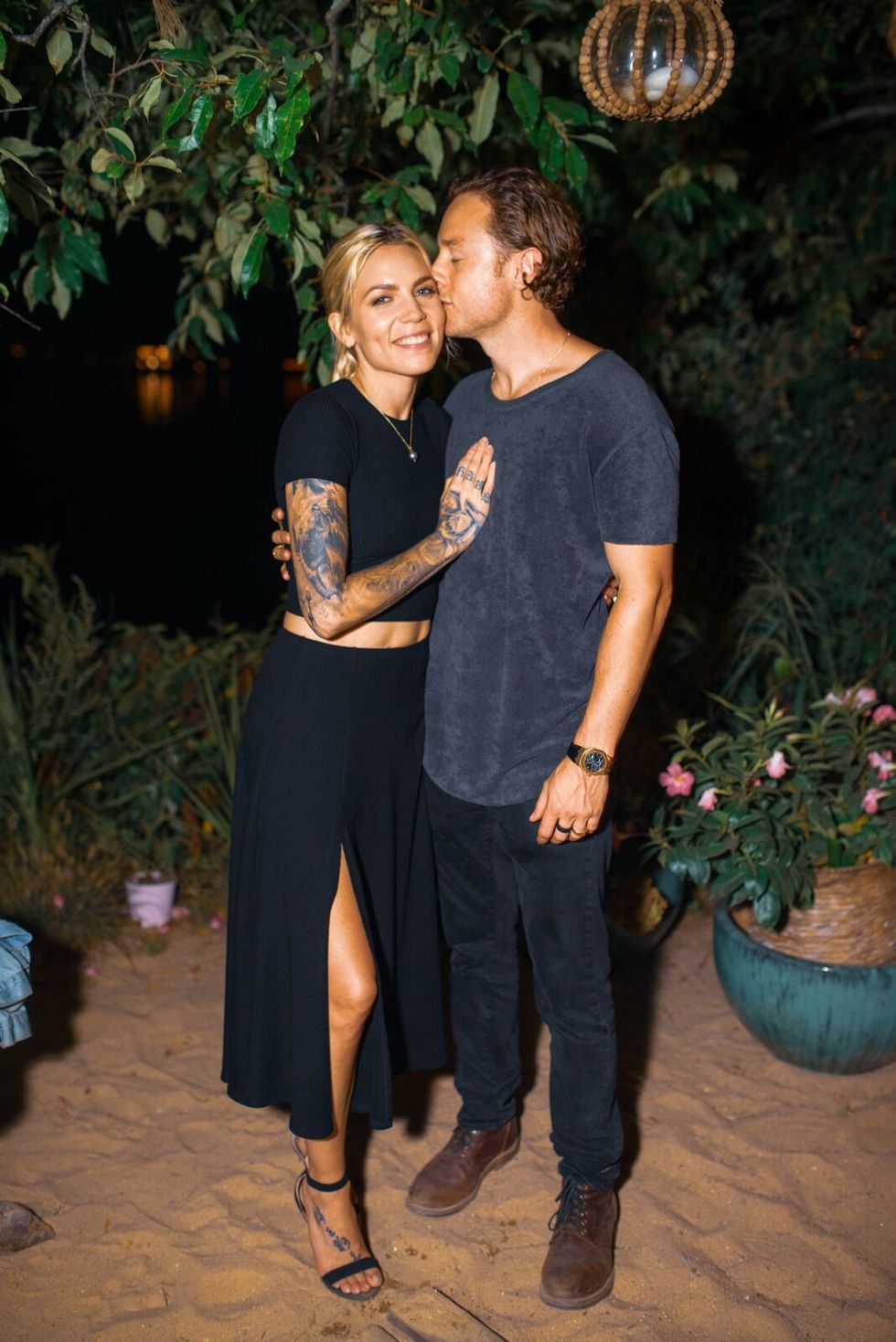 Skylar & Elliott at the Surf Lodge
Photo by Madison McGraw
When did you guys meet?
Two plus years ago.
Elliott: We had mutual friends. It was love at first sight.
I feel like we're learning a lot more recently about the songwriters behind the big songs. Was it always your intention to write songs for other people?
I have always been a writer. At my first piano recital, I played an original piece. I was six. It's just always been in my blood to create. Originally I performed with my mom for almost ten years, and I always thought I was going to be a performer but then I went through a weird period in my early teen years where I wasn't sure if I was a good enough singer because I couldn't belt and sing really powerfully. One of my dreams back then was to play Annie on Broadway, and as I grew into my voice, I was like there is no way I could sing those songs. That's when I discovered though, Sarah McLachlan, Dido and Fiona Apple—these chick singers who had these insane voices but they are more than just belting and I was like, 'Wait, I can do that.'
So, I went to LA, not sure what I was doing, not only with music but trying to figure out if I was going to be a songwriter or am I going to perform? I just started writing with these people and as I recorded the demos they were like, 'No, you're not pitching this song, you are going to sing this song.' I kept getting a lot of positive feedback to keep going with the artist stuff, but then I ended up having my break as a writer. I like to do both.
Living on a ranch in Napa, has it been easier for you to create being more removed from industry and city life?

There have been times where I lived in LA and then left, and then went back, and every time I lived there for a long period of time, I always got sucked into the bullshit. I started making songs for the wrong reasons, I wasn't inspired anymore, and then I started falling out of love with the process of making music. I only got into this game because I love to make music, and so being out in the boonies and being with myself, being with someone who has the same views as me, it's just a more creative environment to create freely. Getting caught up in the daily grind of going to a dark studio box and they tell you these are the things you have to write about today—it turns into this factory type process, rather than a creative one and I don't like that.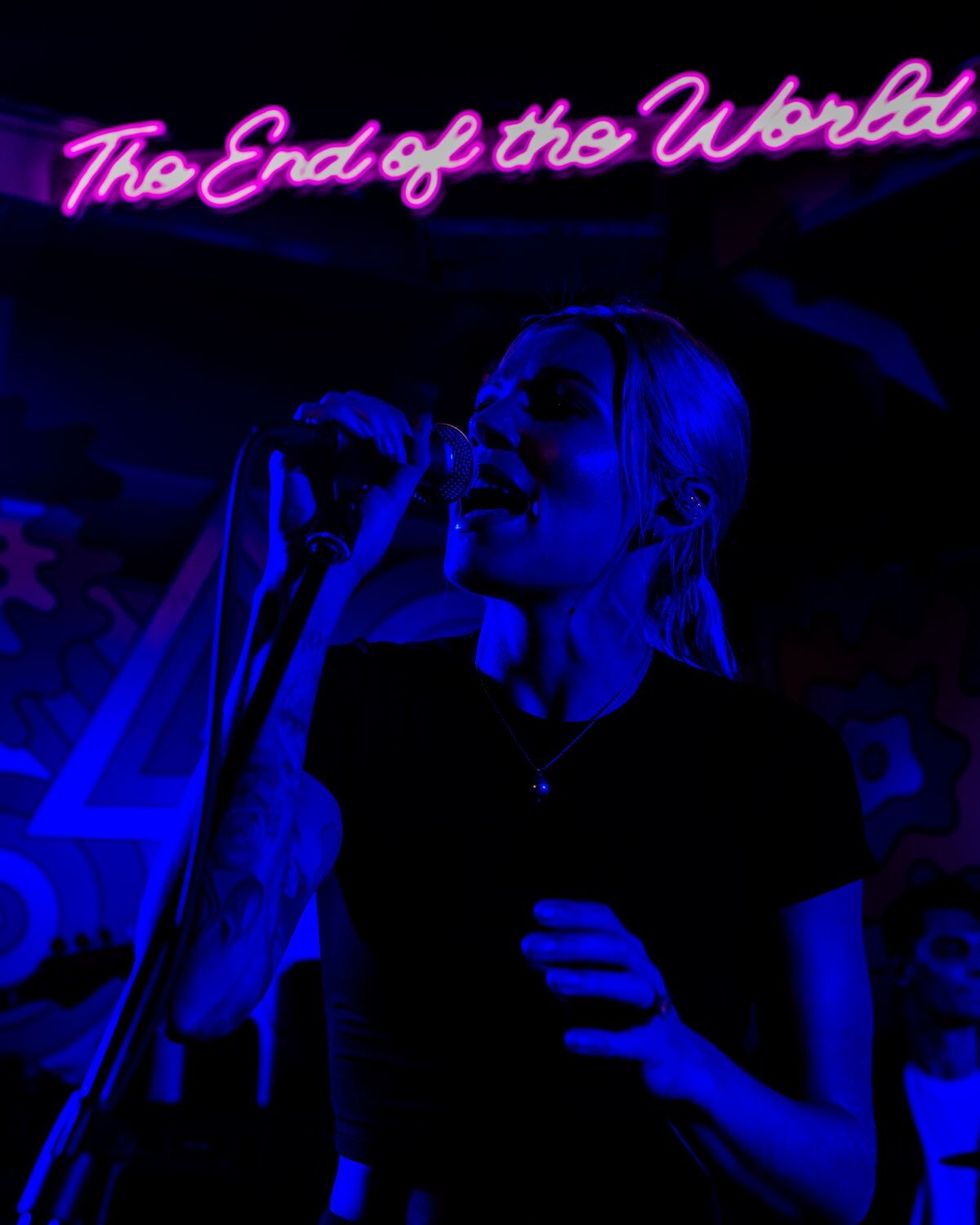 Skylar performing at the Surf Lodge
Photo by Madison McGraw
I would imagine you're not a big fan of the writing camps that are becoming more popular.
The thing is, I can go to LA and do some of these sessions as long as I can come home, re-charge, stay grounded and true to who I am. It's just when you're there constantly, doing the same thing over and over again, that you start to lose sight of your own voice. It's just important to me to retreat to the woods or to nature where I can just be with my own thoughts, to always remember who I am and why I do this.

"Getting caught up in the daily grind of going to a dark studio box and they tell you these are the things you have to write about today—it turns into this factory type process, rather than a creative one and I don't like that."
Do you find that you've made friends with other women in the industry or found a supportive community among females songwriters?

It's definitely a male-dominated industry, but there's been a lot of amazing women that I connect with. It's very supportive. You think going in that it's going to be really competitive, but songwriters tend to be good to each other—one of the qualities that you have to have as a songwriter is that you have to be fun to work with and if you're going to be negative and competitive no one will want to work with you. People are very supportive in this industry. It's like a little family in a way.
When you write for a different genre, do you feel like that influences your solo music?
Totally. If I had tried to make this album or body of work that I am working on right now, ten years ago, I probably wouldn't have had such a powerful lyric content because going off and working with rappers, learning about that genre, taught me a lot. I definitely think my lyrics have improved a lot.
Do you think this is a good time to be an artist?
I don't know if there is ever a better or worse time to be an artist. I think that it's something you'll do if it's meant for you. I think that with anything in life if you do it long enough, it's only a matter of time before the stars align for you.
Lead photo by Adam Franzino