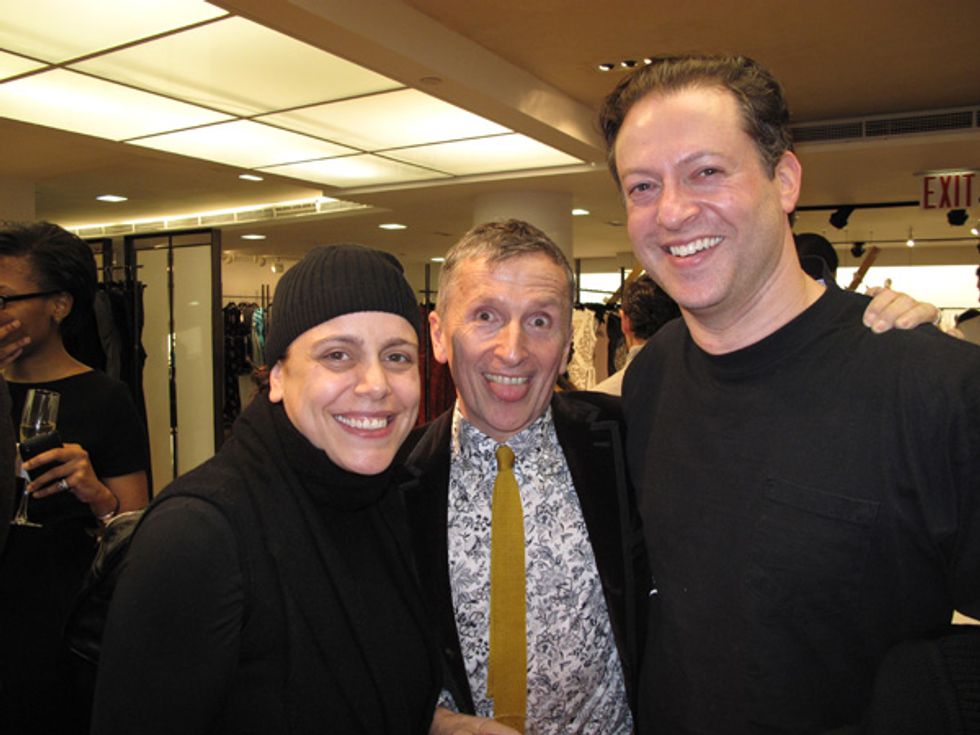 Barneys creative director
Simon Doonan
is always good for a chuckle. Despite having flown Concorde around the world and hobnobbed with the hoi polloi, he's really just a working class "slag" from the wrong side of the tracks. As evidence, we submit this interview, conducted at Barneys yesterday.
OK, Mr. Simon Doonan. I'd like to talk about fashion designers that you'd like to have sex with. Are there any? I know you are happily married, or as close as a gay can get, but are there any fashion designers you would date?
Oleg Cassini

Is he alive?
If I wasn't with my Johnny, I would...
What about Rick Owens?
I've really always wanted to be a footballer's wife.
Like that show Footballer's Wives?
Yeah, I'd be Chardonnay.
You'd be like Charlotte Church with her rugby boyfriend.
Well, I like football. Rugby's too middle class. I'm more working class. More like, well obviously David Beckham, Christiano Rinaldo, you know... there's something very attractive about a footballer. It's not like American football where basically they're in a constant state of concussion.
That takes away a lot of the fun for me too.
You can get some sense out of your footballer boyfriend. At least until he's had a few drinks. You can also get some cash out of him...
Are you looking forward to anything this Fashion Week? I know you're always looking forward to everything.
Always Thom Browne, always Rodarte, I like the more crazy shit.
What did you think of the Rodarte piece in The New Yorker?
It was good. People shouldn't be too critical. It's the very beginning of their fashion journey, which is going to be long and creative and interesting.
What do you think about Donatella Versace? I worship Donatella, so I just thought I'd ask
.
I'm a Versace fan -- also she's a footballer's wife.
OK good. You sell Versace, right?
Yes, we've got a collection of dresses. Also, Donatella is such a good sport. She's the one person who I said, "let's get in the window!" to [for a photo op] and she said, "sure!" and she was wearing these 10-inch heels.
I remember that party, she was in particularly rare form that night.
She's good-natured, a very likeable person.
Pictured above: Doonan sandwiched by Ikram and Josh Goldman
CLICK HERE FOR PAPERMAG'S COMPLETE DOWN-LOW FASHION WEEK FALL 2010 COVERAGE. >>