There was a moment in time when designer Hannah Weiland, 25, contemplated a career in pig farming. "I've always been obsessed with animals," she says during a Thursday afternoon phone call from her studio in London's Soho neighborhood. "In my teens I got into fashion, but when I was younger I had a friend who's Granny had a pig farm and I remember thinking, 'I want that!' It was the funnest place I had ever been." Though the London College of Fashion grad now laughs at the memory, that same sense of consciousness towards animals comprises the ethos of Shrimps, the label she founded in 2013 with a single oversized faux fur coat that has since become the brand's bread and butter. "For me, it's like this amazing thing to be able to make samples without the hate mail," says Weiland, who predominantly uses a synthetic fiber called modacrylic. In the two years since its inception, Weiland has delved into knitwear, stoles, clutches and bag charms with the hopes of eventually launching footwear. But for now, most of her attention is focused on the brand's newest ambassador: a pint-sized "cloud of scruff" named Lionel McGruff that wakes her with a 6am whimper and snoozes beneath her desk each day. "He's a toy poodle," she says before inserting a quick clarification. "But I don't do that poodle shaving thing. I like them au natural, blending in with my coat!"
Weiland spoke with Paper about the keeping up with the rapid growth of Shrimps, where she finds inspiration for her gorgeously hued coats and yes, her little pup Lionel.
What was your first big break after launching Shrimps?
I started instagramming the coats and Laura Bailey, who is a model, writer and friend of the family, doesn't wear real fur and saw my [post]. She was like "This is amazing! Bring one to my house!" So I did and she wore it at fashion week and that literally started everything. Natalie [Massenet, the founder of Net-a-Porter and chairman of the British Fashion Council] approached Laura and was like, "We need that!" Laura also got a picture of Alexa Chung wearing [the coat] that day. I remember I was at home and just couldn't believe it.
So I'm guessing Laura gets a lifetime supply of free Shrimps coats.
Oh, she does! Absolutely [laughs].
You were 23 when the brand took off, what was that experience like? What are the challenges of being a young woman and starting your own business?
I had to sort of learn a lot very very quickly, I went from like zero to 100 in a day! But I actually think youth is really on your side in creative industries like fashion. I think people were really shocked by my age, impressed by it and it sort of helped me along the way.
The name Shrimps, that was a nickname of yours?
Yeah, it was a nickname that my friends first called me -- apparently because I'm small and sound like a shrimp. I didn't know it was going to turn into a proper brand, but I loved the idea of a shrimp -- a weird crustacean -- and this really soft fluffy coat.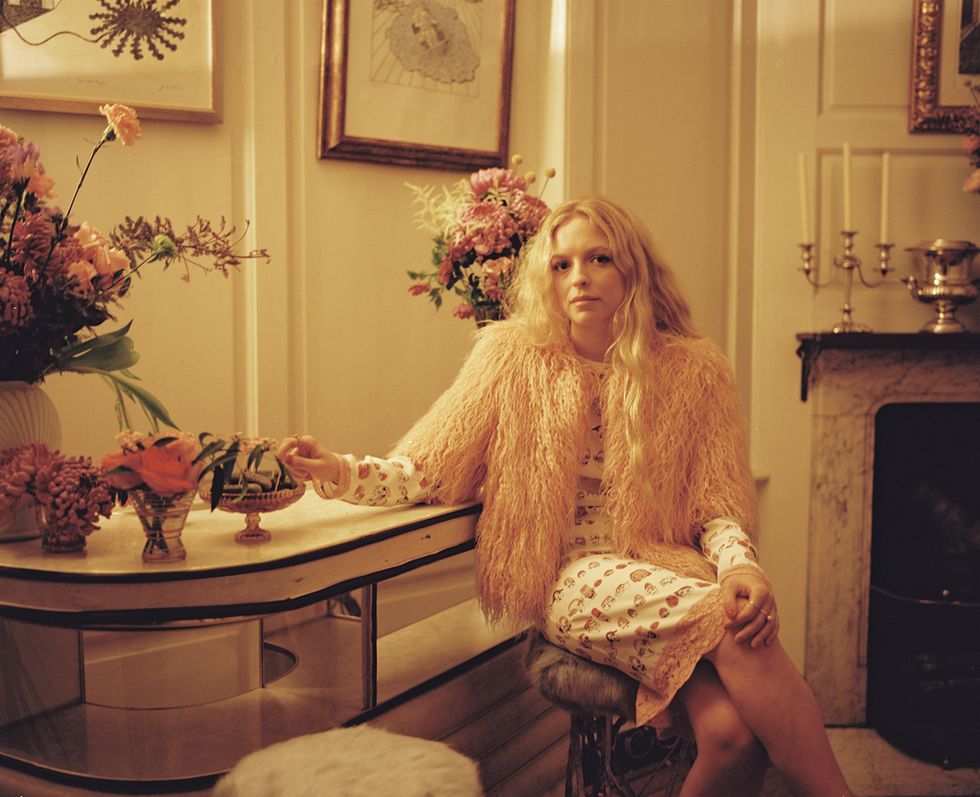 This and splash photo by Jess Gough

Where do you source the material for each season?
I go to all the same sort of fabric fairs as everyone else -- Premiere Vision in Paris, but the amazing development techniques are happening in the far east, places in Asia. The fabric is really the starting point for me, I can't really design the new collection until I've seen the fabric. I'll get obsessed with one, one color and go from there.
Before enrolling at the London College of Fashion you studied art history. How has that aspect of your education influenced Shrimps?
I think if I hadn't done that degree, I wouldn't be doing Shrimps. Whenever I start a new collection I go through art books and to galleries. At the moment, I'm just starting Autumn/Winter 16 and I spent a day at the Tate Modern and Tate Britain on Tuesday of this week.
What's your approach for tackling museums? Are you an "I'm sticking to one exhibit so I don't get overwhelmed" kind of a person or an "I want to see it all" museum-goer?
There is such a thing as "museum fatigue," I actually studied it once. I'll go to a particular exhibition but then sort of wander from there and see the whole collection anyways. I'm always a little sneaker; you're not allowed to take pictures but I always have my iPhone hidden in my bag.
Who are some of your favorite artists?
Picasso is probably my favorite, I think he's genius. At the moment I'm pretty obsessed with Leonora Carrington, I just bought her autobiography -- she was a surrealist. My previous collection was influenced by Eduardo Paolozzi, he was this British Pop Artist that did collage work. And then Otto Dix, who was a German expressionist -- Autumn/Winter 15 was literally inspired by this one painting with the color maroon. For each collection I'll have two or three artists that I reference, you just can't always see it -- which I kind of like.
Since we can't stop looking at Lionel's little face on the Shrimps Instagram account, can you tell us how you knew he was the one?
Oh god, it was a long process. I had wanted [a dog] for so long. I atually met a dog trainer who did a test on me and was like "this is the dog for you." He's a toy poodle but he's outgrown the toy side, he keeps growing! And I'm like "I wanted you to be smaller!"
Makeup by Celia Burton
Coat by Shrimps

You May Also Like